Deck:
Three challenges to federal authority from those unhappy with the status quo.
Author Bio:
Bruce W. Radford is editor-in-chief for Public Utilities Fortnightly.
First the news. The latest spin on electric restructuring came on "cyber Monday"—that first Monday after Thanksgiving, when America's silicon nation goes online to shop for Christmas.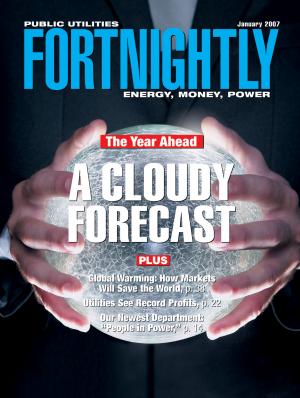 That's when the American Public Power Association (APPA) released a study by economics professor Dr. John E. Kwoka, of Northeastern University, that reviewed a dozen other recent studies on the subject and found so many deficient statistical techniques as to question whether utility restructuring had made consumers any better off. (John Kwoka, Northeastern Univ., "Restructuring the U.S. Electric Power Sector: A Review of Recent Studies," APPA, November 2006.)
"Too little is known," added APPA President and CEO Alan Richardson, "to conclude that our industry is on a path that can or will produce customer savings."
The study (funded by APPA) gained notice almost immediately from bloggers and pundits. Only a week earlier, LECG Consulting had released an opposing report finding modest retail rate reductions (from $0.50/MWh to $1.80/MWh) in the mid-Atlantic region for the years 1998-2004. (Scott M. Harvey, Bruce M. McConihe, Susan L. Pope, LECG, Nov. 20, 2006.)
The media frenzy continued on through December, with each side (pro and con) finding something to like. Yet each study contained its own infirmities, making it essential to pay strict attention to what, exactly, was being measured in each case.
The LECG study, sponsored by the PJM Interconnection, focused on centralized wholesale power markets in the mid-Atlantic states during the 1998-2004 period (in New York and the PJM footprint), and by all accounts did a masterful job of weeding out any distortions due to regional differences in power-plant fuel use or capacity shortages or surpluses, or caused by state-by-state differences in retail choice programs, such as transition charges, stranded cost recovery, or temporary rates freezes.
To do so, the LECG study had focused only on municipal and other governmental utility entities operating largely outside the jurisdiction of state public utility commissions (PUCs) or the Federal Energy Regulatory Commission (FERC). These munis and other utilities also tended not to own power plants, so they had always purchased their full power requirements from wholesale suppliers, both before and after restructuring. That made it possible for LECG to conduct a true apples-to-apples analysis with minimal distortion from extraneous statistical factors. But it does not tell us a whit about utilities involved directly in restructuring.
By contrast, some other studies have chosen to focus on objective and directly observable measures of productive efficiency, such as generating plant availability factors, or heat rates. This tactic avoids the potential pitfalls of econometrics, such as failing to control for all relevant and significant variables, or the guesswork of contra-factual price estimation—trying to calculate what prices would have been if this or that had occurred. Nevertheless, the APPA study dismisses such attempts rather conveniently as redundant:
"Several of the studies examine other outcome measures besides price or cost, for example generator heat rates or market liquidity. We do not focus on them in this report since, if these represent important actual performance improvements, they should ultimately manifest themselves in cost or price benefits. Indeed, it would be double counting to measure both the source of efficiency gain and its direct cost effect." (Kwoka, p. 8, footnote 4.)
Turn now to the subject of this month's column: a look at how regulators, grid operators, and consumer advocates in three states have posed challenges to established law and policy at the Federal Energy Regulatory Commission (FERC):
• Arkansas. Can state regulators call on FERC as a last resort to force an investor-owned utility with a regional footprint to retire a portion of its generating fleet in favor of newer merchant units that supposedly are more efficient?
• California. Should FERC revise its rate-making and funding policies for electric transmission lines to accommodate state regulatory and legislative policies that mandate investments in renewable energy?
• Connecticut. Can a state claim cause for redress if it suffers so much from transmission congestion that market tariffs approved by FERC for the regional grid system must be declared unlawful?
Each of these cases illustrates the increasing tension between a regulatory framework keyed to state boundaries and conflicting operational and market structures that have become primarily regional in scope.
Arkansas: The Lure of Merchant Power
In the first of the three examples, the Arkansas Public Service Commission last summer asked FERC to compel Entergy to deploy merchant gen units to displace some of Entergy's fleet of rate-based assets. The case poses a novel question: Can FERC order the dispatch of merchant power plants (admittedly nonjurisdictional), under the guise of ensuring transmission access? (See, Arkansas PSC v. Entergy Corp., FERC Docket EL06-76, complaint filed June 7, 2006.)
Two key factors drove the Arkansas commission to file its complaint.
First, in the wake of recent FERC decisions, most of Entergy's electric production costs now "flow through" various interstate agreements, whereby they are equalized and apportioned among several states. Thus, fully 80 percent of such costs have been stripped from the retail rate-making purview in Arkansas. (See Opinion Nos. 480, and 480-A, Docket EL01-88, 111 FERC ¶61,311, and 113 FERC ¶61,282.) Moreover, Entergy's Arkansas operations already appear more cost-efficient than in other states within Entergy's multi-state footprint, so that any additional cost savings achieved within Arkansas for the most part would flow to ratepayers in neighboring states through interstate compacts. All of this left the state commission no option but to go to FERC to seek relief of a kind normally associated with retail rate-making.
Second, for years now activists have cited studies and research papers that purport to find that Entergy's incumbent but aging oil- and gas-fired gen fleet is inefficient (operating at high heat rates) and that ratepayers could save if regulators forced Entergy to procure more energy from third parties. (See Commission Watch, "Entergy on Edge," Oct. 2005.)
According to the Arkansas complaint, Entergy has admitted previously (at a conference in New Orleans in July 2004) that it could save a bundle with its plan to solicit bids from third-party energy suppliers, known as the Weekly Procurement Program, or WWP—up to $30 million a year for every single percentage-point decrease in market share for Entergy's own gas- and oil-fired plants. The Arkansas complaint also claims that a plant retirement study completed by the Louisiana commission in March 2005 investigated the idea of retiring older Entergy units (with heat rates in excess of 10,000 BTU/kWh), in favor of newer merchant units with much lower rates (7,700 to 8,500 BTU/kWh).
Are the savings real? The Electric Power Supply Association (EPSA) certainly believes so. It has endorsed the Arkansas complaint, commenting that "there is something fundamentally wrong when consumers are denied the use of newer, cleaner, less expensive power plants … because the transmission system is being utilized by older, less efficient plants affiliated with transmission providers." (EPSA, reply comments, FERC Docket Nos. RM05-25, RM05-17, p. 15, filed Sept. 20, 2006.)
Nevertheless, Entergy long has insisted that the cost efficiencies promised by merchant power can prove illusive, because contract offers from independent power producers (IPPs) typically do not afford the flexibility needed to run the grid. Consider its response to the Arkansas complaint:
"Although the studies simply assume that all IPPs can be dispatched at will, Entergy typically does not receive bids from all IPPs in its footprint. … Rather, merchants usually offer blocks of power or shaped products that do not provide the type of dispatchable load-following generation that Entergy's oil and gas units provide. The most 'flexible' products offered by merchants generally include relatively high minimum volumes (that is, a high minimum take relative to a unit's maximum output) and limited variability above that level, with a minimum of a 2-hour or more notice … [which] precludes the use of the merchant unit for intra-hour swing capability and AGC [Automatic Generator Control], for which Entergy has high needs. … None of these complexities are modeled in the studies, but they are real and they matter. Thus, accepting such offers could actually increase system costs, even if the heat rate of the merchant plant is lower than the heat rate of the plants that Entergy actually runs." (Answer of Entergy Services Inc., FERC Docket No. EL06-76, filed Sept. 15, 2006.)
California: A Renewable-Friendly Grid
Regulators out West at both the California Independent System Operator (Cal-ISO) and the state PUC are searching for a way to coordinate the state's aggressive promotion of renewable energy with the FERC's rather conservative rules on funding and cost recovery for construction of new electric transmission lines.
The apparent goal is to convince federal regulators to create a new category of transmission line, for rate-making purposes. This new category would aid development of renewable energy sources, such as wind or solar farms, or perhaps even geothermal basins, where the resource typically is situated far from load. However, it remains unclear whether such a physical concept (a line dedicated to a particular type of resource) can mesh with the financial markets and the economic grid planning regimes now seen at regional transmission organizations and grid operators (RTOs and ISOs).
The current policy at FERC forces generation developers to take on the sole responsibility to fund the tie lines that serve to connect new plants to the grid, and which do not contribute in reliability generally, or to overall system-wide network-type functions. The FERC policy appears to work reasonably well when a large, base-load coal-fired plant is involved, where the cost of the line remains in proportion to the cost and scale of the plant. However, it tends not to work well with wind farms and other renewable projects, where developers typically start small, adding small-scaled units a few at a time, over an extended period, and build out the entire facility only as funding permits, often over a number of years. Under this scenario, the cost of the line typically would dwarf the initial costs of the installed generating units, exerting a chilling effect of project development.
The classic case was the failed Antelope Valley project, where Southern California Edison had envisioned constructing three transmission line segments for interconnection of future wind projects in the Tehachapi Mountains area of California. To make construction more efficient and cost-effective, Edison had scaled up the lines to a higher capacity not needed immediately, but which could accommodate development of a generous array of turbines many years out. Thus, while the lines qualified under regulatory policy only as tie lines, Edison had asked FERC for authority to roll the grid development costs into transmission rate base, as if the project qualified as an integrated network upgrade with current benefits in terms of reliability and system-wide power delivery. That attempt failed, however, when FERC rejected Edison's imaginative bid and treated the project within the letter of the law as a classic tie-line situation, requiring full upfront funding by the wind developers, without future reimbursement through rates collected by transmission owners, as would occur for qualifying network upgrade facilities. (See Docket EL05-80, July 1, 2005, 112 FERC ¶61,014.)
This impasse led the Cal-ISO in June 2006 to issue a white paper describing a proposal to modify federal policy to create a third, or alternative category of transmission facilities, for renewable energy resources, a special rules for funding and cost recovery. (See www.caiso.com/1823/1823d95d585f0. pdf.) Later, in August, the ISO noted in comments filed in FERC's OATT reform proceeding that it expected to file a formal proposal with FERC "in the near future," in order to seek "policy guidance" on the ideas described in the white paper. Support has come also from the state PUC, which has urged FERC not to overlook state prerogatives—such as California's legislatively mandated Renewable Portfolio Standard (RPS)—in revising federal policy on open-access transmission service.
Recently, the PUC has opened a proceeding to consider the "proactive development" of transmission lines to facilitate renewable energy resources, and has identified a series of "next steps" in formulating policy. (See Cal.P.U.C. No. I.05-09-005, Decision 06-06-034, June 15, 2006; and Assigned Commissioner's Ruling, July 13, 2006.)
Nevertheless, some opposition has arisen, even from within California.
At Sempra Energy, for example, senior regulatory counsel Daniel A. King urged FERC in its OATT policy case to "resist the calls from those who would set aside transmission capacity outside of the normal process for special customers," such as wind, renewables, or clean coal.
As King wrote, "such proposals are contrary to the basic tenets of non-discriminatory open access." He conceded that such projects might be "politically attractive," but warned that they could "discourage the development of needed capacity." (See Sempra Global, initial comments, FERC Docket Nos. RM05-25, RM05-17, p. 10, filed Aug. 7, 2006.)
Connecticut: A Classic Whipsaw
When is a "price signal" really just a market failure?
That's the implicit question posed by Connecticut Attorney General Richard Blumenthal, who charges that retail electric rates in his state and throughout New England have "skyrocketed" to unreasonable heights during the last three years, due primarily to the interplay of RTO market design and severe levels of in-state transmission congestion.
"Connecticut's 2006 rates," he wrote in November, "are more than 70 percent higher than they were in 2003, and the state is poised for substantial additional rate hikes this coming January."
Blumenthal adds that data from the U.S. Energy Information Agency shows that retail electric rates in the four southern New England states are the highest overall in the continental United States, and Vermont and Maine, to the North, rank 8 and 9, respectively. The reason, he says, stems from the "hybrid" nature of the regional market design in place at ISO New England and other RTOs across the country. Such markets, he argues, have created a classic whipsaw that guarantees that the price of wholesale power will always be more than is just and reasonable—especially in areas of severe grid congestion.
Blumenthal filed his charges at FERC back in September 2005, but the commission turned him down this past October in an order denying the complaint. (See, Docket No. EL05-150, Oct. 11, 2006, 117 FERC ¶61,038.) Nevertheless, the case raises questions that do not go away so easily.
Consider that FERC-approved tariffs in ISO New England (and most other RTOs) set the market price for competitive power at the various locational nodes at the highest auction-clearing price, meaning that relatively low-cost resources such as nuclear- and coal-fired plants can collect what the market will bear. At the same time, however, the RTO market regime allows certain other plants to sign contracts to guarantee them a sort of modified cost-of-service rate if those units are deemed crucial enough in supporting grid function. Such plants may be uniquely situated to ensure voltage stability, supply reactive power, or to serve load pockets with restricted access to the mainline grid, and thus may qualify as RMR units—denoting the phrase, "reliability must run." Moreover, in areas of extreme transmission congestion, it may be possible for a large share of the generating sector to qualify as RMR production.
And that's the case in Connecticut, says Blumenthal. He notes that grid congestion is now so severe in Connecticut that ISO New England has declared that all generation in the state is needed for reliability and therefore all in-state power plants qualify for RMR contracts. According to Blumenthal, that essentially allows "any unit to choose cost-of-service compensation and a guaranteed rate of return" (10.88 percent, as of the time his complaint was filed in late 2005).
Thus, Blumenthal has complained that Connecticut consumers face a classic whipsaw. Low-cost nuclear and coal units can sell through the market, collecting the auction price that often clears at the higher cost level of gas turbines. Meanwhile, the higher-priced units, perhaps unsure of clearing their bids, can choose to sign an RMR contract with the RTO, guaranteeing those units a cost-based rate. This perverse combination, Blumenthal says, brought about largely by Connecticut's dearth of transmission infrastructure, requires state ratepayers in effect to pay the higher of market and cost-based rates. This regime, he argues, virtually guarantees that in-state retail rates will be unjust and unreasonable.
FERC's order denying the complaint leaves a lot to be desired. Rather than cite concrete facts to justify New England prices as just and reasonable, the commission appeared to say only that the regional tariffs under attack were all lawfully approved, and thus were unassailable under the filed-rate doctrine. Blumenthal since has filed a request for rehearing, which still was pending at press time.
The New England market has its supporters of course. ISO-NE argued, for example, that during the 12 months preceding its answer to the complaint, the average LMPs in the Connecticut load zone came in only $2.71/MWh higher than average LMPs for the central New England hub. Others, such as EPSA, argued that Connecticut's high prices were simply tit-for-tat for the state's having delayed in making transmission upgrades for years. Either you pay for upgrades, or you pay for energy.
The crucial point at issue is whether transmission congestion can grow so great as to invalidate an otherwise lawful market. In FERC's order denying the complaint, the commission offered little comfort:
"When market-based rates exceed cost-based rates, it is not a market failure but rather a signal for the construction of new generation and/or transmission."
To Blumenthal, at least, such reasoning is "entirely circular."