Deck:
The recovering merchant sector leads earnings improvements in the third quarter.
Author Bio:
Jean Reaves Rollins is managing partner of C Three Group, LLC, Public Utilities Fortnightly's exclusive financial data provider.
The recovering merchant sector leads earnings improvements in the third quarter.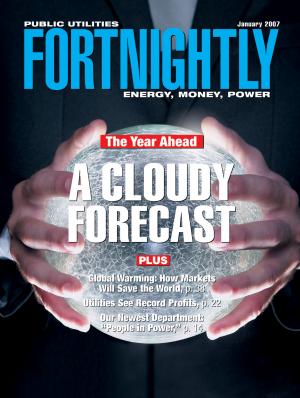 Although total revenues were up by almost 5 percent for the third quarter of 2006 over Q3 2005, operating income and net income were up by 22.82 percent and 80 percent, respectively. Table 1 shows the top 10 companies ranked by net increase in third quarter net income; these companies accounted for more than 102 percent of the composite net income shown in Table 4.
Free cash flow (operating cash flow minus capital expenditures) increased more than 14 percent, even though capital expenditures were up by 42.1 percent, reaching more than $50 billion for the industry year-to-date. Table 3 presents the top 10 companies in expenditures for property plant and equipment for year-to-date 2006. The top 10 account for more than 39 percent of the total industry expenditures.
Stock buy-backs were essentially flat year-over-year, while stock issues were down almost 30 percent.

Acquisitions were up slightly, while asset sales continued to decline by almost 26 percent year-over-year.
Table 3 presents the 2005 and 2006 top 10 companies ranked by market capitalization, as of Sept. 30, 2006. Very little changed in this group in both components and values. Edison International dropped out of the top 10 and was replaced by Williams Cos. Duke Energy was the big gainer in value, while four of the top 10 actually decreased in value.
Table 4 provides the industry composite statistics. The details for the 100 individual companies and for all 40 metrics we track can be found at www.cthreeresearch.net under the link "2006 Q3 Financial Statistics Excel Workbook."
Year-end 2006 reporting will begin in earnest in March 2007, but it's generally mid-to-late April before the majority of companies have filed. C Three will have 2006 results by late-April.