Deck:
The diversity in customers' appetites should be considered by more utilities when pricing products.
Author Bio:
Michael T. O'Sheasy is a vice president at Christensen Associates Energy Consulting LLC.
The diversity in customers' appetites should be considered by more utilities when pricing products.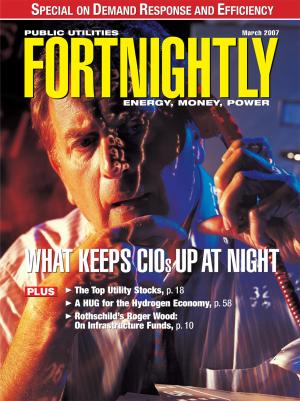 Economics 101 teaches that he who takes on the risk should be afforded the opportunity for rewards for taking on this risk. In the utility world, that means that if the retail customer accepts this risk, the seller/utility can avoid it, thereby lowering its risk-related cost of supply. And, some commercial and industrial business customers of the utility implicitly are forced to pursue aggressive programs to minimize electricity cost to maintain their economic cost competitiveness.
An electric provider should offer a portfolio of pricing products based upon sound risk fundamentals and permit the customers in the target market to select those products individually that best match their needs. It should be noted that regulated and integrated utilities have introduced some product variations adjusted for risk, particularly since the advent of electric restructuring. But such efforts have been limited in scope and have failed to take advantage of the full spectrum of customer classes. Three major factors that separate businesses' attitudes toward electricity pricing are: (1) the degree to which their energy bill variance threatens the value of their own product(s); (2) the business customer's usage flexibility; and (3) the overall magnitude of electricity cost as a portion of the customer's overall cost of product.
In other words, does the volatility of the customer's energy cost create much concern regarding the impact on the customer's core business? One customer may be very comfortable taking on significant electricity cost risk to obtain electricity price and subsequent bill concessions. Such a customer basically is accepting risk (possibly via the customer's on-site usage flexibility), which otherwise would have been absorbed by the utility, in exchange for a lower price. Another customer may be willing and anxious to pay a premium to accept less electricity cost risk than normal, thereby placing more risk on the utility. Both of these customers, and all the customers in between, should be offered products that fit their needs, and these products should be priced upon sound risk fundamentals.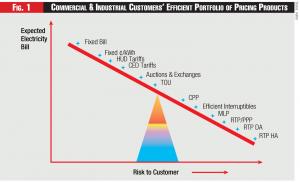 For example, assume an air separator at a chemical company has a major portion of its operating expenses tied up in energy cost. Oftentimes it must run its operations at a high load factor to minimize product cost, but it's also quite common that they have some energy usage flexibility. Characteristics like these drive some customers to seek out "risky" electricity products such as Real-Time Pricing, 1 which should have low risk premiums or markups due to the fact that the customer is now taking on risk costs that the utility would take on with a traditional fixed-price tariff.