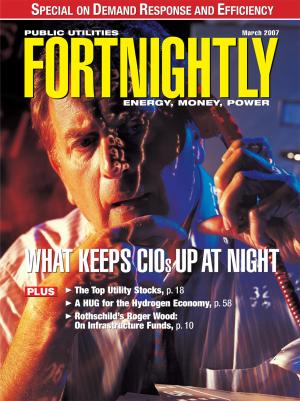 New Opportunities: Constellation Energy named Kevin W. Hadlock vice president, investor relations, and Robert L. Gould vice president, corporate communications. Subsidiary Constellation NewEnergy also appointed Emily Neill as business development manager. Prior to joining Constellation NewEnergy, Neill oversaw the recruitment and retention for the Greater Boston Chamber of Commerce.
Dynegy Inc. announced several organizational changes related to the company's proposed combination with LS Power. Lynn A. Lednicky , currently executive vice president, strategic planning and corporate business development, was named executive vice president, commercial and development. Jason Hochberg , currently president of LS Power Group, will join Dynegy as executive vice president, strategic planning and corporate business development. Richard W. Eimer , senior vice president, operations, will maintain his responsibility for the operation of the company's assets on a systemwide basis.
Robert W. Best , chairman, president, and CEO of Atmos Energy Corp. , was elected chairman of the American Gas Foundation's board of trustees for 2007. Best has been the chairman, president, and CEO of Dallas-based Atmos Energy Corp. since March 1997.
The National Association of Regulatory Utility Commissioners (NARUC) re-elected Dr. Edward H. Salmon to serve a sixth term as president of NARUC's Commissioners Emeritus. Salmon served six years as a state utility regulator and three years as president of the New Jersey Board of Public Utilities.
The OGE Energy Corp. board of directors named Peter B. Delaney president and COO. Delaney also has been elected to serve on the company's board. Previously, he served as executive vice president and COO. Delaney joined OGE Energy in April 2002.
FirstEnergy elected Michael J. Anderson to its board of directors, effective Feb. 1, 2007. Anderson is a director of The Andersons, a diversified company with interests in agriculture, ethanol, and general merchandise retailing.
Stephen C. Byrd joined Public Service Enterprise Group Inc. as senior vice president – finance, business development, strategy, and M&A. Byrd comes to PSEG after more than nine years at Morgan Stanley, most recently as executive director in the firm's global energy and utilities group
The California Public Utilities Commission (PUC) announced that the state senate confirmed the appointment of Rachelle Chong as a member of the commission by a vote of 33-0. Gov. Arnold Schwarzenegger appointed Chong to the PUC on Jan. 12, 2006, designating her to fill the remainder of an unexpired term previously held by Susan P. Kennedy. Chong's current term expires Jan. 1, 2009. In 1993, President Bill Clinton had nominated Chong to a Republican seat on the FCC. After Senate confirmation, she took office as the first Asian-American FCC Commissioner in May 1994. She had then served until November 1997.
David E. Blabey , formerly executive vice president, secretary, and general counsel of the New York Power Authority, joined the law firm of Hiscock & Barclay LLP in Albany, N.Y. Blabey has served as general counsel to the New York State Public Service Commission and as counsel to the New York State Senate Energy Committee.
Retired: PPL Corp. Executive Vice President and CFO John Biggar will retire April 1.
Deceased: Shalom Zelingher