Deck:
If private equity makes a killing, Congress should require full disclosure.
There's just no stopping it. The capital amassed by private takeover firms is simply overwhelming (see "Merger Frenzy"). Given the huge sums, any reasonable person could conclude that public utilities face wholesale changes in terms of corporate ownership. Investor-owed? You bet. But the "public" part may well give way to "private."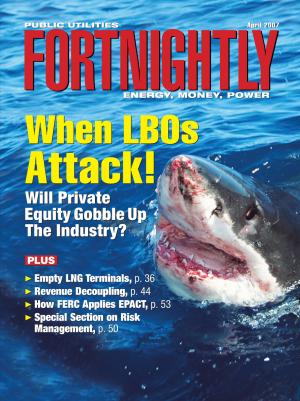 Start with the headline-grabbing buyout offer of TXU, which may become the largest private takeover in U.S. history. Then recall that several other private buyout offers have come down the pike during the last 12 months, from both private-equity firms and distinct infrastructure funds, seeking to acquire targets such as Kinder Morgan, Northwestern, and DQE. One begins to wonder if these offers mark a tectonic shift in the structure of the industry.
(For those who are curious, the term "infrastructure funds" generally refers to private capital firms that typically seek lower returns and hold the assets longer than private equity.)
Many financial experts have said that the scale of the proposed $32 billion TXU buyout offer now means any and every U.S. utility could be in play going forward. Of course, the TXU deal is anything but assured, it has drawn its share of controversy (see "A View on the TXU Leveraged Buyout"). And at press time, a rival bid for TXU was rumored to be in the works. But the sheer size of the TXU deal exposes the ambition of private capital to become a significant owner of utility assets.
And it appears management and shareholders would welcome such an offer. Utility stockholders are probably well aware that the sector is trading at historical highs (and not likely to stay there).
In fact, during 2006, the Dow Jones Industrial Average beat the Utilities Index for the first time since 2003. Previously, for three consecutive years (2003-2005) the Dow Jones Utility Group had shown 20-plus percent gains.
Given this recent performance, the alluring proposals from takeover artists to pay as much as a 15 percent premium on stock shares, such as with the TXU LBO offer by Kohlberg Kravis Roberts and Co.(KKR), represents an offer that almost no reasonable individual could refuse.
And utility executives may well conclude a private utility can provide greater job stability and income growth—plus, there's the appeal to management of being able to take a long-term view, over five to eight years, by not having to be on the hot seat every quarter to explain earnings. Those are just some of the wonderful appeals of going private.
If this were an ordinary industry, there wouldn't be anything more to say.
But utilities are different. The industry—and that includes regulators, politicians, the public and some utility executives—holds a deep-seated mistrust of private-equity ownership. Fairly or unfairly, the industry's criminal behavior in the 1920s and 1930s stemming from financial ownership abuse continues to color views of such deals.
Despite the most sophisticated regulatory oversight of utilities today, some say that there still is too much risk and uncertainty over potential abuse. They worry that unbridled greed could lead to higher power prices and less reliability. That's why, these anonymous utility experts say, if the industry is to move to private ownership, Congress must allow for greater regulation of private-equity firms.
The Sins of the Past
Of the many speeches and articles that were written in the last 70 years calling for the repeal of the Public Utility Holding Company Act of 1935 (PUHCA), very few of them talked about private ownership of the kind that private-equity firms now propose. PUHCA repeal would bring needed consolidation among utilities and would allow "passive" financial ownership, they said, perhaps muttering something about Berkshire Hathaway and GE Capital, which are quite different from mainstream private equity.
In fact, hardly anyone in their speeches for PUHCA repeal talked about placing high levels of financial debt leverage on utilities. And rightly so, because the private utility owners of the past used significant amounts of leverage (debt), which caused a significant number of utility systems to collapse during the 1930s.
When this was pointed out to Marc S. Lipschultz, partner at KKR, he explained that the company's expertise in financial engineering and in running successful competitive businesses works against any possibility of bankruptcy of a utility like TXU.
But even while private-equity firms of today are distinct from the private financial firms of the 1920s and 1930s (known as power trusts), they share several financial techniques that have led to abuse.
Many regulators object to the practice today—as they did in the 1930s—of using excessive leverage (debt), and consequently, the possibility that private firms may not invest in infrastructure as a result of the debt burden (causing reliability to suffer), or even that a private-equity firm's high financial targets will be achieved through excessive price increases.
In fact, the power trusts of the 1930s were convicted of all of these things. They were not regulated, but again, some experts believe that even today's private-equity firms are too opaque for modern regulatory techniques.
In fact, in KKR's failed buyout of UniSource Energy, the ring-fencing protections and benefits offered by the private-equity firm were insufficient to offset concerns. Arizona regulators were uncomfortable with the increased leverage, the partnership structure, how the deal would maintain adequate investment to preserve service quality and adequate PUC oversight, according to a presentation by Markian Melnyk of LeBoeuf, Lamb, Greene & MacRae LLP. Furthermore, Melnyk said the lesson for KKR and others (such as Texas Pacific Group, which tried a few years back to acquire Portland General Electric), is that financial acquirers remain at a disadvantage. That's because they are not trusted, do not have management expertise, are perceived as short-term owners (contributing to financial instability), and may not have enough operating synergy savings to offer.
Making Private Equity More Public
Private-equity firm representatives from the Blackstone Group (Stephen Schwarzman), Carlyle Group (David Rubenstein) and Permira Advisers (Damon Buffini) recently stated that the buyout business has to embrace openness. An editorial in The Wall Street Journal that seized on these statements said that takeover firms should disclose industrial plans for the companies they buy and reveal more about how they would finance their deals.
"Employees have a legitimate concern that excess debt could undermine job security," the editorial states.
The authors suggest also that the private-equity industry should reveal more about how it makes money:
"Outsiders worry whether returns are really the result of smart decisions and hard work or the product of rising markets, leverage, and favorable taxes."
Congress ought to step in and make such disclosures mandatory to federal and state regulators. Like the Food and Drug Administration, regulators could ensure that the "secret sauce"—in this case private equity's financial engineering—is safe for consumption, without giving the formula away to competitors.
Only in this way could utilities be sure that a step forward with private equity isn't a step back toward a volatile past.