Deck:
If private equity makes a killing, Congress should require full disclosure.
If private equity makes a killing, Congress should require full disclosure.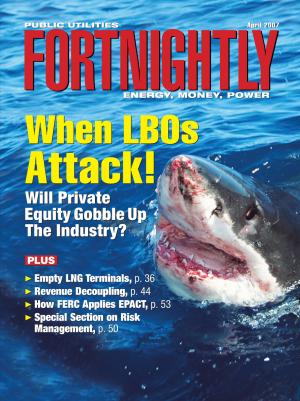 There's just no stopping it. The capital amassed by private takeover firms is simply overwhelming ( see " Merger Frenzy "). Given the huge sums, any reasonable person could conclude that public utilities face wholesale changes in terms of corporate ownership. Investor-owed? You bet. But the "public" part may well give way to "private."
Start with the headline-grabbing buyout offer of TXU, which may become the largest private takeover in U.S. history. Then recall that several other private buyout offers have come down the pike during the last 12 months, from both private-equity firms and distinct infrastructure funds, seeking to acquire targets such as Kinder Morgan, Northwestern, and DQE. One begins to wonder if these offers mark a tectonic shift in the structure of the industry.
(For those who are curious, the term "infrastructure funds" generally refers to private capital firms that typically seek lower returns and hold the assets longer than private equity.)
Many financial experts have said that the scale of the proposed $32 billion TXU buyout offer now means any and every U.S. utility could be in play going forward. Of course, the TXU deal is anything but assured, it has drawn its share of controversy (see " A View on the TXU Leveraged Buyout "). And at press time, a rival bid for TXU was rumored to be in the works. But the sheer size of the TXU deal exposes the ambition of private capital to become a significant owner of utility assets.
And it appears management and shareholders would welcome such an offer. Utility stockholders are probably well aware that the sector is trading at historical highs (and not likely to stay there).
In fact, during 2006, the Dow Jones Industrial Average beat the Utilities Index for the first time since 2003. Previously, for three consecutive years (2003-2005) the Dow Jones Utility Group had shown 20-plus percent gains.
Given this recent performance, the alluring proposals from takeover artists to pay as much as a 15 percent premium on stock shares, such as with the TXU LBO offer by Kohlberg Kravis Roberts and Co.(KKR), represents an offer that almost no reasonable individual could refuse.
And utility executives may well conclude a private utility can provide greater job stability and income growth—plus, there's the appeal to management of being able to take a long-term view, over five to eight years, by not having to be on the hot seat every quarter to explain earnings. Those are just some of the wonderful appeals of going private.
If this were an ordinary industry, there wouldn't be anything more to say.
But utilities are different. The industry—and that includes regulators, politicians, the public and some utility executives—holds a deep-seated mistrust of private-equity ownership. Fairly or unfairly, the industry's criminal behavior in the 1920s and 1930s stemming from financial ownership abuse continues to color views of such deals.
Despite the most sophisticated regulatory oversight of utilities today, some say that there still is too much risk