Deck:
Several new LNG plants are under construction, but firm supplies remain scarce. Will empty terminals alleviate gas-price pressures?
Author Bio:
Michael T. Burr is Public Utilities Fortnightly's editor-at-large. E-mail him at burr@pur.com.
Four years after Alan Greenspan sounded the alarm on the paucity of liquefied natural gas (LNG) regasification capacity in the United States, developers have responded with a fleet of new projects for importing LNG. Existing terminals have been expanded, an innovative offshore project has entered service, and ground has been broken for at least seven new facilities (see Table 1, "LNG Leaders").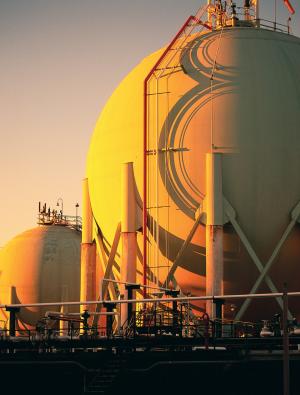 This robust response suggests U.S. gas customers can breathe a sigh of relief. Some 10 billion cubic feet per day (Bcf/d) of new LNG-import capacity will prevent the supply-demand dislocations that gas-market experts were predicting just a couple of years ago. Or will it?
Although a great deal of new LNG-regasification and storage capacity is planned, little of it actually has entered service, and many of the projects now under construction are moving ahead without having supplies committed for import. Likewise, dozens of gas-liquefaction facilities and LNG tankers are under construction, but few are tied to long-term off-take contracts in U.S. markets. In effect, LNG suppliers have acquired options on LNG capacity without committing to use it.
"The game is this, from an investor point of view: An LNG project can be justified on the basis of U.S. prices," says Robert Ineson, head of the North American natural-gas team at Cambridge Energy Resource Associates (CERA) in Houston. "You can contract for it and finance it, but operationally what you try to do is sell gas to Japan at a higher price."
Coal Wild Card
In addition to uncertainty from the supply side, the biggest gas customers—electric and gas utilities—have avoided long-term contracts for LNG because they fear the prospect of prudency reviews at state utility commissions. Public pressure over rising electricity and gas prices has exacerbated this anxiety. Even though long-term contracts would alleviate price volatility, utilities and regulators understandably are reluctant to commit ratepayers to gas-contract terms negotiated during a time of relative scarcity.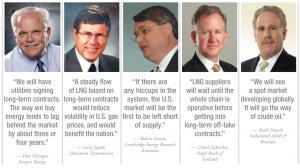 Thus the U.S. LNG game is evolving. While regasification capacity holders seem unlikely to let that capacity go unused, they also seem likely to sell their fuel to the highest bidders—historically in East Asia and Europe. The result may be a fleet of shiny-new LNG terminals that sit idle half of the time—at least until Henry Hub prices rise closer to levels familiar to customers in Korea and Spain.
Now, a further wild card has entered the game. Namely: King Coal, or more specifically, growing uncertainty about the construction of new coal-fired power plants.
In February, Texas energy company TXU announced it would cancel plans to build eight of its 11 proposed coal-fired power projects as part of a buyout deal with Texas Pacific Group, Kohlberg Kravis Roberts and Goldman Sachs (see "A View on the TXU Leveraged Buyout"). This announcement, combined with recent support for mandatory greenhouse-gas constraints among prominent power-industry groups, suggested the 150 coal-fired generating units currently in development might face an uphill path to completion.
To the degree new coal-fired plants in America are canceled or delayed, demand for natural gas likely will increase. Rising gas demand over the next five to seven years would drive gas prices higher than previously projected, perhaps giving utilities and regulators greater impetus to secure long-term gas supplies earlier rather than later. Whether LNG suppliers can or will reciprocate with commitments for upstream capacity, is another question.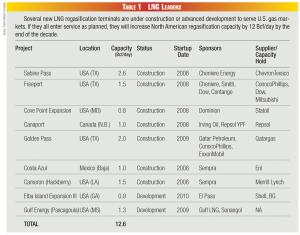 To better understand the evolving outlook for LNG and its role in the U.S. gas market, Public Utilities Fortnightly assembled a group of LNG specialists with various perspectives on the issues. They include:
• Don Felsinger, Chairman & CEO, Sempra Energy;
• Gary Sypolt, President and COO, Dominion Transmission;
• Robert Ineson, head of the North American Natural Gas Team, CERA;
• Chuck Zabriskie, Managing Director & Head of Project Finance, North America, Royal Bank of Scotland; and
• Jacob Dweck, Partner, head of LNG Practice, Sutherland Asbill & Brennan.
Fortnightly: What's the outlook for the LNG market in North America? Are enough projects going to get built to prevent supply shortages? Or will too many get built to make them cost-effective for the owners?
Chuck Zabriskie: We are heading toward more-than-adequate capacity for regasification in North America. That's good because we need more regas capacity than liquefaction capacity at all times—at least 30 to 50 percent more—to have a strong spot market. And for the health of the system you don't want to run at 100 percent all the time anyway. You want some slack for reliability.
Jacob Dweck: You have to look at it from a national and regional perspective. The U.S. Gulf Coast all the way to New York and the Midwest can be viewed as a single market. Then you have other markets, including New England, California, and to some degree, Florida.
More than enough terminals are being built in the Gulf Coast to meet demand in that market. Florida is a juicy market, and Elba Island and a couple of other projects will serve it. New England is a different story, with significant pipeline constraints. One terminal or two will be enough, and Canaport in New Brunswick seems to be moving forward. Several other proposals are chasing about 1 Bcf/day of capacity. It's a game of musical chairs, and maybe two people can sit on the chair in New England.
California is a difficult market. Sempra's facility in Baja will serve Southern California, but that's not a huge market. As long as hydropower is working you don't need the gas. The Long Beach project is dead, and other projects have an uphill battle with siting issues. Any project in the United States with firm local opposition will not get built.
Gary Sypolt: Unfortunately, most of the projects being built are far from the marketplace. We are expanding Cove Point in the market area, but most other projects will be built in the Gulf of Mexico. From our perspective that doesn't help our diversity of supply a whole lot since we are already dependent on supply from the Gulf. We saw how Hurricanes Katrina and Rita affected supplies in 2005.
Robert Ineson: The availability of regasification capacity in the United States is the smallest of the problems in the LNG value chain. We have about 4.3 Bcf/d of regas capacity, and 9.6 Bcf/d under construction, including projects in Canada and Mexico that are targeting U.S. markets. Plus there are other credible projects floating around as well.
The big issue for the U.S. market with LNG is international competition for supply. The competitors, Japan, Korea and to a lesser degree Europe, are somewhat more motivated. When Americans talk about secure LNG supplies, they are talking about whether they got the market price. When Asians talk about secure supplies, they are talking about whether the molecules showed up. When they need it, they need it, and they are prepared to pay what it takes to get LNG.
Don Felsinger: The long-term perspective is that there is so much stranded gas around the world looking for a market, no matter which country it is in, LNG makes it possible to supply gas to North America on the margin and do it effectively. LNG will compete very well with any new supply we can develop in North America.
2006 was a watershed year, because for the first time proven reserves in natural gas exceeded proven oil reserves. That is a very good thing, because we are on a path to develop more sustainable energy resources, particularly renewables, driven by a growing focus on energy independence and greenhouse gases. Renewables need to be firmed up by conventional generation, and the cleanest source is natural gas. From that standpoint, the future of natural gas looks rosy in the United States and around the world.
Fortnightly: How is U.S. demand for LNG likely to be affected by the fate of planned coal-fired power plants?
Felsinger: We were in the coal business for a few years. We bought some power plants in Texas and we were developing two greenfield projects. Our management saw growing uncertainty about the risk of building new coal plants when you don't know what the restrictions will be on carbon emissions. That's why we decided to sell our coal-fired assets and invest in natural gas, renewables and utility infrastructure.
Now we are seeing greenhouse-gas regulation pick up momentum. There really isn't any question any more about whether there will be carbon regulation, the question is how much and how fast. Anyone building a coal-fired plant today has to ask if it's a risk they can afford to manage, and if so, how will they do it? If you are a prudent investor, you don't want to take a risk you can't hedge. That's why we will see curtailment of coal-fired development.
Ineson: It looks like several coal plants have been taken off the table in Texas. We are still scratching our heads about what it means. If this signals a wholesale change in the coal outlook, it would translate into a bunch of gas demand.
Utilities are facing the next wave of electric-power build out, and the question of what technology will be used is upon them. There's no dispute that renewables are a fine thing to do, but the argument becomes how much can be built and how fast. Decisions have to be made soon, and if those decisions get deferred, the short-term answer will be to burn more gas.
In our last outlook we posited gas prices would trend downward through about 2014. A number of factors went into that, LNG being one and the expanding coal build being another. We try to look holistically and make the numbers add up. In the last six months, the outlook has been turning toward a more extended period of gas-market tightness.
Fortnightly: European utilities are involved in developing LNG terminals and securing long-term supply contracts. Should U.S. utilities be doing the same?
Dweck: U.S. utilities are not going upstream. They are going to be both volume-takers and price-takers for a whole variety of reasons. They see too many risks and not enough benefits to sign up for LNG capacity. The local distribution companies, for example, just pass along price increases in their rates. Why should they sign contracts that connect them to risks going all the way upstream to Nigeria?
Ineson: In Europe and Asia, you have national-champion utilities that are able to pass costs through. In the United States, utilities can also pass costs through, but we have ex-post facto prudency review, and that discourages long-term commitments. It effectively means other countries are entering long-term take-or-pay contracts and we are not, so they will get first cut at supply. If there are any hiccups in the system, the U.S. market will be the first to be left short of supply.
If you think about it from a regulator's perspective, if what you are trying to do is ensure the lowest possible price for the consumer, the more LNG you can bring into the market, the looser the supply-demand balance will be. With LNG, the price in the market will be lower than it would be without LNG, so directionally it will be better for consumers.
Sypolt: In 2006 we saw cargoes drop off to Cove Point and most other U.S. terminals as LNG supplies cracked the highest-priced markets throughout the world. A steady flow of LNG based on long-term contracts would help reduce volatility in U.S. gas prices, and would be a benefit to the nation.
Felsinger: I think we will have utilities signing up for long-term contracts.
Buying gas on the spot market is a good approach when you have a surplus. But now that we are facing a shortage, what customers want going forward is secure supplies and stable prices. Like other areas of the world we are competing for the same limited supply, and the best way to secure supply is to sign a long-term contract.
Because these are long-term decisions, the way we buy energy tends to lag behind what is happening in the market by about three or four years. We were in the gas bubble for a few years before we went away from long-term contracts and started buying in the spot market. Now that we are in a supply deficit, utilities and regulators will realize that to make sure the product is available they need to step up and sign long-term contracts for some part of the portfolio.
Fortnightly: Without customers signing long-term contracts, how are LNG suppliers managing price risk?
Dweck: Most suppliers are going to take the price risk, and most projects are being structured on that basis. The importer is taking a small price risk and getting a small benefit, and the supplier is taking almost all the price risk, and the benefit, up and down the LNG chain.
On the other hand we are seeing some producers extending themselves into downstream markets. Gazprom of Russia wants to be everywhere. Angola and Trinidad are looking at re-gas terminals, and Nigeria wants to control transportation in North America. National oil companies are joint venturing with the majors, and the majors will market gas downstream as far as possible.
Zabriskie: Marketing LNG is a bit like chasing your tail. You don't firm up your marketing until you know about the relative prices between the markets in Asia, North America, and Europe, which is a moving target.
Especially in the early years of this market, the large oil companies will be very comfortable selling gas at indexed prices. As liquefaction chains ramp up, in the 2009 and 2010 time frame, they will make decisions about where to send cargoes. They will gradually sell more gas into the market on a month-ahead basis, and establish relationships downstream of receiving terminals for marketing.
LNG suppliers will wait until the whole chain is operative before getting into long-term off-take contracts for delivered gas. They know their steady customers in time will take a significant part of the volumes they have, on a season-by-season basis.
Felsinger: Looking at it from a different perspective, if you are a country that has natural gas in the ground and you have no local market for it, how do you manage that price risk? When should you bring it to market to get the maximum value? Should you do it now or wait 15 years?
If you want to sell gas to another part of the world, you have to ask whether you want to sell it for a fixed price for a long time, or get a market price. If you look at the consuming markets in the world, in India, Asia, and many European countries, natural gas is priced against a basket of indices. The UK has the National Balancing Point [NBP] and the United States has Henry Hub, and both are very liquid markets.
Different countries are answering the question differently; some would like to sell their gas to Asia, priced against an index tied to oil prices. Others are happy to sell into markets indexed to Henry Hub prices. In every case, it is better to take those market mechanisms than it is to leave it in the ground. If you leave it in the ground, someone else will lock in a market for 10 to 20 years.
Fortnightly: What are the prospects for a spot-LNG market developing in the United States?
Dweck: Basically all these terminals and vessels coming online are like very flexible pipelines that can reach across the globe. We will see a spot market developing globally. It will go the way of crude oil.
We're already seeing LNG cargoes redirected to higher-priced markets. Recently importers in Japan, India, and Korea have purchased Atlantic cargoes. It doesn't matter where the cargoes come from; you have to compare the price to NBP or Henry Hub.
When supply is constrained, you won't have a lot of loose LNG cargoes. When more liquefaction plants will get built, there could be lots of LNG out there driving prices down.
Ineson: The game is this, from an investor point of view: An LNG project can be justified on the basis of U.S. prices, you can contract for it and finance it, but operationally what you try to do is sell gas to Japan at a higher price.
Asian markets are growing, but the big growth potential for LNG is the U.S. market. The U.S. market is liquid, and there's a lot of trading activity. At the end of the day some of the gas is going to come here, even though this market won't pay a premium for the supply.
Zabriskie: If the rest of the world is awash in LNG, or even if there is a reasonable surplus, it will be coming to the United States. That can only help the supply situation and the prices you pay for gas here.
Once you bring an LNG train online you try to keep it at full capacity, and that means you find a home for your volumes even if you don't like the price. Even if Asia and Europe offer a better seasonal price, at some point the market will be saturated and there is only one place for it to go: North America. We could even see LNG pushing the market down by 2011 or 2012.
Over time we will have more capacity holders looking forward and saying they'll have uncommitted receiving capacity. Already people are offering spot cargoes of LNG from existing trains in operation, and finding extraordinary bidding competition. People are buying cargoes F.O.B. ["freight on board," the equivalent of cash and carry] from Nigeria or the Middle East and taking it where they can get the best value. That is already happening, and it's quite interesting.
Sypolt: Cove Point reopened to import LNG cargoes in August 2003. Since that time it has been the most active import terminal in the United States, with supplies being sold on the spot market by shippers. Storage is part of the equation. We have a fair amount of storage capacity at Cove Point, and we are building two additional tanks. And even if our tanks are full we can bring gas to underground storage facilities in various states. This allows suppliers to bring LNG in and decide when to bring it to market.
Fortnightly: What role will financial players have in this market? Will they take positions on cargoes to hedge prices?
Zabriskie: It's conceivable. Merrill Lynch seems to be the most active of the financial players around LNG, but that may change as more LNG comes into the market. Merrill and other players trade and market a lot of gas volumes, and LNG is a way of putting yourself into new gas fields.
But it's not about making huge amounts of money handling every volume that flows through. When you are dealing with large customers, you are looking for more scale, more market reach and the ability to do more sophisticated transactions.
Dweck: If you look at who wants to play in LNG—the big investment banks—they need a robust spot market to start making money. At some point, there will be enough flexibility in the system, supply-demand mismatch, and globalization to allow for price arbitrage around the world. That is perfect for traders.
But it doesn't have to be classic traders. Some small companies will make money on a cargo here and there. For the most part volumes will be controlled by the big players, and in this case it will be the producers—the national oil companies and some of the majors. We will see 70 to 80 percent of the trade being controlled by the big players.
Fortnightly: Why aren't U.S. regulators concerned about competitive access and capacity hoarding the way European regulators are? Why did that issue go away in the United States after FERC's Hackberry decision?
Dweck: The reason is North America has too much natural gas capacity for any player to influence prices. And there's less of an energy-security issue here than there is in Europe. Hackberry was designed to provide a financial incentive to build LNG capacity.
Felsinger: I don't think there is a clear winner here. We currently are building a terminal in Mexico that has a third-party access requirement, and the capacity there is fully subscribed. On the other hand our Cameron terminal, which was the subject of the Hackberry decision, has no open access but it's not full because the upstream supply doesn't exist yet. Capacity is driven by what is available in terms of supply.
FERC looked at these projects as if they were a production field, like a basin being drilled, and they decided to let developers charge what the market would bear, as an incentive to get capacity built. As a terminal developer, I want to require users to sign up long enough to justify the investment. With open access, often you can't get people to sign up for a long enough term to justify your market-based rate. And as an operator, open access can be a scheduling nightmare, trying to coordinate all the different shippers coming in.
Sypolt: We are in a unique position. We provide terminal capacity, storage and transportation services to the market, partly under cost-of-service rates and partly under market rates.
Our expansion project at Cove Point is fully subscribed by Statoil, and that is critical because LNG facilities are capital-intensive projects with a long lead time. The Hackberry policy is the only way to encourage these investments.
Zabriskie: I know for a fact that if you wanted capacity at a terminal, you could go to certain capacity holders and get it. You will have to negotiate and I don't know what the clearing price will be, but it's an open fact that much of the capacity does not have supply behind it right now. You could go to people like Cheniere who have about 2 Bcf/day of capacity you could get any day of the week. So there is capacity available if one wants it, and you should be able to make a deal.
But it's not a precondition for a spot market because there are so many players—ConocoPhillips, Dow, ExxonMobil, Total, ChevronTexaco, BG, BP, Shell, SUEZ, Eni, Merrill Lynch, Sempra—all these people will be in a position to take the odd spot cargo, if not a lot of spot cargoes. I have no concerns there will be some sort of spot market here, nor am I concerned about not having access.
Fortnightly: So what's the bottom line for U.S. electric and gas utilities? How should they approach the LNG market?
Zabriskie: Utilities need a lot of flexibility in their supply. Their consumption is flexible by the day and hour, and they need it at different locations on different days. No utility wants to go out and buy all their gas every day, so it's a mix of monthly contracts, daily purchases, some storage, and some transportation on pipelines, but most utilities access supplies all over the grid.
That's where the marketers play an important role. They have enough transportation and storage to deal with many more suppliers. They can merge all those options to come up with a somewhat more economically efficient solution. The marketer enjoys that efficiency in terms of profit, and the customer enjoys a lower price than he'd get by dealing directly with hundreds of suppliers.
Ineson: Right now it is a seller's market, and you have customers in Europe and Asia that are more concerned about getting volumes. There is a large supply response underway to the high prices we are seeing globally, with very substantial investments. At the same time, our LNG terminals have been running at fairly low capacity. If you roll that picture forward far enough, the global picture will turn into surplus. If it shifts to a buyer's market, that is a good position to be in from an end-user's perspective.
But it is a double-edged sword and a question of timing. Utilities and regulators must answer the economic policy questions about whether waiting for the market to tip is a wise thing to do. Either way, it is a bet you are placing for the future.