New Opportunities: The board of directors of Maine & Maritimes Corp. (MAM) selected Brent M. Boyles to become the organization's next president and CEO, effective May 8, 2007. Boyles will assume the leadership position at MAM, while continuing his responsibilities as president and CEO of Maine Public Service Co., a regulated electric distribution and transmission subsidiary of MAM.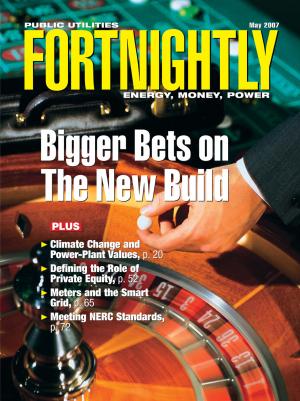 Consumers Energy has named Bruce Rasher manager of renewable energy. Rasher, currently the director of economic development for Consumers Energy, will assume his new position on April 1.
FPL Group Inc. announced that Oliver D. Kingsley Jr. has been elected to the company's board of directors. Kingsley is president of the World Association of Nuclear Operators.
Pacific Gas and Electric Co. named Des Bell as utility chief of staff and vice president. Bell will report to president and COO Bill Morrow. Previously, Bell served as vice president of Bombardier Aerospace's parts logistics business in Montreal.
The American Gas Association (AGA) announced the appointment of Andrew K. Soto as senior managing counsel of regulatory affairs. Soto joins AGA from Sutherland Asbill & Brennan LLP. Prior to that, Soto was a senior legal advisor to Chairman Pat Wood III of the Federal Energy Regulatory Commission (FERC).
Cleco Corp. has named Keith Crump vice president of regulatory, retail operations, and resource planning for Cleco Power LLC, its regulated utility business. He had served as treasurer of Cleco Corp. since May 2005. Kathleen Nolen, senior vice president and CFO, will assume the additional role of treasurer until a replacement for Crump is named.
Public Service Enterprise Group (PSEG) elected Anne E. Hoskins as vice president, federal affairs and policy, within one of its subsidiaries, PSEG Services Corp. Hoskins has served as senior and regulatory counsel for Verizon Wireless since 2000. She will be supported by Kristen M. Ludecke, who was named last week as director of federal affairs.
TVA announced the appointment of William R. (Bill) McCollum Jr. as COO, effective May 1. He previously was the group executive and chief regulated generation officer at Duke Energy.
Entergy Corp. Chairman and CEO J. Wayne Leonard named Entergy leaders to new roles effective April 2. New leadership roles include: Richard Smith, currently group president, utility operations, was appointed Entergy Corp.'s president and COO. Gary Taylor, currently president and COO of Entergy Operations and chief nuclear officer, will become group president, utility operations. And Michael Kansler, currently president of Entergy Nuclear Northeast, was named president and CEO of Entergy Operations and chief nuclear officer.
PG&E elected John Simon as senior vice president of human resources of PG&E Corp. and Pacific Gas and Electric Co., and Edward Salas as senior vice president of engineering and operations at Pacific Gas and Electric Co. Simon previously served in management positions with TeleTech Holdings Inc. Simon most recently was vice president of network strategy and planning for Verizon Wireless.
Resigned:Aquila announced that Keith Stamm, its COO since 2001, is leaving the company.
Deceased: Dr. Chauncey Starr, founder and president emeritus of EPRI, died April 17 at his home in California. Starr formed EPRI in 1972.