Deck:
Eco-Developer Pat Wood III explains how competitive markets are good for green business.
Author Bio:
Richard Stavros is executive editor of Public Utilities Fortnightly .
Eco-Developer Pat Wood III explains how competitive markets are good for green business.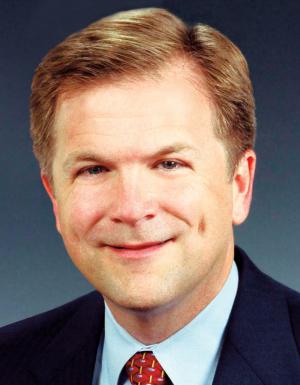 In many respects, Pat Wood III has always been a man ahead of his time. As a Texas public utility commissioner in the mid- to late 1990s, he was one of the first U.S. regulators to oversee his state's move toward electric competition, a novel idea then. As the former chairman of the Federal Energy Regulatory Commission (FERC), he worked to enhance energy-market transparency, promote infrastructure development, and make markets work more effectively for customers at a time when such initiatives sometimes met with fierce political resistance from those supporting the status quo .
The debate over implementing comprehensive electric-competition policies throughout the U.S. economy still rages to this day. Wood, as the federal regulator, had to fight many tough, public battles in defense of his beliefs on open markets.
But there is no bitterness from those battles, if there ever was. It's quite the opposite. Interviewed at the American Wind Energy Association (AWEA) conference in early June, Wood punctuated his answers in the go get 'em, optimistic view of the world many remember him for at FERC.
He has reasons to be optimistic. Having pursued his love of infrastructure development after he left FERC (he is a civil engineer), Wood now promotes developing energy technologies such as solar, wind, and clean fuels. Congress, at press time, was considering a national renewable portfolio standard. Most utility experts believe that some sort of national climate-change legislation will be passed in the next three to four years to reduce carbon emissions.
In this exclusive interview, former FERC Chair Wood—now chairman of the U.S. advisory committee for wind developer, Airtricity, and on the board for SunPower, in addition to developing various independent transmission projects—tells us how he landed at the center of the green-business revolution.
Fortnightly: Why did you choose wind when you left FERC?
Wood: In a way, it chose me. In 1999, Texas adopted this renewable portfolio standard, which was just starting to be talked about around the country. We weren't the first, but one of the early states. Gov. [George W.] Bush and the Legislature set it up, and I was at the [state] commission when we put the rules in place to make the RPS operational.
The rest is history. They shot through the 2,000-MW target four years ahead of time. So, in 2005, the Legislature raised the 2,000-MW target to 5,000 MW of additional renewables by 2015. And we'll probably hit that by the end of 2008. The Legislature put a 10,000-MW-by-2025 goal in the statute, and I expect we'll have that 10 years early. The renewable portfolio standard provided a floor for investment and basically said that we were not going to be less than this in Texas.
I also think the ERCOT transmission policies and the marketplace in Texas really has provided the big welcome mat for wind. I brought that experience with me to FERC in getting the standardized generation interconnection approaches,