Deck:
Eco-Developer Pat Wood III explains how competitive markets are good for green business.
Author Bio:
Richard Stavros is executive editor of Public Utilities Fortnightly.
In many respects, Pat Wood III has always been a man ahead of his time. As a Texas public utility commissioner in the mid- to late 1990s, he was one of the first U.S. regulators to oversee his state's move toward electric competition, a novel idea then. As the former chairman of the Federal Energy Regulatory Commission (FERC), he worked to enhance energy-market transparency, promote infrastructure development, and make markets work more effectively for customers at a time when such initiatives sometimes met with fierce political resistance from those supporting the status quo.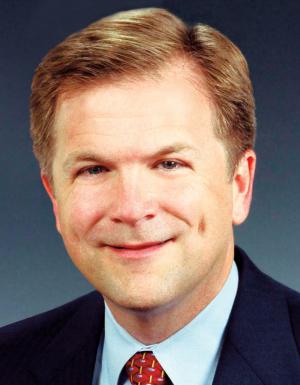 The debate over implementing comprehensive electric-competition policies throughout the U.S. economy still rages to this day. Wood, as the federal regulator, had to fight many tough, public battles in defense of his beliefs on open markets.
But there is no bitterness from those battles, if there ever was. It's quite the opposite. Interviewed at the American Wind Energy Association (AWEA) conference in early June, Wood punctuated his answers in the go get 'em, optimistic view of the world many remember him for at FERC.
He has reasons to be optimistic. Having pursued his love of infrastructure development after he left FERC (he is a civil engineer), Wood now promotes developing energy technologies such as solar, wind, and clean fuels. Congress, at press time, was considering a national renewable portfolio standard. Most utility experts believe that some sort of national climate-change legislation will be passed in the next three to four years to reduce carbon emissions.
In this exclusive interview, former FERC Chair Wood—now chairman of the U.S. advisory committee for wind developer, Airtricity, and on the board for SunPower, in addition to developing various independent transmission projects—tells us how he landed at the center of the green-business revolution.
Fortnightly: Why did you choose wind when you left FERC?
Wood: In a way, it chose me. In 1999, Texas adopted this renewable portfolio standard, which was just starting to be talked about around the country. We weren't the first, but one of the early states. Gov. [George W.] Bush and the Legislature set it up, and I was at the [state] commission when we put the rules in place to make the RPS operational.
The rest is history. They shot through the 2,000-MW target four years ahead of time. So, in 2005, the Legislature raised the 2,000-MW target to 5,000 MW of additional renewables by 2015. And we'll probably hit that by the end of 2008. The Legislature put a 10,000-MW-by-2025 goal in the statute, and I expect we'll have that 10 years early. The renewable portfolio standard provided a floor for investment and basically said that we were not going to be less than this in Texas.
I also think the ERCOT transmission policies and the marketplace in Texas really has provided the big welcome mat for wind. I brought that experience with me to FERC in getting the standardized generation interconnection approaches, the balancing markets, regional transmission planning, the push for RTOs. All of those things are really the minimum you need to make wind work.
Of course, economics is what it is ultimately about. You can adopt policies and government programs, but the bottom line is that you have to have a cost-effective product. And that's what happened. Gas has gone up [in price]. Coal has gone up. No new nukes are being built yet. The markets are getting tight. Demand is going up. So, the price point for wind is looking pretty good.
Fortnightly: How do you make wind more viable?
Wood: It's not hard for it to be viable if you design a market right. Every type of power supply should have a shot at making it if the customers want it. And, you know, customers want wind. You need to take all the obstacles out of the way for customers and suppliers to come together, whether that be for power from West Virginia coal, or Western wind, or San Juan basin gas, or for solar on customers' rooftops. Customers should have a wide array of choices.
Now, not every state gives customers the retail freedom that Texas and other states do. But as a practical matter, if customers have that kind of access to the market in electricity, I think we will have a much more rational and better system.
Fortnightly: What was it about renewables specifically that interested you when you left the Federal Energy Regulatory Commission?
Wood: Before I walked out of FERC, the last official trip I took was to SCE&G's re-dedication of the Saluda Dam on Lake Murray, which is right up the river from Columbia, S.C. It was a great day, a beautiful, hot day. I brought my oldest son there with me. Before they cut the ribbon, I praised the construction workers, saying, "Governments will come and go, republics will rise and fall, but this great edifice will still be here a millennium from now. … This project that you men and women built will make a big difference for a long, long time."
Looking back now, I realize that trip was a fortuitous event. I walked out of my FERC office a week later and, driving home to Texas, I told [my wife] Kathleen that I want to get infrastructure built. I've talked it good for 10 years; now it's time to walk it. Make it happen. So, I'm focusing on clean competitive power generation, independent transmission, and natural-gas infrastructure. Those were the things that I made a mark on in my professional career and know a lot about, and things that I'm proud to tell my sons about.
Fortnightly: What is your role at Airtricity? Do you focus specifically on wind development projects?
Wood: Yes, but Airtricity is also doing sales as well, which was a key point of interest for me. They are a developer and a retailer back in their home country [Ireland]. They are working to [implement] that vision here as well—being a branded name in the Texas market, which is the easiest U.S. market to be a retailer in.
In addition to U.S. wind projects, we also have Canadian projects under development. As chairman of the Airtricity North American Advisory Board, I help oversee this growing business and work on the strategic direction of the company. There is a great team on the ground here, in Chicago, Austin, Albany, Toronto, and now California, and the Irish home office is very active in Europe, moving aggressively into offshore wind development now.
Fortnightly: Is it possible for wind to generate 20 percent of the nation's power in the future as some AWEA conference presenters posited?
Wood: Yes, it is possible for wind and other renewables together to make that target. Sen. [Jeff] Bingaman's bill sets the target at 15 percent by 2020. This is very achievable. But for the wind piece of it, we are going to need more transmission. With the right transmission grid … there is so much capital that is dying to invest in this business. It is the transmission siting and cost recovery that are the big issues to address here. And, as to wind operations, the utilities who have experience with it show that they can integrate significant amounts of wind. If you build it, they'll make it work on the grid.
Fortnightly: What is the endgame of the production tax credit (PTC)?
Wood: The PTC has done a good job in jumpstarting this young technology. But it does lead to some distorted outcomes in the market. I think we need to go ahead and get to the endgame so that we do this at the lowest overall cost. In thinking about this on a continuum, the left part of the line is a PTC where you are giving a tax benefit directly to companies. In the middle you have an RPS where you place a purchasing obligation on retailers and utilities. And at the other end of the line is a carbon tax or carbon-trading regime where the whole economy is incented to find the most efficient way to get to a low-carbon-emissions world. I think it is better to have the government state an enforceable, broad social goal, and let people work out how to get there.
Fortnightly: When does the government back off the PTC? When do the subsidies end?
Wood: Natural gas is a good example. Remember all that "tight" gas that is in the San Juan formation and elsewhere? In the 1980s, Congress did a 10-year production tax credit for producing that harder-to-get gas. The program worked to get that gas produced, and then it went away. I think this should be the same for wind. If Congress wants to extend it a few more years and then say that's it, that would be fine with me. But the idea of doing both [the PTC and the national RPS], as some in Congress advocate, is kind of like belt and suspenders.
If we are going to 15 or 20 percent [renewables] by 2020, there's not enough money in the federal budget to fund a PTC. So you look at a renewable portfolio standard. I'm not saying it's the perfect incentive mechanism, but the RPS worked for us in Texas. If it were a federal program, it would be important—and fair—to allow for a renewable credit trading system that trades nationally so that, for example, if it is cheaper to buy a solar credit from New Mexico than to build a biomass plant in Georgia, you would do so. And if you have a carbon [tax or cap-and-trade] program, you would sweep in non-renewable clean technologies—nuclear, carbon-sequestered coal—and not have the regional haves and have-nots that may come from a pure renewable program.
Fortnightly: How would you sort out the allocation debates that are cropping up in the industry over a cap-and-trade system?
Wood: That's where the cap-and-trade thing is so painful, as opposed to putting a flat tax on carbon. I lived through a FERC version of this. I don't know if you remember when MISO (Midwest Independent System Operator) went to a full wholesale market. We had to allocate the transmission rights. That was the most painful process. We allocated them primarily to the people who were using the power grid today.
It was a dreadful, long process and required a lot of arm twisting. Can you imagine doing that across the entire economy for carbon-emission allowances? Some utilities will argue to allocate them on the basis of customers, and other utilities want to allocate based on how much carbon they are emitting today.
If those were the two choices, I would think FPL, Exelon, and Entergy, for example, would want the first, and AEP, Southern, and TXU would want the second. So what do you do? Maybe the tax approach is easier. But cap-and-trade is more intellectually appealing because it does allow for the efficient polluter to stay in business. That would be the reason you would want a cap-and-trade. But does it put too much power in the hands of a bureaucracy to get the number just right? In Europe they got the number too big, they set the carbon level too high, and their trading system hasn't done much to reduce emissions. If you set it too low, you could kill the economy. So, I worry about that with a cap-and-trade system, too.
Fortnightly: What do you think renewable technologies need in terms of policy?
Wood: They need a workable market and rules that allow them to be useful to customers. That's why Texas is attractive—lots of buyers and sellers. In other places, where you have one utility buyer and a number of sellers that are competing to sell to that utility, it is not a very vibrant, give-and-take business relationship. … I think customers are not benefited in the long term by the big, single buyer buying on behalf of everybody because eventually the suppliers say, "Hell, I'll go somewhere else."
So, you need that. You also need good grid policies, whether that be transmission expansion and balancing markets for wind or net metering and low standby charges for solar. And finally, renewable technologies need to pass the economic test. Wind (which is priced at wholesale) is close to being there today, and solar (which competes against a higher retail rate) should get there in the next five to seven years. That's the real end game.