Deck:
The spotlight is on. But true stardom will require more direction from utilities.
The spotlight is on. But true stardom will require more direction from utilities.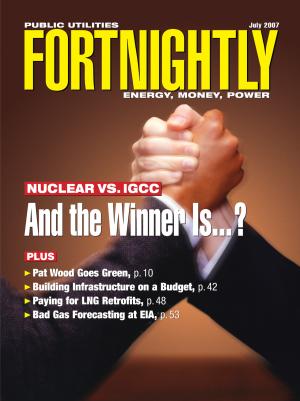 It's the story of a once scrappy, underappreciated technology—the ignored younger sibling that must fight hard for respect from its older brother, the traditional utility industry. Wind has become today's hit—a potential blockbuster, even—but still needing that one big break.
That's why it was fitting that the American Wind Energy Association (AWEA) would hold its annual conference in Los Angeles, a place where thousands of aspiring stars flock each year, in hopes of being discovered.
The recent June conference, "Growing the Wind Business," attracted some 7,000 attendees and nearly 420 exhibitors. Many were seeking fame and fortune in the burgeoning wind business, said by AWEA to be growing at an annual rate of 25 percent to 30 percent. Heady stuff, even for a starlet.
Moreover, with President Bush's declaration in the 2006 State of the Union address that wind could provide 20 percent of electricity in the United States (versus today's share of 1 percent), the wind industry might be forgiven for believing it has arrived. Clearly, 20 percent is practically on par with other major energy technologies. In fact, preliminary results released at the conference from an AWEA draft report said that the 20-fold increase in wind power (the equivalent of between 300 and 320 GW) could be reached by 2030. This figure was repeated often throughout the conference—more of a chant than mere statistic.
Meanwhile, Congress is trying to hash out an energy bill that extends the production tax credit or imposes a national renewable standard that would require utilities to obtain at least 15 percent of their electricity from renewable resources—wind, solar, or geothermal—by 2020. At press time the debate still raged between Sens. Pete Domenici and Jeff Bingaman on how high to set the standard and whether electricity from nuclear power plants, hydropower, and electricity saved through conservation could also be considered as part of meeting the standard.
Whether such legislation would be passed this year or next—some expect climate legislation in the next few years—utilities will have to contemplate becoming major operators of wind power in a way that would be unprecedented, even by current standards. But making the challenge even greater, many conference speakers acknowledged, is that wind power is anything but ready for a 20-fold increase. Super-stardom of that caliber will prove elusive, they say, until transmission integration and policy issues are resolved, as well as utility balance-sheet issues.
Ownership Has Its Privileges
For wind power to make it big, utilities will have to lead the charge as owners. That will force utilities to consider and evaluate the significant credit implications that can arise when signing a power purchase agreement (PPA) with developers that lack deep pockets, or implement fly- by-night schemes.
As many recall and would like to forget, during the credit crises of the early 2000s, utilities signed PPAs with energy traders that eventually went bankrupt, causing downgrades for some utility bond ratings and major disruptions to normal utility operations when counterparties failed to fulfill their