Deck:
As if carbon control were a fait accompli, gen developers skew the queue toward renewable projects, driving new policy on transmission pricing.
Author Bio:
Bruce W. Radford is editor-in-chief for Public Utilities Fortnightly.
Now at last, in a region other than California, we can see clearly that renewable mandates and fears of carbon taxes have influenced the power-plant development cycle. Moreover, this effect is helping to drive policy proposals for the pricing of transmission service and the recovery of costs for grid upgrades deemed necessary to bring the new plants on line.
The Changing Project Queue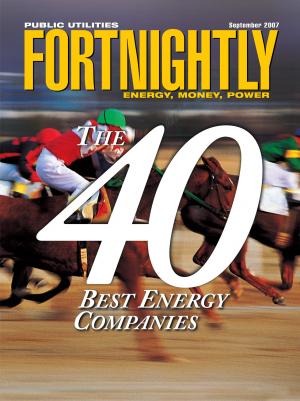 Five years ago, in 2002, the region covered by the Midwest Independent System Operator (MISO) saw some 30 new proposed natural-gas combustion turbine projects enter the project development queue—with a significant number ranging in size from 500 to 1,000 MW. The same year counted 24 new wind power projects added to the MISO queue, with most coming in at less then 20 MW.
By contrast, according to data from MISO not a single new gas-turbine project was added to the queue in 2006, while developers proposed 102 wind projects, with many sized between 100 and 250 MW. The story was much the same during the first third of 2007, with 57 new wind projects proposed, versus one new gas turbine. (See Figure 1, "Evolution of the Queue," and Figure 2, "Active Projects by State.")
This flip-flop in developer preference—from a bias for gas projects just five years ago to a marked preference today for wind power development—has led to an untenable situation in the project development queue, MISO says.
Understand the most important idea. MISO calls it the "first-mover-pays" treatment. In other words, the first generator in the queue to propose interconnection—the one with priority—will face the cost responsibility for funding any necessary grid network upgrades to accommodate the new resource. And under current MISO policy, the generator proposing interconnection will see only a 50-percent reimbursement for its contribution to the grid. Transmission owners cover the remaining 50-percent of grid-upgrade costs, which they recover through zonal transmission rates, with costs allocated to the company-specific zones using the same voltage-impact criteria approved under MISO's RECB-I (Regional Expansion Criteria and Benefits) regime, as explained further below. (This MISO policy differs somewhat from the result under the standard interconnection agreement OK'd by FERC in Order 2003-B, issued Dec. 20, 2004, which envisions that the utility will reimburse the generator 100 percent for the latter's upfront investment.)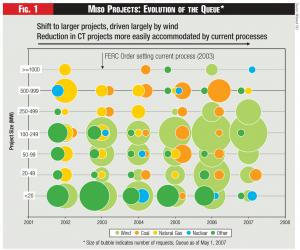 So in the Midwest, with developers on the hook for 50 percent of the cost for constructing grid network upgrades needed to facilitate the new wind plants, but with the typical project size too small to justify the expense, MISO now believes that its current policies no longer work. In the typical case, says MISO, a wind developer comes in with a new proposal, earning priority in the queue. The sponsor then will escort the project through the feasibility, impact, and facilities studies, then bail out when asked to foot the bill for grid network upgrades. By this strategy, the sponsor seeks to shift the cost burden to the next project on line.
In MISO's own words, "This first-mover-pays treatment incentivizes interconnection customers to move their projects into the queue, and then withdraw awaiting either the next generator of the local utility to step up and fund the upgrades."
Unfortunately, however, that just forces everyone back to the drawing board, as MISO then must restart the impact and facilities studies for all other projects in the queue, to reflect the changed topology on the grid. The whole process repeats itself, until the delays in the project completion cycle become unmanageable.
Of course, MISO's recognition of this problem is no novelty. California utilities (notably, Southern California Edison) have struggled in the past in their efforts to secure long-term grid expansions to accommodate windpower development. (See, Commission Watch, "Greening the Grid," April 2007.) And last spring, the Federal Energy Regulatory Commission (FERC) OK'd a proposal by the Cal-ISO to create a new category of electric transmission projects designed to make it easier to develop and build large wind power projects. (See, Docket EL07-33, April 19, 2007, 119 FERC ¶61,061.)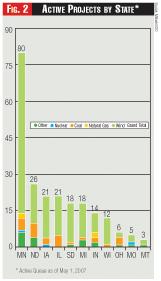 Nevertheless, the situation in MISO might hold more significance, policy-wise, as politicians in the Midwest generally have appeared to be less aggressive then California in pushing renewable energy. Only three states within the MISO footprint (Minnesota, Wisconsin, Iowa) have yet to adopt a mandatory renewable portfolio standard.
In fact, MISO reported during the summer that, as early as this fall (September at the earliest), it likely would propose a new tariff at FERC modeled after the already approved Cal-ISO regime. MISO's new tariff, to be known as the "RPGIP" (Regionally Planned Generation Interconnection Project), would introduce a new transmission pricing protocol to recover grid upgrade costs required to accommodate new wind projects. (See, "Proposal to Remove Barriers to Efficient Transmission Investment," MISO White Paper, June 29, 2007.)
As events have unfolded, however, it seems that two other Midwest players—American Transmission Co. LLC, and ITC Holding, the parent company of Michigan Electric Transmission Co.—have beaten MISO to the punch.
These two companies, ATC and ITC, operate as stand-alone transmission companies and recover their utility revenue requirements entirely through grid pricing tariffs. It is their contention, in lockstep with MISO (though for different reasons), that current grid pricing tariffs don't work when it comes to wind projects. This summer, ATC and ITC each proposed new tariffs at FERC to deal with grid upgrade costs related to wind power development.
Reliability and Economics
Heretofore, regional grid operators have tended to see grid buildouts as coming in one of two flavors: reliability transmission, or economic transmission. The one ensures compliance with contingency standards, voltage requirements, and the like. The other aims at boosting consumer welfare, such as by reducing prices, or by allowing for long-haul regional imports or export of low-cost power.
This new initiative from MISO, however, along with FERC's April ruling involving the Cal-ISO, suggests that theory ought to make room for a third grid category, designed to foster more renewable energy projects. Call it environmental transmission, if you will, or perhaps public-purpose transmission. It may not be strictly cost-justified, but necessary, rather, to carry out political objectives.
To understand MISO's position, consider how the region currently differentiates between transmission upgrade projects keyed either to reliability or economics under its RECB regime, first proposed in October 2005.
Reliability Upgrades. Whether it be a conventional grid expansion project, or an upgrade made necessary to achieve interconnection with a new generator, the so-called RECB-I protocol (with associated FERC orders) governs cost recovery in MISO according to the voltage capacity of the new project. Costs for facilities rated at between 100 kV and 345 kV are recovered through zone-specific tariffs billed sub-regionally by MISO on behalf of the individual transmission owners for each zone. Costs are allocated among zones according to the proportional impact of the upgrade on each zone, as determined by analysis of line outage distribution factors (LODF). Costs for upgrades rated at 345 kV or higher are allocated 80 percent by zone, and 20 percent under a "postage stamp" applicable across the entire MISO footprint. (See, Docket No. ER06-18, Feb. 3, 2006, 114 FERC ¶61,106, and rehearing orders of Nov. 29, 2006 and March 15, 2007.)
Economic Upgrades. By contrast, MISO's RECB-II protocol governs cost allocation for high-voltage upgrades (greater than or equal to 345 kV) that qualify as "regionally beneficial projects." To earn that status, grid upgrades must produce a positive present value for both (a) savings in power production costs, and (b) wholesale prices, as measured by locational marginal prices (LMP) aggregated across all generation and load nodes recognized under MISO's transmission and energy market tariff (TEMT). Also, the upgrade must achieve a certain ration of benefits to costs. If these criteria are met, the costs of the RECB-II economic project are allocated and recovered 20 percent through a postage-stamp transmission rate across the MISO footprint, and 80 percent through license-plate rates for one of three geographic sub-regions, West, Central, or East. Under this 80-percent allocation, consumers pay the costs of facilities located within their particular zone. (See, Docket No. ER06-18, March 15, 2007, 118 FERC ¶61,209, and rehearing order of July 23, 2007.)
Older Vintages. Existing grid facilities, meanwhile, are billed exclusively under license-plate zonal tariffs associated with individual transmission owners. In MISO, such license-plate rates have remained in force for existing, pre-RECB grid facilities, during a six-year transition period set to end on Jan. 31, 2008. However, MISO has now proposed that license-plate pricing should continue indefinitely, during the so-called post-transition period, for all existing, pre-RECB grid facilities. (See FERC Docket No. ER07-1233, filed Aug. 1, 2007.)
MISO recently had conducted a number of stakeholder sessions on this question, eliciting more than a half-dozen alternative pricing regimes, with facilities eligible for postage-stamp or zonal license-plate according to vintage, strict voltage level, or function (as measured by power flow distribution factors). Ultimately, however, the MISO membership decided that the alternative pricing regimes would produce such enormous cost shifts that, for practical and political reasons, the region would be better off sticking with license-plate pricing. After all, as FERC had found in ratifying license-plate pricing for existing facilities in the PJM region, the older-vintage grid was designed and built primarily to serve local needs of the individual utility grid owners. (See, Opinion No. 494, Docket No. EL05-121, Opinion No. 494, April 19, 2007, 119 FERC ¶61,063.)
Cognizant of FERC's ruling in the PJM case, and that similar reasoning applied to its own situation, the MISO membership saw no need to deviate, and so has proposed to continue license-plate pricing for existing grid facilities through the foreseeable future.
The Public-Purpose Imperative
MISO's new RPGIP tariff idea proposes an "open season" concept for wind power developers, similar to what occurs when a proposed gas-pipeline construction project goes looking for subscribers. Thus, MISO would first identify a list of potential open-season wind projects, conduct a cost analysis, and then gather non-binding indications of interest from potential sponsors for grid upgrades. These sponsors would be transmission owners, or perhaps not. They would cover 50 percent of the grid upgrade funding—the share of costs reimbursed to generators under MISO's current policy.
The remaining 50-percent cost share assigned to generators, however, would be paid not by the first project developer (the one with priority) but by a group of generators: all of the projects making use of the single grid upgrade. Wind developers subscribing to the project in year two would pay an interest-rate carrying cost to cover their delay.
Nevertheless, for reasons that remain unclear, MISO's tariff idea was pre-empted and upstaged earlier this summer by competing proposals from ATC and ITC, which operate as standalone transmission utilities. Moreover, the ATC and ITC tariffs raise three key issues for regulators.
First, a policy question: If the nation needs more renewable energy, should individual transmission owners craft their own incentive programs, or should that task be left to regional grid operators, such as MISO or PJM?
Second, a market test: Should regulators hold wind project developers to any sort of cost-benefit or efficiency test in order to earn preferential treatment in funding grid upgrades?
Third, a consumer benefits test: Should regulators force wind developers to reserve the new resources for local consumers, who would be funding the grid upgrades? Otherwise, power producers might simply export their output across the region to consumers in other states, which might need wind power to satisfy their own renewable portfolio standards.
Consider that ATC and ITC each have proposed their own wind-friendly transmission tariffs out of concern that a MISO program won't serve their particular needs. Both ATC and ITC, as stand-alone transmission companies, believe they enter the game with two strikes against them.
First, as limited liability companies, they do not enjoy the same tax advantages as traditional transmission owners. That's because the traditional utility TO, as a "C" corporation, pays no tax on grid upgrade funds received from generators, by virtue of Internal Revenue Code Sec. 118, as interpreted by I.R.S. Notice 2001-82, and Revenue Procedure 2005-35. Thus, ATC and ITC believe they need to offer 100-percent reimbursement to wind developers, to avoid having to ask developers to add a tax "gross-up" payment to any 50-percent funding contribution required under the MISO plan.
Second, ATC and ITC insist on running their own incentive programs because, as stand-alone transmission providers, they cannot recover grid upgrade costs through bundled retail energy rates approved by state regulators. Rather, they must recover their entire revenue requirements through transmission rates collected through the MISO market. To do so, they must remove any obstacles to expanding their own proprietary grid networks.
Regarding cost efficiency, ATC proposes in its tariff to reimburse wind developers for 100 percent of grid upgrade costs, but only if the upgrade comes in at or under a cost ceiling of $400/kW of the new generating capacity made possible by the upgrade. (See, FERC Docket No. ER07-1144, filed July 11, 2007.) Interestingly enough, however, ATC's attempt to introduce cost discipline to any grid upgrade subsidy offered to wind developers has drawn a fair amount of criticism.
Thus, although Michigan Gov. Jennifer Granholm has praised the ATC proposal, the state Public Service Commission finds the $400/kW ceiling way too high. It suggests instead a much tighter market test, noting that according to ATC's own data, the average peak per-kilowatt cost of grid upgrades performed to aid generation interconnections in ATC's territory for all fuel types is only $64/kW. (See, Comments of Mich,. PSC, FERC Dcket No. ER07-1144, filed July 31, 2007.)