Deck:
Emissions regulations are reshaping the U.K. and Irish energy markets.
Emissions regulations are reshaping the U.K. and Irish energy markets.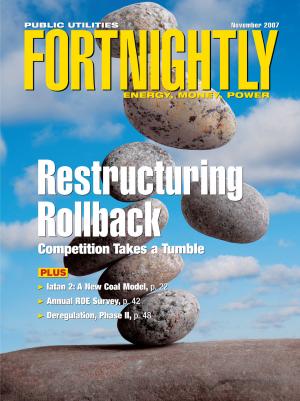 As U.S. policymakers consider how to tackle the challenge of greenhouse-gas constraints, the U.K.'s approach to the problem offers instructive examples.
EU leaders agreed to reduce combined CO 2 emissions to 8 percent below 1990 levels by 2012. The U.K. is one of very few countries intending to exceed its Kyoto target of a 12.5 percent reduction in CO 2 emissions below 1990 levels. The U.K. National Allocation Plan (NAP) for Phase II (2008-2012) expects to achieve a reduction of 23.6 percent. The European Commission accepted this Phase II NAP without amendment.
The British government has allocated free emissions credits to all sectors in the U.K., based on a business-as-usual scenario (BAU)—with one exception. Large electricity producers (LEPs) received an allocation 30.3 percent below a BAU scenario. A number of LEPs are considered to be good-quality combined heat and power (CHP) facilities, and will receive a full allocation for the CHP portion of their output. But the CO 2 allocations given to large electricity producers (LEPs) will not be sufficient to cover the emitted quantities. The LEPs will need to purchase extra allowances.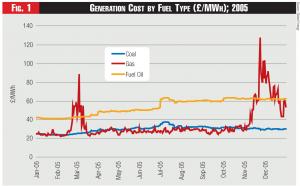 More broadly, retirements and restrictions on coal-plant generation will cause resource-adequacy concerns in the region, raising the need for generating capacity additions by 2010. The U.K. will not be able to meet its renewables target. Gas-fired generation is expected to be the major source of power in the future Great Britain Energy Market (GBEM) resource mix, with clean coal and nuclear also contributing to fuel diversity.
Off-peak market prices likely will increase as a consequence of more expensive gas-fired generation setting the market prices during the off-peak hours with the retirement of major baseload generation. Volatility in power prices caused by variations in load and natural-gas prices is a key risk to be examined in integrated resource-planning activity.
Coal Conundrum
In Great Britain, 34 percent of the total installed capacity is coal-fired, and approximately 30 percent of the total generation is met by coal. Going forward in the study period, the ratio of generation/installed capacity declines dramatically as the operation of most of the existing coal stations is constrained by the emission limits imposed by the Large Plant Construction Directive (LCPD).
Nevertheless, coal will remain an important source of fuel for electricity generation in the GBEM market. Coal's share in total generation falls to an average of 26 percent during the years with LCPD operation restrictions, in 2008 and 2015. The share of coal generation likely will increase and stay around 30 percent between 2016 and 2020 as new clean-coal plants come on line to replace some of the 2015 retired capacity. The share declines to an average of 24 percent during the remaining years of the study period (see Figure 2) .
With the expected retirement of the existing coal fleet, new