Deck:
TXU's buyout structure creates a potential model for utility M&A and refinancing deals
Author Bio:
Terry A. Pratt is a director, utilities and infrastructure, with Standard & Poor's Rating Services in New York. Email him at terry_pratt@sandp.com.
Few electric utilities have experienced more change in one year than TXU Corp. did in 2007.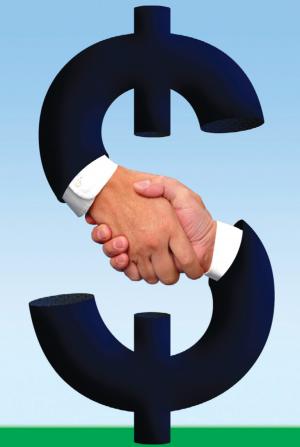 In February, TXU was a publicly held company, whose shareholders were well rewarded by the stock price movement over the previous year. The company was engaged in a $11 billion program to build 11 new coal-fired power plants totaling 8,600 MW to solidify its competitive position in the unregulated Texas electricity markets — a goal that made it a prime target of environmental groups at that time. TXU had $12 billion in debt and a BBB- rating.
By November, TXU was privately held by a Kohlberg Kravis Roberts & Co. (KKR) and TPG Capital (TPG)-led consortium. It had cancelled eight of the 11 coal plants — or about 6,400 MW — and thereby gained the alliance of several environmental groups to endorse the KKR- and TPG-led buyout. The new company, Energy Future Holdings Corp. (EFH), had about $39 billion in debt and a B- rating.
What a difference ten months can make.
Private equity has had mixed results in acquiring utility assets, with success measured by getting regulators to agree a deal is in the public interest — mainly a question of keeping rates low and providing reliable service. With TXU, regulators had a different role, because about 75 percent of cash came from unregulated operations. Regulated T&D service provided the rest. EFH and its private-equity sponsors developed successful strategies to deal with opposition to the overall buyout of the firm and to deal effectively with Texas regulators on the profitable T&D unit.
Many of the measures they adopted for EFH's regulated T&D unit could prove highly influential in supporting more private-equity buyouts of utility assets in the years to come, or in adding leverage to utility ownership structures without harming ratings at regulated units.
Buying Different Future Value
Recent private-equity deals for utility assets offer some contrast to the TXU buyout. Examples include the $3 billion Duquesne Light Holdings acquisition by a consortium of Macquarie Infrastructure Partners and publicly listed fund Diversified Utility and Energy Trusts; and the failed $2.2 billion buyout of NorthWestern Corp. by Babcock & Brown Infrastructure Ltd. (BBI), which is owned by Australia-based Babcock & Brown.
The Macquarie-led consortium bought into Duquesne to benefit from steady, largely regulated cash flow. Duquesne Light Holdings' main subsidiary, Duquesne Light Co. (BBB-/Stable), makes money through regulated T&D operations serving nearly 600,000 customers in and around Pittsburgh, Pa. BBI's interest in NorthWestern Corp. was driven by similar factors — primarily cash-flow stability. The utility provides electric and gas T&D service to about 640,000 customers in Montana, South Dakota and Nebraska.
By contrast, the former TXU's unregulated operations involve wholesale and retail electric-generation supply in Texas, while regulated T&D operations serve about 2.7 million customers in Northern Texas. EFH's wholesale unit has a large asset position in baseload coal-fired units and is planning to place two new coal-fired plants totaling 2,200 MW into service by mid-2010. These new assets should benefit EFH in the near term due to a declining reserve margins in ERCOT. KKR, TPG and other investors in EFH are not looking just for stable cash flow: They are betting the wholesale and retail operations will be worth a lot more a few years down the road.
Overcoming Regulatory Concerns
Regulators make or break utility mergers and acquisitions in which they have jurisdiction. Macquarie succeeded in developing a favorable regulatory strategy in Pennsylvania. The investing consortium agreed to several commitments, including no requests for rate increases until 2010; no recovery of the acquisition costs in rates; and keeping the headquarters in Pittsburgh, among other things. With these and other commitments, as well as Macquarie's long-term vision, the Pennsylvania PUC determined the deal was in the public interest and approved it in March 2007.
The flip side of this success is BBI's failure to gain regulatory approval to buy NorthWestern. While regulators in Nebraska approved the deal and those in South Dakota cited a lack of jurisdiction, the regulators in Montana unanimously voted to reject it in May 2007. Among key reasons cited by Montana PUC commissioners were the potential for a deteriorating capital structure resulting from an expected high debt burden and the potential for excessive distributions and inadequate retained earnings. BBI sweetened the deal to satisfy some concerns, including making the Montana utility bankruptcy-remote from the parent, putting it under local control, and restricting distributions. However, Montana regulators again rejected the acquisition in July, which resulted in BBI's immediate termination of the buyout.
In Texas, KKR and TPG argued originally that the Texas PUC had no approval rights over the TXU buyout. The law seemed a little murky on this point based on the reading of numerous opinions on the matter. Regardless, there was always the possibility for the Texas legislature to change the law to give the Texas PUC or legislature such rights over the deal, and the commission still regulated the T&D unit, a very large cash-flow provider.
The company adopted several measures to support the deal and appease the regulators and other parties. At the wholesale unit, EFH's decision to cancel eight new coal plants was crucial. This strategic U-turn — which cost big money to cancel equipment purchases — along with pledges for large demand-side management investment and other environmentally favorable positions, helped gain support from key environmental groups. At the retail operations, EFH offered price cuts to certain customers through September 2008. To address governance issues, the buyers named some high-profile Texans to the EFH board of directors (such as Don Evans, once the U.S. Secretary of Commerce) and increased the separation among the wholesale, retail, and regulated T&D subsidiaries — each of which now has its own board.
The buyers adopted several notable structural features and financial commitments to support the creditworthiness of the T&D unit, now known as Oncor Electric Delivery LLC (previously TXU Electric Delivery), and reduce the Texas PUC's concerns for ratepayers. These structural features should help Oncor maintain a moderately leveraged capital structure and limit its distributions to the equity owners, which helps support overall financial strength — features the Montana PUC initially found lacking in the NorthWestern deal. The structural features also limit Oncor's exposure to EFH creditworthiness and potential bankruptcy events.
Bankruptcy Remote
Foremost, the structural features sought to reduce Oncor's exposure to EFH's credit risk and help it maintain an investment-grade rating. When the buyout was announced, Standard & Poor's concluded EFH's rating would fall from BBB- to the single-B category based on the proposed capital plan, which included a large amount of new debt. To separate Oncor's credit risk from EFH's, the sponsors decided to ring-fence it from EFH — that is, to make Oncor bankruptcy-remote from EFH.
The credit issue is one of preventing substantive consolidation — i.e., if EFH goes bankrupt, it could pull Oncor into its bankruptcy proceeding.
Legal ring-fencing is a common practice when a parent tries to achieve a rating on a subsidiary higher than its own. The parent attempts to create a separate identity for the subsidiary — a different board of directors, management, business plan, accounts, records, liquidity facilities, corporate name and so on. But this is not enough. Additionally, the subsidiary directors will include at least one who is independent, that is, one who has not had a material commercial or ownership relations to the subsidiary or its parent for a long time — usually five years. This independent director has a fiduciary responsibility to the company and also its lenders. That director's approval is required to make material changes to the subsidiary, such as a change in business plan, material agreements, liquidity facilities, and, most importantly, for filing the subsidiary into bankruptcy or agreeing to such a filing by another entity. Therefore, without the independent director's approval, the subsidiary cannot file for bankruptcy.
Another requirement of separateness is that the parent must be able to secure a non-consolidation opinion from legal counsel, which concludes that if the parent did file for bankruptcy, the court would view the subsidiary as a separate entity and not consolidate it into the parent's bankruptcy. Of course, nothing is foolproof, so this is why people talk about being bankruptcy-remote but not bankruptcy-proof.
S&P analysts view Oncor's structure as bankruptcy-remote from the parent company. The company will have nine directors, six of which will be independent by rules established under the New York Stock Exchange. Two of these six will be independent under the more stringent criteria S&P has established for such directors in relation to legal ring-fencing structures. Analysts also reviewed the non-consolidation opinion regarding Oncor and EFH and found it acceptable.
Financial Commitments
In addition to the ring-fencing structure, Oncor and its holding company will be bound by a number of financial commitments to help support their financial integrity and at least maintain the current regulatory construct. Oncor has a good arrangement, with an ROE of 10.75 percent and efficient capital recovery features that support stable cash flow and low liquidity usage.
Oncor filed with the Texas PUC in April 2007 to be bound by a number of commitments. In the same month the regulator required Oncor to file a rate case by August 2007. Since then, Oncor and a number of parties have reached a settlement that would be favorable to credit if and when the Texas PUC approves it. Foremost, the Texas PUC would scrap the rate filing and require Oncor to file a new system-wide rate case by July 1, 2008, using the 2007 calendar year as the test period.
Putting it all together, Oncor has agreed to meet these and other commitments that have factored into ratings assessments for Oncor and EFH:
• Limit debt leverage to no more than 60 percent. Even though their regulators might view them as having such a capital structure when examining rates, almost no utilities would agree to maintain such an exact capital structure;
• Allow independent directors, acting on a majority, to stop equity distributions if they conclude Oncor needs the cash to support its operations or reduce debt leverage;
• Limit distributions to no more than 100 percent of net income (subject to certain adjustments) through 2012;
• Commit to at least $3.6 billion in capital spending over the next five years, under certain situations, such as continued demand growth;
• Commit to meeting certain system-reliability and customer-service standards;
• Report to the Texas PUC annually on compliance with commitments;
• Forgo rate recovery of any acquisition costs;
• Forgo debt issuance to help finance the buyout. Oncor's holding company will not have any debt or other liabilities; and
• Transact with EFH and its subsidiaries through arm's-length agreements.
More to Come
Private equity interest in the utility business is probably here to stay. Just after the TXU deal closed in October, Puget Energy Inc. (BBB-) headquartered in Bellevue, Wash., agreed to sell itself to Macquarie Infrastructure Partners for $7.4 billion. Puget Energy's electric and gas utility subsidiary, Puget Sound Energy Inc., (BBB-) has about 1 million electricity and about 720,000 natural gas customers.
At the same time, however, given that almost all utilities are regulated and a number of states have increased their ability to approve such acquisitions, private-equity buyers will have to show that their deals shield ratepayers from financial and operational risk. The structural and financial commitments TXU's buyers adopted for Oncor may well be adopted by others to receive regulatory approval for their deals — while still achieving their required returns for investors, even after paying substantial acquisition premiums.