Deck:
TXU's buyout structure creates a potential model for utility M&A and refinancing deals
Author Bio:
Terry A. Pratt is a director, utilities and infrastructure, with Standard & Poor's Rating Services in New York. Email him at terry_pratt@sandp.com.
TXU's buyout structure creates a potential model for utility M&A and refinancing deals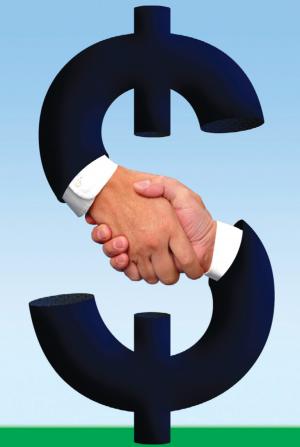 Few electric utilities have experienced more change in one year than TXU Corp. did in 2007.
In February, TXU was a publicly held company, whose shareholders were well rewarded by the stock price movement over the previous year. The company was engaged in a $11 billion program to build 11 new coal-fired power plants totaling 8,600 MW to solidify its competitive position in the unregulated Texas electricity markets — a goal that made it a prime target of environmental groups at that time. TXU had $12 billion in debt and a BBB- rating.
By November, TXU was privately held by a Kohlberg Kravis Roberts & Co. (KKR) and TPG Capital (TPG)-led consortium. It had cancelled eight of the 11 coal plants — or about 6,400 MW — and thereby gained the alliance of several environmental groups to endorse the KKR- and TPG-led buyout. The new company, Energy Future Holdings Corp. (EFH), had about $39 billion in debt and a B- rating.
What a difference ten months can make.
Private equity has had mixed results in acquiring utility assets, with success measured by getting regulators to agree a deal is in the public interest — mainly a question of keeping rates low and providing reliable service. With TXU, regulators had a different role, because about 75 percent of cash came from unregulated operations. Regulated T&D service provided the rest. EFH and its private-equity sponsors developed successful strategies to deal with opposition to the overall buyout of the firm and to deal effectively with Texas regulators on the profitable T&D unit.
Many of the measures they adopted for EFH's regulated T&D unit could prove highly influential in supporting more private-equity buyouts of utility assets in the years to come, or in adding leverage to utility ownership structures without harming ratings at regulated units.
Buying Different Future Value
Recent private-equity deals for utility assets offer some contrast to the TXU buyout. Examples include the $3 billion Duquesne Light Holdings acquisition by a consortium of Macquarie Infrastructure Partners and publicly listed fund Diversified Utility and Energy Trusts; and the failed $2.2 billion buyout of NorthWestern Corp. by Babcock & Brown Infrastructure Ltd. (BBI), which is owned by Australia-based Babcock & Brown.
The Macquarie-led consortium bought into Duquesne to benefit from steady, largely regulated cash flow. Duquesne Light Holdings' main subsidiary, Duquesne Light Co. (BBB-/Stable), makes money through regulated T&D operations serving nearly 600,000 customers in and around Pittsburgh, Pa. BBI's interest in NorthWestern Corp. was driven by similar factors — primarily cash-flow stability. The utility provides electric and gas T&D service to about 640,000 customers in Montana, South Dakota and Nebraska.
By contrast, the former TXU's unregulated operations involve wholesale and retail electric-generation supply in Texas, while regulated T&D operations serve about 2.7 million customers in Northern Texas. EFH's wholesale unit has a large asset position in