Deck:
Modern approaches to system operations and forecasting make the most of variable energy sources.
The old adage about changing weather ("if you don't like it, wait an hour") affects windpower as much as it affects picnics. Maybe more so, because picnickers can always seek shelter or fall back to the Country Kitchen Buffet.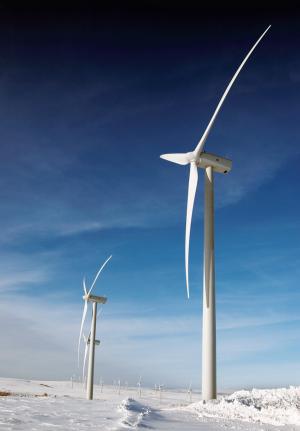 For decades, utilities have praised windpower for the clean energy it provides, while simultaneously bemoaning its intermittent nature. Critics argue windpower is unreliable, and at any significant levels of market penetration it can become a system operator's nightmare.
In recent years, however, the wind industry has been fighting back against such challenges. Nobody disputes windpower's variability; that's a given. But modern approaches to demand management, grid integration and wind forecasting are making windpower more predictable and grid friendly. And technology companies are marketing a variety of equipment and services to support a growing base of variable wind capacity—sort of like a virtual Country Kitchen Buffet for the windpower picnic.
"There's real value in flexibility," says Rob Gramlich, policy director for the American Wind Energy Association. "The key lesson from wind integration studies is the goal should be to balance the power system and aggregate load and generation."
Reading the Wind
On a 50-meter tower near Ward, S.D., small pinwheels twirl in the wind.
The pinwheels—called anemometers—measure wind speed at various altitudes. On a real-time basis, the measurements are sent to an Xcel Energy meteorologist in Denver, who compiles the data together with observations from more anemometers and other sources, including the National Weather Service. Using computational modeling systems that correlate wind speed and other factors with historical wind-turbine output, the meteorologist produces hourly and day-ahead generation forecasts for windpower facilities serving Xcel's Northern States Power territory.
Wind is a major source of energy for Xcel, with about 2,600 MW of windpower capacity now in service on the company's system, and another 3,400 MW planned by 2020.
Of course, windpower capacity isn't the same thing as generation; some system operators count on wind turbines for only 10 percent of their rated capacity.1 The potential, however, may be much greater. And as wind energy contributes a larger share of Xcel's power supplies, the company has a strong incentive to understand windpower as completely as possible—and to make the most of it from an operational and market perspective.
In 2004, Xcel hired a team comprised of WindLogics Inc., EnerNex Corp., AREVA T&D and the Utility Wind Interest Group, to demonstrate a windpower forecasting system that informs Xcel's system operators about likely output on an hourly and day-ahead basis. The goal of the project is to help Xcel integrate wind energy into its system, as well as to help portfolio managers plan their energy trading activities.
"You can't dispatch wind. But if you can schedule it, it's almost as valuable as a totally dispatchable resource," says Mark Ahlstrom, CEO of WindLogics in St. Paul, Minn. "You wouldn't want all your energy coming from wind, but you can effectively integrate wind up to even 30 percent of your supply—if you have the right tools to give you a reasonable knowledge of what's going to happen."
Forecasting also helps reduce windpower costs. Armed with knowledge about wind resources on a forward basis, portfolio managers will better understand changing conditions in the power market. This helps minimize the amount of capacity and energy utilities need to buy to pick up the slack when the wind dies down. "To the degree we can forecast output from wind turbines, the more valuable that output becomes," Ahlstrom says. "And the easier it is to integrate, the less costly it is."
Array Balancing
In locations where wind turbines begin generating a large share of the power supply, variability becomes an increasingly important issue—and a dilemma. Utilities need windpower's climate-friendly energy, but as the power system becomes more reliant on windpower, its variability will bring greater reliability concerns.
The primary and most effective way to address the issue is for system operators to manage variable energy supplies the same way they manage variable load—by dispatching different resources to keep the system stable. "The power system can do this most efficiently as an integrated pool with a system operator at the controls, balancing needs up and down," Gramlich says. "The dichotomy between base load and peaking isn't appropriate anymore."
Historically, demand-side resources have been a fairly limited tool in the system-operator's kit, so they've relied on dispatchable power plants to satisfy peak demand. But this is changing with trends toward a smart grid and more active and aggressive load-management practices.
The idea of matching demand to available supply, rather than the reverse, has emerged as an actual product in electricity markets. And service providers are finding new ways to provide that product. For example, Site Controls, an energy management company based in Austin, Texas, has demonstrated the ability to ramp up and down commercial and industrial load in concert with wind availability.
"We've used off-peak energy from wind farms from 2 a.m. to 6 a.m. to pre-cool a bunch of retail facilities, effectively absorbing that energy when there was nowhere else to put it," says Chris Hickman, president of the energy services division of Site Controls. "If demand-side management can act as both a 'call' option and a 'put' option in the market, we can balance renewables and make them a solution instead of a problem."
Further, by managing resources across a large and diverse pool, system operators can reduce the effect of wind's variability. Some studies suggest an interconnected grid can count on much greater than 10 percent of wind capacity, if system operators manage the output of several facilities together rather than separately. "While wind speed could be calm at a given location, it will be non-calm elsewhere in the aggregate array," stated the authors of a recent Stanford University research study. "An average of 33 percent and a maximum of 47 percent of yearly averaged wind power from interconnected farms can be used as reliable, baseload electric power."2
In small systems that can't fill in the gap with demand and supply responses, or where even greater effective availability is needed, backup generation can help system operators further optimize wind capacity.
"There can be a very rapid change in the wind as fronts move through," says Frank Donnelly, president of Wartsila North America, which builds reciprocating engine-based power plants. "That adds to the known variability and creates the need for a certain type of generation product to cope with it. Our plants happen to match those characteristics quite well."
Specifically, the company's plant designs can be started remotely, many times a day. They ramp up to full output quickly—to 25 percent of rated capacity in 100 seconds, and full capacity in 8 minutes or less. Plus, the typical reciprocating engine plant consists of multiple engines running in parallel, which allows for partial operation with minimal loss of efficiency or environmental performance.
Additionally, gas-fired reciprocating engines bring the benefit of siting flexibility. They don't need high gas pressure and they present a small footprint, making them easier to locate than some generating technologies. This can be helpful when generating capacity is needed in remote locations with weak transmission grids, where variable loading or supply can threaten stability.
"Some utilities are using our equipment for wind firming and generally as a stability product," Donnelly says. Such applications might increase in the future as wind capacity expands and reserve margins shrink—particularly in systems with limited generation resources.
"If there's overcapacity you're probably OK, but once you get large quantities of renewable energy it will become more difficult," he says. "That's why we're seeing a lot of RFPs from utilities for quick-start, variable-load and load-shaping capacity. They don't call it wind enabling, but it has the same definition as what's needed to enable wind and other renewables, and for that matter to address other types of grid stability issues."
And some RFPs are specifying wind-firming services. For example, in Snohomish County (Wash.) Public Utility District (PUD), a recent RFP for 100 MW of renewable power starting in 2008 noted: "The PUD does not have other resources under its control that can respond to [windpower's] variable and changing output in order to balance our resources to our load and reduce the potential for scheduling error and cost. At a minimum, the PUD desires to receive wind resource pro- posals that are coupled with a wind firming product that provides for a firm day-ahead hourly schedule of energy deliveries to the PUD."
Green Storage
As a result of forecasting, integrated system operations and backup capacity, windpower is gradually shedding its reputation as an intermittent and unreliable energy source. And as power grids become more intelligent and operate on a broader geographic basis, wind's value and cost characteristics will improve.
Depending on how long-term trends develop, wind's variability eventually could become a non-issue, even at large penetration rates. Most notably, plug-in vehicles might form a remarkable synergy with windpower—charging when the wind is blowing and providing distributed electricity storage capacity when it isn't.
Some studies suggest vehicle-to-grid (V2G) technology could provide enough storage to completely level out fluctuations even when wind energy produces 50 percent or more of total generation. 3 "In five or 10 years, when plug-in hybrids are expected to make a big play, we'll also see a high level of wind integration," Gramlich says. "The batteries will be paid for to meet transportation needs, and also will be available to provide ancillary power and services to the grid. That will make a great connection with wind energy."
In the meantime, utilities are benefiting from the experience of using windpower on their systems. That experience is contributing to greater understanding of the technical and operational solutions needed to tame the wind—optimize its potential to provide reliable green energy.
Endnotes:
1. "Transmission Issues Associated with Renewable Energy in Texas: Informal White Paper for the Texas Legislature," ERCOT, March, 2005.
2. Archer, Christina L. and Jacobson, Mark Z., "Supplying Baseload Power and Reducing Transmission Requirements by Interconnecting Wind Farms," Journal of Applied Meteorology and Climatology, November, 2007.
3. Kempton, W. and Dahnju, A., "Electric Vehicles with V2G: Storage for Large-Scale Wind Power," Windtech International, March, 2006.