Deck:
Modern approaches to system operations and forecasting make the most of variable energy sources.
Modern approaches to system operations and forecasting make the most of variable energy sources.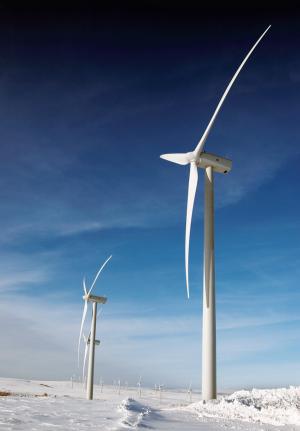 The old adage about changing weather ("if you don't like it, wait an hour") affects windpower as much as it affects picnics. Maybe more so, because picnickers can always seek shelter or fall back to the Country Kitchen Buffet.
For decades, utilities have praised windpower for the clean energy it provides, while simultaneously bemoaning its intermittent nature. Critics argue windpower is unreliable, and at any significant levels of market penetration it can become a system operator's nightmare.
In recent years, however, the wind industry has been fighting back against such challenges. Nobody disputes windpower's variability; that's a given. But modern approaches to demand management, grid integration and wind forecasting are making windpower more predictable and grid friendly. And technology companies are marketing a variety of equipment and services to support a growing base of variable wind capacity—sort of like a virtual Country Kitchen Buffet for the windpower picnic.
"There's real value in flexibility," says Rob Gramlich, policy director for the American Wind Energy Association. "The key lesson from wind integration studies is the goal should be to balance the power system and aggregate load and generation."
Reading the Wind
On a 50-meter tower near Ward, S.D., small pinwheels twirl in the wind.
The pinwheels—called anemometers—measure wind speed at various altitudes. On a real-time basis, the measurements are sent to an Xcel Energy meteorologist in Denver, who compiles the data together with observations from more anemometers and other sources, including the National Weather Service. Using computational modeling systems that correlate wind speed and other factors with historical wind-turbine output, the meteorologist produces hourly and day-ahead generation forecasts for windpower facilities serving Xcel's Northern States Power territory.
Wind is a major source of energy for Xcel, with about 2,600 MW of windpower capacity now in service on the company's system, and another 3,400 MW planned by 2020.
Of course, windpower capacity isn't the same thing as generation; some system operators count on wind turbines for only 10 percent of their rated capacity. 1 The potential, however, may be much greater. And as wind energy contributes a larger share of Xcel's power supplies, the company has a strong incentive to understand windpower as completely as possible—and to make the most of it from an operational and market perspective.
In 2004, Xcel hired a team comprised of WindLogics Inc., EnerNex Corp., AREVA T&D and the Utility Wind Interest Group, to demonstrate a windpower forecasting system that informs Xcel's system operators about likely output on an hourly and day-ahead basis. The goal of the project is to help Xcel integrate wind energy into its system, as well as to help portfolio managers plan their energy trading activities.
"You can't dispatch wind. But if you can schedule it, it's almost as valuable as a totally dispatchable resource," says Mark Ahlstrom, CEO of WindLogics in St. Paul, Minn. "You wouldn't want all your energy coming from wind, but you can effectively