Deck:
Strategic pain points require an artful approach.
Author Bio:
Monica Benner is a manager in Accenture's Utilities' practice. Email her at monica.m.benner@accenture.com. Dr. Vadari is a partner at Accenture. Email him at mani.v.vadari@accenture.com. Note: The authors would like to thank Michael Burck and Chris Chu for their assistance in the development of this article.
Utilities are at the threshold of some of the most significant changes they have faced in their history, rivaling the passage of PUHCA in 1935. This change emanates primarily from a handful of key business drivers associated with major technological improvements (i.e., AMI, smart grid), the need for increased customer focus, increased regulatory mandates, and a changing workforce.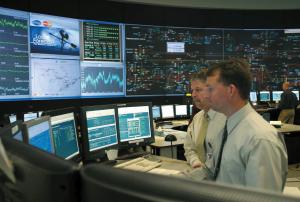 In particular, these changes are greatly impacting one of a utility's critical functions, system operations. The system operator has primary responsibility and authority for the reliable operation of the electric transmission and distribution system, and is responsible for the entire flow of energy, from the generator(s) to the customers, literally keeping the lights on. The system operator must master a complex range of demands and critical interactions, and must be capable of making split-second decisions. The skills employed by today's system operator emphasize a physical understanding of the power grid, often focused on a narrowly prescribed area or specific jurisdiction.
Given the business drivers, the time to develop and implement a strategic plan to address these changes is fast approaching. The complexities surrounding system operations often keep this area relatively distinct from the rest of a utility's organization. As a result, key changes within system operations frequently are driven out of regulatory necessity. Increasingly, however, utility executive managers are realizing the strategic importance of a more proactive approach. "People issues must be an executive agenda," says Martin Huang, vice president of operations at BC Transmission Corp. in Canada. "Leadership, sponsorship, and vision regarding the people agenda are key in changing business environments. Technology can enable us, but without people, we cannot transform."
The best way to effect that transformation will be to take a strategic talent management approach, which will allow a utility to handle competency alignments and learning and knowledge management, as well as recruiting and retention to manage workforce change.
SysOp Drivers
Several key drivers are affecting utilities' system-operations function today, including technology changes; an increased focus on customer service; a changing workforce and; changing regulatory requirements. These drivers, however, can become significant pain points for utilities that don't make changes to address them in the near future.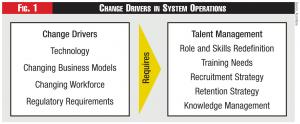 With the exception of the energy management system (EMS) for transmission operations, system operations has been for the most part behind the technology curve (e.g., the preponderance of paper wall maps in distribution control/switching centers). However, automation and the advent of new applications is allowing for new work approaches in distribution operations. Since the 2003 blackout, there is an increased emphasis on automation in both transmission and distribution. Almost all utilities have made significant increases in their budgets for investments in automation. New applications with increased automation capabilities have enabled groundbreaking technology such as the distribution management system (DMS). The DMS is able to pull various capabilities together into a single user interface for the system operator. This allows the system operator to work online using electronic mapping and advanced applications. In addition, there is an increased acceptance of the need for a more automated outage management capability to meet customer and regulatory demands.
In the past, low benefit/cost ratios have stifled widespread application of these improvements. The environment is changing, however, as regulatory requirements and better cost profiles resulted in greater acceptance. As this environment continues to evolve, the system operator's job undoubtedly will change in dramatic ways.
Additionally, utilities are facing significant external pressures from a variety of sources. For example, competition from municipalization threatens the loss of customers. In addition, advocacy firms and industry watchdog groups are highlighting inadequate service, forcing regulatory commissions to demand more from utilities. All this attention has resulted in increased expectations from customers, which in turn directly affects utilities' revenue streams.
In order to respond to these new pressures, utilities need to raise their level of customer service in order to meet higher expectations. Increased focus on customer service covers a wide range of functions and behavior, including employee interactions with customers, and operations. For example, system operations employees must think critically about how to continuously minimize the duration of outages, as well as the number of customers affected by disruptions in service. And, utilities constantly must uphold commitments made to customers.
"Given the criticality to serve customers and keep the lights on after the last energy crisis, the competencies and leadership skills associated with our system operations area are becoming more and more important," says Jim Detmers, vice president of operations at the California ISO.
Consideration of these and other issues require from the systems operators a different paradigm as they relate to skills and capabilities, as well as how to best represent the utility's brand image to its customers. To be sure, it requires operators to be more preemptive, rather than reactive, with respect to potential outages.
At the same time, a changing workforce will continue to have a significant impact on the utility industry. In the next 10 years, the utility industry can expect a major change in its operator demographics. Today, the average system operator is 50 years old (see "An Aging Workforce," Electric Perspectives, September/October 2005). In response, utilities will need to plan for either: A) retirees returning to work part time, which would require utilities to be more flexible, or; B) the entry of younger people into the workforce who come with different work habits and familiarity with technology.
Utilities have a number of challenges as they navigate this changing dynamic. These challenges range from loss of key personnel and their expertise and experience; the need to attract and retain new personnel; increased competition from neighboring utilities and municipalities; and the ability to maximize workforce flexibility (e.g. use of retirees as part-time contractors).
This problem is further exacerbated by the longer lead times required to train new personnel so they are ready to handle the challenges of this demanding job.
Finally, the regulatory environment has undergone a number of significant changes, starting with the Energy Policy Act of 2005. Important changes include NERC certification, cyber security guidelines, and penalties for non-compliance. There is now a mandate for NERC certification of all transmission operators, requiring between 60 and 80 hours of additional training per year. There also is stricter enforcement of compliance requirements, accompanied by fines of up to a $1 million per day relating to associated compliance audits conducted in three-year cycles.
Ensuring compliance with established standards requires a defined program that demonstrates an entire organization's compliance, as well as that of individual operators. To accomplish this, utilities will determine whether the skill set of its system-operator profile meets new and tougher standards established by regulators. Moreover, a methodical training program, including a proper performance-management process, will be an integral part of an organization's ongoing operations.
These four drivers are nothing new for the utility industry as a whole. This is the first time, however, that these drivers have been identified as central issues for system operators. As a result, utilities are becoming more aggressive in transforming themselves through the proper alignment of their business capabilities—people, processes, and technology.
Preparing for the Future
As utilities seek to minimize their risks and build a strategy that proactively addresses its present and future requirements, a comprehensive talent-management approach will help them effectively transform the system operator workforce.
"Training and leadership development have been at the top of our agenda in preparing our workforce for the future," Huang says. "These activities are all built into our transition plans over the next several years."
A talent-management capability allows an organization to acquire, develop and retain high-performing individuals in critical jobs. While talent management contains many capability areas, there are a few key elements associated with competency alignments, learning and knowledge management, and strategic recruiting and retention that are particularly important in fostering this change and in preparing companies for the unique transformation of their system-operator function. Successful execution of these areas will allow utilities to more fully address the external pressures affecting their workforce and proactively respond to a rapidly changing environment with a methodical approach to managing that change.
The first step is to begin aligning system operators' competencies with the requirements of their positions. In general, the skill sets required of system operators has changed little for most utilities. As new technology is introduced, there typically is some level of change, but, on the whole, system operators' profiles have evolved slowly over the last 20 years. In today's environment, however, utilities are facing new competency challenges and asking whether their system operator profile will meet tomorrow's needs. They are assessing how adaptable their workforce is in building new skill sets prior to any process or technology implementation. Finally, they are evaluating whether they have the right performance measures in place to measure accountability for each job and organization.
Based on a projected outlook of their system operations, utilities will assess these required skills and behaviors. System operations as a whole is moving into a more automated and application-centric environment, and away from paper-based/manual processes.
The future system operator skills will include established computer competencies and adaptability to new technologies. There will be a need to demonstrate electrical operating capabilities and critical thinking through certification. Moreover, systems operators must be able to demonstrate analytical skills needed to prevent disruptions, as well as the ability to quickly utilize applications to retrieve and process information.
In essence, these are all cultural changes that require a utility to evaluate its desired behaviors, performance measures, and competencies to enhance this job profile. To achieve this, utilities must conduct a gap assessment to determine the level of change that will affect its workforce, and design a transition plan to realign skills with its desired future state. With a specific plan and target established, utilities then can begin shaping their workforce to meet these new and pressing demands.
The second step is to focus on learning and knowledge management. At each utility, there is still a significant level of knowledge and experience that exists among employees. This expertise is invaluable to the operations of the utility, but there are challenges to retrieving this information from a technological, cultural, and learning standpoint. These challenges become critical when utilities face a potential loss in skills and experience in the face of an aging workforce. For system operations, operating information, which can be unique and intrinsic, is particularly important. Since the tolerance for operating errors is low due to the potential for serious impacts on the electric grid, utilities are considering a combination of learning-management and knowledge-management solutions.
Learning management encompasses the capability to assess needs, and then design, develop, deliver, administer, and integrate performance into the learning of a company's workforce needs. With learning needs increasing through the drivers previously mentioned, enhancing a utility's learning program can address greater demands in this area. Utilities with ad hoc training programs will find addressing these external demands costly and challenging due to lack of repeatable, performance-based learning-management processes. In an environment in which certification is a significant driver, establishing defined learning standards is not only warranted but essential.
A good learning-management program entails a few key factors. First, utilities will establish curriculums and training programs that are executed on a consistent basis. Consistency with respect to how learning materials are designed and how students are evaluated against business needs is important to learning effectiveness. In addition, the overall program of the learning organization will be tied to business-performance measures or results. In a program that requires employees to maintain high levels of competency and performance, these factors are important to ensure utilities are maximizing their value for investments made.
Knowledge management is the process by which an organization identifies, creates, manages, and delivers information to enhance workforce performance. The purpose of knowledge management is to provide information gathered from individuals, best practices, clients, competitors, and other sources into a format that individuals can use to improve productivity and work quality. However, there can be challenges in information management due to a lack of established knowledge-transition planning, governance, and culture for knowledge collaboration. In addition, it will be important to maintain consistency of data-feed formats, from internal and external sources as they move through their departments. To build a holistic framework, knowledge management considers five major components:
• Content Management (How is information collected and managed?)
• Collaboration and Network Management (How is information shared and what are the vehicles for collaboration?)
• Content and Storage Architecture (How is the information stored?)
• Measurement, Incentives and Operations (What types of enablers are in place to sustain continuous knowledge sharing and contribution?)
• Delivery Mechanisms (How is the information accessed?)
In the end, utilities can better position the alignment and transformation of its system operations workforce by effectively utilizing learning- and knowledge-management practices. "Continuous development and sharpening of operator skills must be a priority focus for companies to succeed, given the changing environment of power system management," Detmers says.
Third, utilities need a strategic approach to recruitment and retention. Depending on the utility or discipline (e.g., transmission versus distribution), the role of the system operator can vary from physical to virtual (i.e., computer-oriented), particularly with increased emphasis on customers. This changes the profile of the system operator, and may drive different demographics for recruitment.
There also are significant cost components associated with this undertaking. For example, a utility's investment in apprenticeship programs is substantial and likely to become more complex and costly in the future. If a utility decides to change its recruitment strategy, it might want to jointly develop a plan through labor partnerships to permit a smoother transition. Utilities also may want to establish a change-management program to align cultural differences associated with the integration between the old and new workforce. In addition, companies will need to work with their labor and human-resource specialists to reassess minimal skill requirements for entry-level positions, compensation structure, and the recruitment strategy for determining how to best fill future positions.
In addition to recruitment, retaining personnel represents a key part of an overall strategy. This not only maximizes performance, but also ensures an adequate return on investments made in the training of employees. Although utilities typically have lower turnover in their operations areas, there is still a need to evaluate financial and non-financial incentives for retention. A retention program goes beyond compensation and tangible benefits. Career progression should be outlined with attractive growth options into supervisory or leadership positions. And, the workplace should cultivate a sense of collaboration and consistency in business practices that builds trust between leaders and employees.
In recent years, there has been increased emphasis on recruitment and retention in utilities associated with impending workforce shortages. This remains a test area for many utilities, however, and expertise is required. With pending skills and behavior changes, utilities are evaluating whether their existing strategies align with tomorrow's vision. In addition, utilities are finding their workforce programs need to be flexible so that options are available to an individual employee's career and personal needs. Having this type of work environment, along with economic and professional development incentives, will go a long way in ensuring utilities retain the best talent available.
Prioritizing SysOp Talent
System operations is a critical area within utilities—one literally responsible for "keeping the lights on." The role of the system operator arguably can be defined as one of the more diverse functions within a utility—someone who understands technology and the behavior of power systems, and also has the ability to work effectively with the field workforce. These complexities and challenges facing system operators are increasing, due to more usage of renewable and intermittent resources, increased spans of control, more data available for analysis, and limited system predictability due to aging grid infrastructure. While the problems the system operator faces may be shared with others within the utility and the entire industry, answers to these problems are being customized to reflect the unique and critical nature of system operations and the critical role it plays.
A combined talent-management approach takes into account the specific nature of the challenges facing those who work in system operations. To develop effective solutions, utilities will consider industry best practices, tailor solutions aligned to their particular business goals, and develop comprehensive plans for implementation. In addition, this work is being recognized as a high priority from top executives within the organization by multiple stakeholders (e.g., employees, HR, and management) due to potential complexities in hiring, learning and retention.
As momentum for these drivers builds, and the nature of the workforce continues to change, utilities have a tremendous opportunity to increase customer satisfaction and exceed regulatory standards and requirements.