Deck:
Enforcement trends call for a proactive approach to complying with market rules.
Enforcement trends call for a proactive approach to complying with market rules.
Federal regulators have penalized wholesale energy market participants with fines ranging from $300 thousand to $300 million over the past two years. The magnitude of the penalties, along with uncertainty over how to effectively mitigate the risk of any civil action by regulators, has raised concern about how companies are approaching their regulatory obligations.
Enforcement by FERC has taken on a shape that has many wholesale market participants wondering whether they are adequately addressing their existing obligations in a manner that is consistent with regulatory expectations. 1 While FERC commissioners and staff have made it clear they want companies to adopt a "culture of compliance," there remains some ambiguity over what that means from a practical perspec- tive. Whether a company is a gas or power asset owner, operator or user, regulators expect—if not require—the enterprise to have adequate processes, practices, and systems in place to support the demonstration of compliance. With the rising stakes and continued uncertainty around how various rules, statutes and standards will be enforced, companies cannot afford to haphazardly address the regulatory risks inherent within their operations and market activities.
Catalyst for Change?
Adhering to regulatory requirements is not a new phenomenon. Energy companies participating in wholesale markets have had rules, standards, codes and permitting requirements ever since the first wholesale energy contracts were established in the latter part of the 19th century. These collective obligations have addressed nearly every facet of market involvement. The most important variable over time, however, has been the degree of rigor regulators have applied in fulfilling their regulatory responsibilities.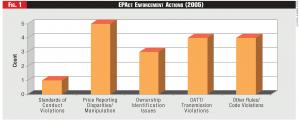 Over time, a combination of factors has changed the regulatory landscape upon which market participants interact. These factors include the enhanced enforcement authority of federal regulators, rising concerns about infrastructure adequacy, shifting stakeholder attitudes toward renewable energy and climate change, and the general rise in capacity and energy prices. In addition to these factors, FERC has been pushing companies across the industry to adopt a culture of compliance as opposed to waiting for an incident, an investigation, or both to prompt attention to this issue. It remains to be seen, however, whether perceptions have changed with regard to the cost of being proactive relative to the risk of experiencing an incident. With this backdrop, it is no surprise regulatory compliance has taken on a higher priority among many energy companies and their senior management, evidenced by the high profile of sponsors that submitted a white paper to FERC on compliance enforcement in November 2007. 2 The magnitude of potential penalties and the uncertainty of regulatory risk exposure (not to mention reputation risk) are creating the platform and the impetus for companies to begin re-examining how they go about demonstrating, documenting and reporting compliance.
Evidence of what is at risk related to regulatory compliance can be seen in the different enforcement actions that FERC took in 2007
(See Figure 1, "EPAct Enforcement Actions")
.