Deck:
Two utilities win customer support for dynamic pricing and demand response.
Author Bio:
Scott M. Gawlicki is a freelance writer from West Hartford, Conn. specializing in energy issues. Email him at s.gawlicki@excite.com.
If the recent backlash against California's proposed new building codes proves anything, it's that ratepayers won't buy into the smart-metering concept by themselves. The industry will have to sell it.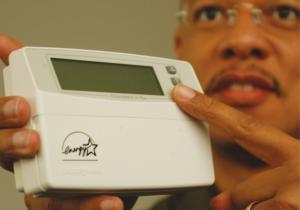 That means hammering home the benefits, including an assortment of cost savings, environmental benefits, greater flexibility to make energy choices, and improved grid reliability—i.e., fewer brownouts and blackouts, and lower transmission system maintenance and operating costs.
Utilities that hope to get around all that by relying on state-imposed regulatory mandates similar to the California Energy Commission's (CEC) ill-fated proposal almost are certain to fail. In fact, experts say, suppliers would do well to completely avoid the M-word: "mandate."
"Mandatory direct load control just won't work," says Lynne Kiesling, a professor and economist at Northwestern University and a founding member of GridWise Architecture Council. "It's a sure-fire way to make consumers look at smart grid technologies with suspicion."
How then should electric utilities, municipals and cooperatives go about introducing smart grid technologies? Two major utilities—Public Service Electric & Gas (PSE&G) and Southern California Edison—are in the early stages of doing just that
PSE&G's myPower
The myPower program at PSE&G ran through 2006 and 2007 and allowed the utility to determine how: 1) price signals can influence a customer's energy use patterns; 2) how customers react when given the opportunity to shift load during peak periods; and 3) how technology can help them do that.
To examine how and when participants will shift electrical demand to other time periods, PSE&G introduced a tiered rate structure that featured low, medium and high cost time periods, with an extra high critical-peak price.
Instead of the utility's standard rate of 11 to 12 cents a kilowatt hour, the pilot rates ranged from roughly 8.7 cents/kWh between 9 a.m. and 1 p.m.; 23.7 cents between 1 and 6 p.m.; 8.7 cents between 6 and 10 pm.; and 3.7 cents between 10 p.m. and 9 a.m. During critical peak periods, which occurred five times last summer, the price jumped to $1.46/kWh.
Participants were recruited through a direct mail campaign supplemented by telemarketing calls. The utility offered a cash incentive—$25 upfront and $75 at completion of the pilot—to spur interest. Customers were screened over the phone to ascertain various in-home attributes, such as the type of heating and air conditioning, broadband Internet, and in-home phone lines available.
Those accepted into the program were divided into two segments: One would be notified by the utility via phone or email when PSE&G expected a critical-peak to occur the next day. A second "technology enabled" group received new smart thermostats that automatically responded to price signals sent by the utility. Each group was comprised of about 375 customers.
Once accepted, participants received a new 15-minute interval whole-house meter. Those in the technology group also received the smart thermostat, which was installed and programmed by a PSE&G technician. Customers were able to choose the temperature settings and also received instructions on how to change or override the settings, if necessary.
Fred Lynk, PSE&G's manager of demand-side marketing, says the company worked hard to ensure customers not only understood how to take advantage of the pricing plan, but how and when they would be alerted to the critical peak days. Educational packets customized by segment included pricing-plan information, thermostat programming guides, and other information and tips. PSE&G created a pilot website to allow participants to view energy usage, compare savings to the standard residential rate, access energy saving information, and pay bills on-line.
"We had to dedicate full-time marketing resources," Lynk says. "You can't add this responsibility to someone else's job." The company dedicated three full-time employees to the program, including the project manager; a marketing person who designed the customer offer and administrated the program on a day-to-day basis; and a billing analyst who created customer bills and dealt with billing issues. The team's efforts were supplemented by other utility employees on a part-time basis.
Over the two-year period PSE&G regularly sent reminders that explained how to monitor and shift energy patterns; how to access energy-use data on the company's website; and booklets with ways to save energy other than cutting back on air conditioning. The reminders were important to the program's success, says Susanna Chiu, director of utility marketing for PSE&G.
"You have to educate, educate, and educate again. You can't just send something out once and forget about it. You have to remind customers to cut back and do it over and over again," Chiu explains. "Cutting back on air conditioning is important, but we also kept reminding them to do the laundry at different times and to turn off lights and appliances not in use."
Not surprisingly, customers using the smart thermostats reduced their peak-period electrical demand by an impressive 47 percent on summer-peak days. But those notified the day before reduced demand by a still-impressive 20 percent. Overall, program participants reduced their total summer energy use by nearly 4 percent, and most customers saw lower energy bills ranging from $65 to $100 annually.
Most important—at least from a marketing standpoint—is that the pilot proved to be a hit with participants. In follow-up surveys, most said they would recommend the program to a friend or relative and they believed the environment would benefit from programs similar to myPower.
"We learned a great deal about customer satisfaction," Chui says. "Customers responded to the opportunity to conserve and shift load when power was in peak demand. And from a technology standpoint, we also learned what it takes to operate a system like this."
In late 2007, PSE&G took the next step in building a smart grid by announcing plans to deploy and test four different advanced metering infrastructure technologies at 32,000 residential, commercial and industrial customer sites. Like myPower, the program will allow customers to monitor energy use, conserve energy and lower their costs during periods of peak demand. The company hopes the New Jersey Board of Public Utilities will approve the program by mid-year.
Edison SmartConnect
On the other side of the country, Southern California Edison is proceeding directly to the smart-meter rollout. In 2009, SCE plans to install some 5.2 million smart meters throughout its service territory. However, to get the program off the ground, the utility had some serious public relations challenges to overcome.
"In 2003 and 2004 we were viewed by the California Public Utilities Commission as a company that was not supportive of advanced metering systems," says Paul De Martini, director, Edison SmartConnect. "We were criticized loudly for that. But in our mind, the technology didn't support a positive business case, both for us or for our customers."
As a result, SCE implemented a two-pronged approach. First, it began working with nine advanced metering vendors in 2005 to develop a device based on open design standards (rather than a design standard of a single supplier) that would make it compatible with the next generation of smart thermostats and other home appliances.
At the same time, SCE began assembling a marketing campaign for what would become Edison SmartConnect, a pilot program designed to let customers manage their energy use and save money through new, time-differentiated rates and demand response technologies.
The meters—which will be supplied by at least two vendors—will be able to "talk" through home area networks, providing customers with the near real-time energy use and cost information they will need to conserve energy. The system will allow customers with communicating, smart thermostats (and other appliances) to automatically respond during critical peak pricing and grid reliability events.
Information from the meter into the home will arrive via a two-way wireless interface that will allow customers to immediately see how their actions affect usage. Time-of-use rates will be available in 2009 after the new meters are installed and tested. Customers who elect to participate and move consumption away from afternoon hours should save money.
Marketing campaigns have thus far focused on potential benefits to customers and the utility. For example, the system will make remote service activations possible, enabling the approximately 1 million SCE customers who relocate each year to activate service on demand, rather than scheduling a visit by a service representative. In the future, it will support widespread adoption of solar installations, plug-in hybrid vehicles, energy storage and other clean technologies that will drive greater environmental benefits.
"At the outset, we wanted the message to be that we were going to introduce a new metering program that would benefit our customers," De Martini says. "People focus on what the utility gets out of it, but we wanted to demonstrate that there's a lot more to be gained by the customer. These smart meters will improve service and prevent outages. A program like this has to make sense for the customer."
In focus groups, customers chose the SmartConnect name because it suggested they were the smart ones. "Today's customers want choices," DeMartini says. "They want to be in control, and you have to keep options simple."
In 2009, customers receiving the new meters will receive a follow-up welcome kit. Those who choose to participate in the program will receive certain incentives—yet to be defined—and recommendations on how to shift load and activate the energy-saving thermostats, and instructions on how to navigate the program website to determine energy-saving processes best suited to their lifestyles. SCE's marketing effort kicked into high gear in 2007 and is expected to continue though 2009 and beyond. In general, DeMartini says, the media response so far has been positive, with feature stories in The New York Times, USA Today, and broadcasts on Fox News and National Public Radio.
Utilities planning to roll out similar programs can benefit from the experiences of utilities like SCE and PSE&G, while also learning from the CEC's cautionary example.
"Objections to the CEC proposal were about the mandate, not the energy efficiency the PCTs would provide," says Ahmad Faruqui, an economist and consultant with the Brattle Group in San Francisco. "Look at the way CFLs (compact fluorescent light bulbs) were introduced. Now there are states mandating that only those types of light bulbs be available in a few years. Why isn't that viewed as Big Brother?"
One possible reason is that lawmakers waited until the efficiency benefits of CFLs already were widely known before advancing them as a standard. By contrast, California's recent backlash against PCTs should be viewed a wake-up call.
"There's such a fine line between an optional and mandated measure," he says. "This is not a 'one size fits all' scenario. Customers have diverse needs and you have to respect that."