Deck:
New gas projects help globalize the U.S. market.
Author Bio:
Lee Van Atta is a senior director with R.W. Beck Inc. in Arlington, Va. Email him at lvanatta@rwbeck.com
New gas projects help globalize the U.S. market.
Deep in the heart of Louisiana, outside of a small town called Port Barre (population 2,349) a group of contractors is working around the clock on a site that sits atop a salt dome formation located deep underground. When several drilling rigs sprouted up, it closely resembled a traditional oil and gas exploration—a common sight in these parts. But the rigs operated for months, drilling to a depth of about 14,000 feet with no chance or intention of finding oil or gas.
Later this year, the site, with its two underground salt caverns, will become the Bobcat Gas Storage Project—one of the newest independent natural gas storage developments in the United States.
With a total construction cost of approximately $200 million, Bobcat represents a major piece of energy infrastructure, but to some degree amounts to a simple bet. Bobcat's investors are betting on high natural gas prices and continued strong volatility in prices.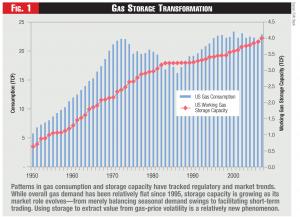 Bobcat is not alone. With FERC openly encouraging underground gas storage development and worries about high natural gas prices being expressed at all levels of industry and government—including former Federal Reserve Chairman Alan Greenspan—developers and investors are rushing to build and expand underground natural gas storage facilities. Additionally, acquisition prices for gas storage projects have surged, with valuations in some cases more than doubling over the past five years.
This frenzy of activity has invited comparisons with the natural gas-fired merchant power plant boom of a few years ago, with warnings of an inevitable bust to follow. But given the outlook for gas supply and demand, investments like the one in Port Barre, La., are part of a broader evolution that promises to globalize America's gas market.
Storage and Gas Markets
Underground natural gas storage has been an essential part of the natural gas industry from its very start. The first U.S. underground storage project began operation in 1916 at the Zoar field near Buffalo, N.Y.
Underground gas storage capacity steadily increased as the natural gas industry grew rapidly through the 1950s and '60s (see Figure 1) . Following the energy crises in the early '70s and '80s, natural gas demand fell and little storage capacity was built. The gas industry recovered in the 1990s with increases in demand, and a new wave of natural gas storage construction began a transformation that is still underway.
Before 1985, interstate natural gas pipelines bundled natural gas storage service together with gas commodity and transportation as part of a cost-of-service regulated rate. As a result, natural gas storage was owned and controlled largely by a handful of large pipeline companies. Also, for most of this period the price of gas purchased by interstate pipelines was regulated as well. Starting in 1978, federal lawmakers began deregulating the price of natural gas that producers sold to interstate pipelines.
Starting in the 1980s, regulatory steps toward open access began breaking apart the bundled nature of the