Deck:
Wind deals promise brisk business for years to come.
Wind deals promise brisk business for years to come.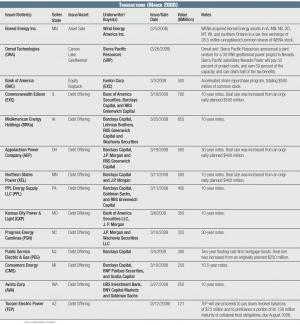 Senators were voting on legislation to extend the renewable production tax credit (PTC) as this issue of Fortnightly went to press. But with federal tax support for windpower in a perennial state of limbo, is the current rate of growth sustainable?
To find out, Fortnightly spoke with Andrew Redinger, managing director and head of the utility and alternative energy group at KeyBanc Capital Markets.
Fortnightly: What's KeyBanc's role in financing windpower?
Redinger: We want to be a first mover in among domestic U.S. banks, and help educate the rest of the domestic bank marketplace and bring them along. The European banks are great, but the domestic banks are missing a great opportunity.
We're a tax equity player in three Babcock & Brown wind projects. We got involved with them a couple of years ago. It was our foray into the wind space, and the reason we formed a group.
We'll underwrite deals, but the Key strategy is to do turbine loans, construction loans and permanent financing, including debt and equity. Key will hold some of the debt, but we look to syndicate. No single bank can finance the whole sector, and the European banks tend not to like turbine loans, which are shorter-term in nature. They view them as riskier than the construction loan. So we'll form clubs of banks to provide the turbine loan, which will give them first shot at the construction and permanent financing.
Fortnightly: Why are turbine loans considered more risky?
Redinger: Because many times the project is at a stage where permitting and zoning aren't finalized, interconnection agreements are still being negotiated … a lot of things that will make it a project aren't complete. So there's a risk we're just financing a bunch of turbines that might not have a home. KeyBanc has gotten comfortable with this because there's such a shortage of turbines in the market, and the developers frequently have other projects these turbines could fit into.
Also, unlike European banks, U.S. banks generally like putting money into shorter-term loans.
Fortnightly: What trends are you seeing in windpower financing?
Redinger: Even in the short time we've been investing, we've seen financing costs increase significantly, both in terms of cost of capital and also turbine prices. In addition to the cost of inputs, such as steel and labor, demand outstrips supply, so turbine manufacturers rule the roost. They can demand payments today on turbines that won't be delivered until the latter half of 2010, plus cash collateral or a letter of credit that covers the remaining payments for the next two years. All of that increases the cost of these projects, and smaller developers are getting squeezed. Overall the trend points toward greater consolidation in the sector, because of sheer amount of capital required for these projects.
Fortnightly: What kinds of equity sponsors do you see getting into windpower?
Redinger: Everybody is looking at this as an opportunity. Of course