Deck:
Volatile markets create investment openings.
Author Bio:
Jay Radtke is the vice president of Mason Wells, a private equity firm based in Milwaukee. Email Radtke at jradtke@masonwells.com.
As fossil fuel prices continue increasing and alternative energy gathers momentum, the energy and utility industries can expect to see continued interest from private-equity firms. Over the last five years, record levels of private-equity investments have been used to buy power plants, as well as other utility assets and energy product manufacturing facilities. These once-overlooked industries suddenly are hotspots for private-equity investment.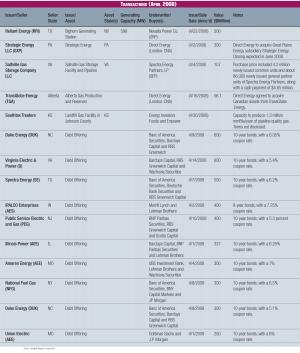 One of the most notable private-equity transactions of 2007 was the TXU buyout. A private equity consortium led by Kohlberg Kravis Roberts & Co., Texas Pacific Group and Goldman Sachs completed its purchase of the Dallas-based investor-owned utility company for $32 billion in October, marking the largest private buyout in U.S. corporate history.
Other notable deals in 2007 include Wayzata Investment Partners' purchase of two Northern California power plants from NRG Energy; First Reserve's leveraged buyout of the British Abbot Group; and Tenaska Power Fund's acquisition, along with an affiliate of Warburg Pincus, of three Dominion Resources electric generation stations in Ohio, Pennsylvania and West Virginia.
The U.S. energy and utility industries both possess attractive investment characteristics: long-term secular growth, continual need for capital, and recent regulatory reform.
According to a survey conducted by the Association for Corporate Growth (ACG) and Thomson Financial, energy will be among the top three sectors for deal making in the coming years—behind healthcare and life sciences.
Bullish Outlook
The current private-equity interest in energy is being driven by a confluence of factors.
Demand for energy is expected to keep growing. Despite world oil prices predicted to be 35 percent higher by 2025 than in 2005, world economic growth is projected to continue at an average annual rate of 3.8 percent through 2030, according to the Annual Energy Outlook 2008 report, released by the U.S. Energy Information Administration. The report also predicts total world consumption of marketed energy will expand by 72 percent over the same time period—from 421 quadrillion British thermal units (Btu) in 2003 to 563 quadrillion Btu in 2015, and then to 722 quadrillion Btu in 2030.
Meanwhile, the U.S. energy industry faces numerous challenges that could be addressed through additional capital investment. These include: dependence on foreign sources; increasing extraction and production costs; fossil-fuel demand outpacing supply due to surging use by emerging economies plus a corresponding lack of investment in new capacity; and rising concern regarding fossil-fuel emissions. Significant capital and efforts will go into finding cheaper, domestically abundant and renewable forms of energy.
Finally, the Energy Policy Act of 2005 (EPAct), is encouraging investment in the utility industry. Replacing much of the Public Utilities Holding Company Act of 1935 (PUHCA), EPAct made the Federal Energy Regulatory Commission (FERC) the primary regulatory authority for public utility holding companies. FERC has encouraged investment in the electric utility industry by removing previous Securities and Exchange Commission barriers to ownership of utility assets, allowing higher rates of return for transmission assets and streamlining merger review.
Equity Deals in 2008
Overall, the energy and utility industries are continuing to experience a high level of deal-making in 2008. So far in 2008, notable deals have included:
• Macquarie Investment Partners and Alberta Investment Management Corp. led a $7.4 billion bid to acquire Puget Energy, parent company of Washington state's largest utility, Puget Sound Energy.
• Idealab, Google.org and Oak Investment Partners invested $130 million in eSolar, a Pasadena-based builder of utility-scale solar thermal power plants.
• First Reserve Corp. announced an agreement to buy Gamesa Solar SA, a solar-energy company with a renewable energy division, from Gamesa Corporación Tecnológica SA, its Spain-based parent, for $397 million.
While industry experts expect a significant falloff in private-equity transactions above $2 billion, as debt financing is more difficult to secure for larger transactions, midsize acquisitions in the $25 million to $500 million range continue to completion. Absent a deep recession, mergers and acquisitions activity in the energy and utility industries will remain strong in 2008 in the lower middle market, and may strengthen further going into 2009—supported by stable valuations, easing credit and a recovering economy.
Of course, the energy and utility industries consist of different markets and varying types of businesses, and private-equity firms tend to target specific sectors. The alternative-energy sector—especially biofuels, solar and wind energy companies—has received a significant amount of media interest recently, driven by high commodity prices and new renewable mandates and incentives. Most private-equity investments in this sector tend to be in less-established companies looking for growth capital as they expand their business plans.
Investors also are interested in companies producing new technologies aimed at prominent energy-related problems—such as power-plant emissions.
In the oil and gas portion of the energy industry, there is significant demand for capital to provide new supply. Concurrently, as older fields are depleting and maturing, there are significant consolidation opportunities to improve efficiencies. Both in the midstream sector and now in the exploration and production (E&P) sector, significant growth capital investment opportunities exist.
The coal market also is of interest as coal continues to play a vital role for U.S. power generation. The development of clean-coal technology to mitigate emissions will be a critical driver of the long-term growth of coal, and thus clean coal companies are attracting investor interest.
Path to Profit
Energy-related companies seek private-equity partners for many reasons—for instance, to finance growth, invest in new equipment or product lines, or to allow one or more principals to retire when no successors are in place and they don't want to sell to a strategic buyer. In these cases, business leaders can use several methods to improve their chances of attracting private-equity capital.
Companies should have a compelling strategy for growth. The strategy needs to be sufficiently clear in the way it emphasizes differentiation from competitors. Management must be prepared with a well-crafted plan for where the company is going. Also, it's important to have ready the often-required audited financials.
Private-equity firms are not usually interested in start-ups; instead they prefer established companies with proven products or services, diversified customer bases and sustainable free cash flow. If a start-up company is looking for an investor, venture-capital firms are typically the answer. Additionally, business owners should be able to show that the company has no significant legal or environmental problems.
Private-equity funds often look for companies with strong market positions and an opportunity to increase profitability. Owners typically must be willing to sell a significant majority stake in the business (unlike with venture capital firms, which often will take a minority stake). But owners or the existing management team frequently still are allowed to manage the company during the life of the partnership; private-equity firms typically do not operate businesses on a daily basis. Instead, private-equity firms plan to sell or take companies public within three to seven years after the initial acquisition.
When a business owner in the energy or utility industry is ready to sell to a private-equity firm, the selection of the right equity partner is of utmost importance. Selecting the right private-equity firm allows a business owner to be able to execute a flexible transaction structure, create rewards for senior managers and gain access to new strategic and operational resources to help improve and build the business.