Deck:
Volatile markets create investment openings.
Author Bio:
Jay Radtke is the vice president of Mason Wells, a private equity firm based in Milwaukee. Email Radtke at jradtke@masonwells.com.
Volatile markets create investment openings.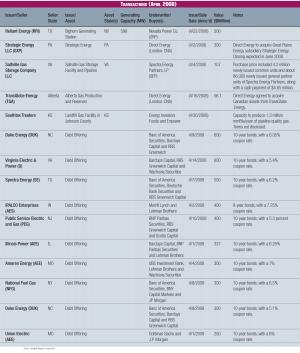 As fossil fuel prices continue increasing and alternative energy gathers momentum, the energy and utility industries can expect to see continued interest from private-equity firms. Over the last five years, record levels of private-equity investments have been used to buy power plants, as well as other utility assets and energy product manufacturing facilities. These once-overlooked industries suddenly are hotspots for private-equity investment.
One of the most notable private-equity transactions of 2007 was the TXU buyout. A private equity consortium led by Kohlberg Kravis Roberts & Co., Texas Pacific Group and Goldman Sachs completed its purchase of the Dallas-based investor-owned utility company for $32 billion in October, marking the largest private buyout in U.S. corporate history.
Other notable deals in 2007 include Wayzata Investment Partners' purchase of two Northern California power plants from NRG Energy; First Reserve's leveraged buyout of the British Abbot Group; and Tenaska Power Fund's acquisition, along with an affiliate of Warburg Pincus, of three Dominion Resources electric generation stations in Ohio, Pennsylvania and West Virginia.
The U.S. energy and utility industries both possess attractive investment characteristics: long-term secular growth, continual need for capital, and recent regulatory reform.
According to a survey conducted by the Association for Corporate Growth (ACG) and Thomson Financial, energy will be among the top three sectors for deal making in the coming years—behind healthcare and life sciences.
Bullish Outlook
The current private-equity interest in energy is being driven by a confluence of factors.
Demand for energy is expected to keep growing. Despite world oil prices predicted to be 35 percent higher by 2025 than in 2005, world economic growth is projected to continue at an average annual rate of 3.8 percent through 2030, according to the Annual Energy Outlook 2008 report, released by the U.S. Energy Information Administration. The report also predicts total world consumption of marketed energy will expand by 72 percent over the same time period—from 421 quadrillion British thermal units (Btu) in 2003 to 563 quadrillion Btu in 2015, and then to 722 quadrillion Btu in 2030.
Meanwhile, the U.S. energy industry faces numerous challenges that could be addressed through additional capital investment. These include: dependence on foreign sources; increasing extraction and production costs; fossil-fuel demand outpacing supply due to surging use by emerging economies plus a corresponding lack of investment in new capacity; and rising concern regarding fossil-fuel emissions. Significant capital and efforts will go into finding cheaper, domestically abundant and renewable forms of energy.
Finally, the Energy Policy Act of 2005 (EPAct), is encouraging investment in the utility industry. Replacing much of the Public Utilities Holding Company Act of 1935 (PUHCA), EPAct made the Federal Energy Regulatory Commission (FERC) the primary regulatory authority for public utility holding companies. FERC has encouraged investment in the electric utility industry by removing previous Securities and Exchange Commission barriers to ownership of utility assets, allowing higher rates of return for transmission assets and streamlining merger