Deck:
Eye-popping nuclear costs portend rising leverage.
When Progress Energy announced in March 2008 that the expected cost had tripled for its proposed two-unit, 2,200-MW nuclear plant in Levy County, Fla., the company called on the state's highest-ranking proponent of nuclear energy to blunt negative reaction to the news.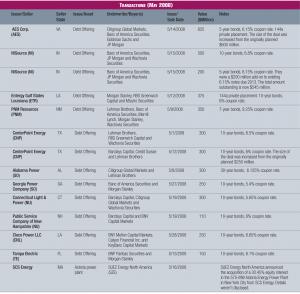 "This investment in Florida's future is important to make," Gov. Charlie Crist told reporters. "It will ultimately result in lower costs for customers because of the rising costs of oil and natural gas."
Despite this brave face, however, price tags for new nuclear plants have reached intimidating levels. The Levy County plants, originally expected to cost around $5 billion, are now priced at between $15 billion and $17 billion—with future inflation still possible.
Of course capital costs for other types of power plants also are increasing, but the sheer magnitude of a nuclear commitment—and the many risks owners will face during a decade-long construction phase—make financing new nuclear plants a unique challenge. But the challenge for U.S. utilities' balance sheets is all too familiar. The nuclear renaissance will bring the return of debt-load strain and cash-flow stress.
Clearing the Deck
After the Enron disaster and the meltdown of U.S. merchant-power markets, IOUs took the opportunity to rebuild their balance sheets—writing off bad debt and refinancing expensive bonds with cheaper debt, courtesy of a Federal Reserve in full recession-fighting mode.
Since then, utility ratings and capital costs have benefited from relatively stronger balance sheets—allowing a healthy ascent from the post-Enron stock abyss. The Dow Jones Utilities Index has risen roughly 150 percent from mid-2002, compared to the Dow Jones Industrials, up about 80 percent.
However, the recent years of relatively light debt loads and strong coverage ratios might be nearing the end—particularly for companies building new nuclear power plants. A Moody's special comment published in May 2007 predicts, "A utility that builds a new nuclear power plant may experience an approximately 25 percent to 30 percent deterioration in cash-flow related credit metrics, effectively reducing [debt coverage ratios] from roughly 25 percent to the mid-teens."
The Moody's prediction assumes companies pursuing nuclear mega-projects will "begin a process of materially strengthening the balance sheet and bolstering available liquidity capacity on the front end of the construction cycle." And to preserve reasonable coverage ratios in the mid-teens, Moody's suggests nuclear-project sponsors will take additional steps: revisiting their upstream dividend policies; cutting other cap-ex during nuclear construction phases; pushing the envelope to get federal loan guarantees and other government support; and trying to spread the burden as far as possible among project partners and participants.
The good news, according to Moody's, is that with consistently favorable regulatory treatment—allowing capital expenditures to get into rate bases immediately—nuclear plant investments will neither sink their sponsors nor explode retail rates. But contrary to Gov. Crist's observation, Moody's says nuclear plants won't stave off big rate increases either:
"Regardless of whether a utility attempts to build a new nuclear plant, retail rates to end-use consumers are projected to double over the next 12 to 15 years."