Deck:
Wireless systems are improving front-line processes.
Author Bio:
Scott M. Gawlicki is a Fortnightly contributing editor based in West Hartford, Conn. Email him at s.gawlicki@excite.com.
If there's a U.S. business segment that's been slow to embrace today's most advanced mobile workforce management technologies, it's the electric power industry. That, however, has finally begun to change as electric utilities throughout the country are rolling out an assortment of mobile workforce solutions, many of which already are found in other industries.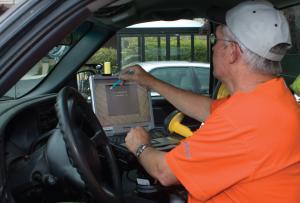 In addition to making it easier for employees to do their jobs, these solutions promise to improve operations, significantly reduce costs, and limit the occurrence and duration of forced outages.
Three mobile workforce solutions recently were implemented at National Grid in Long Island, New York, FirstEnergy in Akron, Ohio, and Idaho Power in Boise, Idaho. Each demonstrates the state of the art in a different slice of the operations pie: power generation, distribution system operations, and customer service.
National Grid
For employees at National Grid on Long Island, operational data is just a phone call away.
In 2006, KeySpan's electric generation division (acquired by UK-based National Grid in 2007) introduced a mobile workforce management pilot application from Transpara Corp. that provides real-time power-plant operations information to employees through a company-supplied cell phone.
Since 1998, the utility employed an OSIsoft PI System to present to control room operators real-time operating information gathered from some 20 generating units in Long Island and New York City. Transpara's Visual KPI (key performance indicators) software takes the OSIsoft operations data, as well as information found within other utility databases, and makes it available to any desktop or mobile browser, including a cell phone.
A key attribute to the application, from National Grid's perspective, is that it allows the employee to custom-design access to information according to his or her role within the company.
"There are some 40,000 points of information available, so we have to give users only the information they want," explains John Ragone, plant process optimization manager for electric production at National Grid. "Users tell us what they need and we set it up for them. Then they simply dial in via their cell phone, click on their links, and they've got it."
A utility vice president, for example, might want a general system overview, minus the granular data needed by a plant technician. An operations and maintenance manager, on the other hand, might want certain plant performance data, and a turbine technician might use it to access a specific unit's operating data, design parameters and technical specifications.
Rather than contacting the control room or engineering department, each can access the needed information remotely.
"We have people using it to retrieve everything from equipment calibration data to welding specifications," Ragone says. "In one case, an individual is using his cell phone to monitor oil tank levels when we off-load oil from a tanker in Long Island Sound. We didn't plan that. He came to us and said, 'Can you get me this information?'"
The system also allows the user to establish alarm settings. A performance engineer, for example, may set an operating temperature limit for steam turbines. If the temperature alarm is triggered, he or she may log-in for a quick look at present and historical operating data. If immediate attention is required, the system will provide the name and cell-phone number of the maintenance employee responsible for that particular turbine.
The program started with eight users, ranging from a vice president to field technicians. In 2007, another 16 were added and there are currently requests for another half dozen. Each was issued a cell phone with Internet access and Windows Mobile 6 software. The idea, Ragone says, is first to introduce the program to key decision makers throughout the organization.
"We want to see which applications get us the greatest bang for the buck. The only way to do that is apply it throughout the organization and determine which roles derive the greatest benefit," he says.
So far, the utility has captured gains by changing many two-person tasks to one-person tasks. Other financial benefits are expected to come through enhanced system monitoring, improved reliability and environmental performance, and fewer unplanned outages.
"All we're doing is leveraging the investment we've already made," Ragone says. "We've been using OSIsoft PI for ten years to bring in data to monitor operations and generate reports, so we already have the data in our servers. Anyone using PI, or any other data historian, can get the same value out of their investment."
FirstEnergy Corp.
Earlier this year, FirstEnergy Corp. introduced what's called a Circuit Reliability Coordinator (CRC) program designed to improve reliability and reduce costs by streamlining the way the utility monitors and maintains its distribution system assets.
About 65 CRC professionals within FirstEnergy's seven operating companies employ mobile application technology to schedule site visits, and then record, store and analyze the health and maintenance needs for a variety of system assets.
Using laptops fitted with Autodesk software, the coordinators collect inspection data in the field and upload it to a central database for internal evaluation and maintenance planning.
Each CRC is responsible for keeping tabs on a specific circuit within the utility's 36,000 square-mile distribution system. The CRC begins the day by calling up a color-coded map delivered by Autodesk's GISView software, which illustrates the location of each asset and whether it's due for an examination.
Once on-site, the coordinator selects the asset icon—for example, a pole-mounted transformer—and then selects an electronic assessment form. Using drop-down menus, the coordinator records his or her findings and flags those items requiring maintenance or replacement. Once the assessment is complete, the form immediately is uploaded to a central database accessible by the utility's engineering and operations groups, which use it to ascertain and prioritize future capital expenditures and maintenance activities across each operating-company system.
The goals, explains Tony Hurley, FirstEnergy's director of energy delivery asset management, are to standardize the reporting and analysis, strategically evaluate the overall condition of FirstEnergy's distribution assets and implement targeted improvement plans that enhance reliability and performance.
"The coordinators are dedicated to the assessment program only. They have no other job," Hurley says. "Each essentially owns a circuit and is responsible for monitoring all the assets that are part of it."
Replacing hard-copy maps and inspection forms significantly has reduced the time needed to conduct an assessment and input the results. Since a circuit can be comprised of as many as 1,000 poles, filling out a hard copy form for each one and then returning to the office to input the information is too time-consuming.
"This improves productivity and also impacts us from a regulatory standpoint. The new system puts an automatic time-stamp on the form, so we can more accurately report when the asset was last inspected and what we found," he says.
Coordinators also photograph each asset—from the actual pole to all the components attached to it. If an asset requires maintenance or replacement, the utility can pull the photo from the database first to examine its condition and location.
"If the pole is located in the middle of a field that's covered with a foot of snow, we know enough to send a climbing crew, rather than bucket truck. That saves time and maximizes our field services effort," he says.
The system, he adds, may soon be expanded to support monthly substation patrols, collect storm damage information to determine the root cause of equipment failures and deliver equipment alerts from the corporate design standards group to CRCs, on-line.
"It's pretty simple," Hurley concludes. "Outages can be avoided if damaged equipment is identified and corrected before a fault occurs. That results in better reliability metrics and greater customer satisfaction."
Idaho Power
In August, Idaho Power will kick-off a new wireless, mobile-workforce management program that uses CGI Group Inc. software to automate its field representative scheduling, assigning, dispatching, and monitoring. The system will interoperate with Idaho Power's Oracle-supplied customer information system (CIS) and outage management system (OMS), and MapFrame's electronic mapping software.
The program, says project manager John Goicoechea, will streamline and improve customer service operations, from the initial call-center response, to scheduling field representative visits and filing field reports at the conclusion of each job.
When a customer contacts the call center, the operator will be able to check the availability of field services in that area and schedule the day for the visit. Once the order is entered into the CIS system, the CGI software examines the type of work to be done, the skills needed to do it, and the customer's location and then matches the best qualified technician to the job.
Further, it assembles each technician's service calls in the most cost-efficient order. Technicians simply will log in each morning and the day's schedule already will be in place. If necessary, the technician can click on the MapFrame software to examine the day's route in advance.
"The system will take travel time into consideration when it puts the route together. It can determine how many miles the representative must travel to each job, how much time it will take to get there, the wrench time on the site, and then the travel time to the next job," Goicoechea explains. "Under our old system, we would just hand the hard copy orders off to the service people. You never really knew how many would get done that day."
The field representatives electronically file completed work orders before moving on to the next job. Once the order is sent, representatives select a status button on the laptop, which tells the home office they are en-route to the next job. Once they arrive, they hit the status button again, and begin that job. As a result, the utility always knows exactly where its field service representatives are at any given time.
The utility hopes that will provide other benefits. For example, order changes or new jobs might be forwarded immediately to a representative in the field. If there's a sudden storm outage, customer calls are used to map out the approximate location and scope of the problem. Dispatch operators now can combine the new system with the MapFrame system to locate the nearest qualified technicians and re-route them to the outage area to make repairs.
Wireless Matrix is providing the cellular and satellite data communications devices that allow each service vehicle to stay in contact with its service representatives. "We have a lot of valleys and canyons in our service territory, so we wanted the satellite capabilities to ensure connectivity," Goicoechea says.
The new system is expected to reduce significantly customer-service costs, because the utility will be able to schedule and complete more service calls in less time and with fewer technicians.
"We expect to save through reduced resources and better service. We think we'll win twofold," Goicoechea says. "We spend so much time getting everyone organized in the morning, with each technician looking at maps to decide which call to do first. Now, the schedule will be set in advance. The routing will be in place, so our people will drive fewer miles. And the orders will be completed and filed from the field. There are a lot of efficiencies that will translate into savings."