Deck:
New approaches to contracting in a post-turnkey world.
Author Bio:
Tom Flaherty is senior vice president, Jim Hendrickson is vice president, and Marco Bruzzano is a principal with Booz & Company.
Poised for success or captive to uncertainty—that's the fundamental question facing the nuclear industry.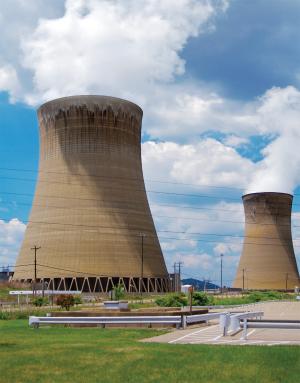 With an unprecedented level of fuel supply insecurity facing the U.S. power industry, nuclear development is re-emerging as a cornerstone of America's energy policy. However, uncertain carbon regulation, disrupted and tight credit markets, long-term natural gas price volatility and rapid alternative technology development, combined with nuclear's prior history, create plausible scenarios in which nuclear investment might be prohibitively perilous without broad risk sharing and mitigation strategies.
Ground hasn't been broken for a new nuclear power plant in the U.S. in more than 30 years, but today more than 20 companies have announced plans to build new nuclear plants, both regulated and unregulated—with nine progressing to the point of submitting combined construction and operating license (COL) applications to the Nuclear Regulatory Commission (NRC). The ultimate question is how many actually will be built? Detailed engineering is well less than 50 percent complete for most U.S. conforming designs, with some entrants less than 20 percent complete. Millions of engineering man-hours are required before cost estimates become reliable enough to allow original equipment manfucturer (OEM) and engineering, procurement and construction (EPC) contract-cost negotiations to fully define cost and performance risk parameters across all parties (see sidebar, "New Nukes Under Contract").
While simplified nuclear steam supply system (NSSS) designs and innovations in modular construction suggest the potential to build plants more economically, a confluence of largely uncontrollable forces are pushing preliminary factor cost estimates upward. These include commodity price escalation, engineering and craft labor shortages and manufacturing and shipping constraints. Combined with uncertainties about executing engineering and construction, overnight cost estimates (that exclude the costs of escalation and financing) for proposed plants are increasing and the range of estimates is wide—between $3,000 a kilowatt and $4,500/kW, depending on the dollar date. Cost variability, and consequently financing uncertainty, threatens the overall economic attractiveness of nuclear development.
Could the U.S. nuclear renaissance fade as quickly as it emerged? Successful development of new nuclear capacity requires a high degree of risk awareness, confidence in outcomes and mutual trust between owners and nuclear OEM/EPC contractors. Increased cost and schedule predictability will facilitate regulatory approvals, owner economic viability, and ultimately a U.S. nuclear renaissance. As a result, all parties must reach a consistent understanding of both supply economics and execution challenges—and most important, risk-management strategies.
Attractive Generation
Utilities and independent power producers (IPPs) face complex decisions on how to satisfy growing demand within a likely carbon regime. Past capacity build-outs had fewer choices and constraints, generally being dominated by one technology, such as coal in the 1970s, nuclear in the 1980s and natural gas in the 1990s. Despite less initial uncertainty, these choices led to serious financial consequences for shareholders and customers alike—e.g., substantial nuclear-cost escalation following the Three Mile Island accident in the 1970s, and the bankruptcy and asset value declines of owners of natural gas combined-cycle (NGCC) plants as the market became overbuilt throughout the 1990s.
Against this backdrop, three complex, interdependent and more highly speculative factors dominate decision-making today:
• Carbon Regulation: Stringency of standards and the ultimate carbon tax or cost of CO2 credits;
• Natural Gas: Long-term price trends and the real impact of LNG; and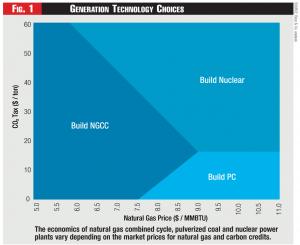 • Technology: Relative capital and operating costs and the likely maturation of alternative generation and emission mitigation technologies, such as carbon capture and sequestration (CCS).
Driven in large part by the run-up in natural gas prices, which have approximately quadrupled since 1999, and the political challenges of building new coal plants (of the ~150 new coal plants announced in the past five years, only about one third have moved forward to a permit being issued or beginning construction), nuclear has become increasingly attractive. This is particularly true with no scalable alternative technology currently available.
Recent regulatory filings in Florida point to nuclear generation as the lowest-cost solution under a broad range of natural gas prices and CO2 costs when compared to NGCC. Our independent assessment confirms this perspective. When compared to NGCC and coal, nuclear is economically advantaged under a broad range of natural gas and CO2 cost scenarios (see Figure 1).
Looking ahead to a carbon-constrained world, the most advantaged supply technology will be defined by the relative cost of natural gas as the marginal generation source and by the cost of CO2 as a new major driver of variable cost. The relative levels of CO2 and gas prices ultimately define the per-kilowatt capital cost at which nuclear breaks even against any competing technology. For example, with a natural gas price of $9/MMBtu and a CO2 cost of $20 a ton, nuclear is economically attractive up to overnight capital costs of $4,400/kW of capacity. However, at a CO2 cost of $40/ton, nuclear remains viable up to overnight capital costs approaching $6,000/kW (see Figure 2).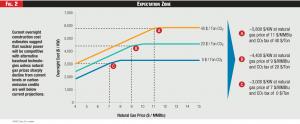 Sensitivity analysis suggests that the ability to control the capital cost of nuclear construction has the largest impact on economic advantage. Consequently, as the owner's most controllable factor, predicting and developing proactive mitigation strategies for execution risk becomes of utmost importance. Given the amount of uncertainty over likely completed costs, owners will have to redouble their efforts to develop cost estimates that are well-founded, negotiate contracts that tightly define expectations and actively manage construction. Relying on markets for natural gas and CO2 prices to bolster new nuclear economics cannot be the sole basis for proving out relative economics.
Aligning Interests
For nuclear to fulfill its promise as an economic solution to the country's emissions and baseload power challenges, all industry participants—owners, OEMs, suppliers, EPCs, regulators, governments and financiers—need to recognize the nature of the environment in which the sector currently exists. Learning to live with uncertainty is, by necessity, a trait all participants will need to embrace.
The risks of undertaking new nuclear construction may be apparent to all observers, yet the implications of these risks are less understood. Setting aside market risks related to the price of natural gas and costs of CO2 as externalities that can not be managed directly, risks related to the construction of a nuclear plant largely can be captured in four broad categories: regulatory, financial, technology and, project (see Figure 3).
Each of these broad areas encompasses multiple, interrelated risk components that can affect outcomes at the industry and project levels and can shape planning by owners or external stakeholders. In addition to these four principal risk dimensions, it is also useful to consider two additional sources—the market elements described above, and political risk. These incremental risk sources reflect the potential for significant externalities to affect new nuclear construction that are harder to anticipate and mitigate. Clearly, owners are challenged to recognize, diagnose and prescribe a response to identified risks, whether they can be affected directly or not.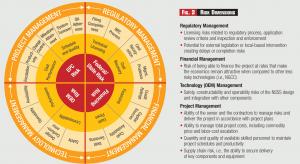 Identifying the sources and implications of relevant risks is fundamental to shaping an effective risk-management model for significant capital commitments. In today's nuclear marketplace, successful risk management is highly dependent on achieving a reasonable apportionment of risk among the various participants—particularly between the owner and the EPC firm. This is especially important considering the need to demonstrate the economic viability of first-of-a-kind-engineering (FOAKE) technology. Failure to share risks equitably, particularly excessively shifting risks to owners—and ultimately to ratepayers—is the fastest path to stalling the nuclear revival.
Aligning risk responsibility has been difficult to achieve as the EPC sector vastly has changed in composition, and competing infrastructure demands have strengthened supplier leverage. Both of these factors are stressing owner and EPC relationships. The underlying inventory of suppliers to the nuclear sector—including architect-engineers, general constructors, fabricators and specialty contractors—dramatically has decreased, reflecting the extended interruption to the flow of new nuclear projects in the United States. Moreover, the lack of large baseload construction projects within the utilities sector beginning in the 1990s further depleted the capabilities of many firms, as backlogs shrank to only nominal levels.
Consequently, many of these suppliers have left the nuclear sector, either through abandonment, bankruptcy or consolidation. This reality both reduces the absolute number of options to owners, and then further limits these choices through lack of availability of the remaining sector mainstays. To compound this general lack of supplier options, the structure of the nuclear-services industry also fundamentally has changed. Today's supplier market is characterized by formal consortia that have formed around a specific technology offering. Thus, limited supply has become further narrowed through direct alignment of architect-engineers and constructors with upstream (NSSS) vendors.
The supplier sector also recognizes that a high degree of uncertainty exists in the development of new nuclear projects and recalls that the first wave of construction resulted in protracted negotiation and litigation over cost and schedule responsibility. Coupling this historical memory with the risks associated with FOAKE technology, the application of non-traditional procurement and construction processes and a seismic shift in underlying global commodity and equipment markets, is causing OEMs and EPC contractors to be reluctant to assume execution risk. And they have the market strength today to largely prevail. These market realities complicate the ability of the owner to secure both supplier delivery capacity and attain a level of risk apportionment that corresponds to conventional perceptions of equitable sharing. In essence, owners now operate within a seller's market where practical constraints exist with respect to achieving the same apportionment of risk that once characterized nuclear design and construction.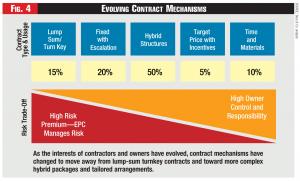 The implication of these new market dynamics for the owner–EPC relationship is that contracting has become vastly more difficult to complete. Owners and EPC firms have been rigid in avoiding risks that are viewed at cross-purposes with underlying desires to protect their respective interests. As a result, owners carry less leverage than they initially imagined, while EPC firms convey less transparency than they believe. The combination of these factors results in reduced visibility into estimates and potential displacement of execution risks from the EPC firm to the owner.
In response, most owners initially attempt to drive as much fixed-cost or firm-price philosophy into their contracting strategies as possible. However, the lack of completed engineering hampers both the owner and the EPC firm in accomplishing this objective, particularly in a perceived FOAKE environment. In order to reduce the risk of execution to the EPC firm, this results in large risk premiums being built into estimates, which typically are unacceptable to the owner.
The inability of owners to negotiate expected contracts and underlying terms and conditions is moving them to seek alternative arrangements to reduce uncertainties and preserve their interests. These approaches typically result in decomposition of the contract into discrete components or into defined timeframes to achieve greater estimating predictability and protection for the owner.
Consequently, the decomposition of plant components from broad descriptions, such as the nuclear or turbine islands, into discrete elements, such as reactor internals, condensers, valves and pumps, offers the potential to enable greater foresight into truly volatile and less predictable design and execution risks, as compared to the more familiar risks associated with traditional plant development. Decomposition allows greater consideration of design risks and scheduling dependencies. But, more important, it allows a finer evaluation of supply and price risks. The fundamental evaluation of underlying material and production markets, particularly in light of escalating commodity markets and limited capacity of prime component manufacturing, potentially is being oversimplified in escalation assumptions. Understanding these global market complexities is vital for developing confidence in cost and schedule estimates—and avoiding systemic underestimation.
Increased decomposition and evaluation of risk allows for breaking down, and repackaging, components and work into unique contract packages that can be closely evaluated and fit to a contract form that more accurately reflects the risks inherent with the design, supply and installation of the element. Thus, more predictable contract forms, such as fixed price or firm price with escalation, can be adopted without risks being asymmetrically absorbed by the owner, NSSS vendor or the EPC firm.
Our recent surveys clearly indicate the shift in market contracting given this realignment of the relative interests of owners and EPC firms. There has been a distinct move away from lump sum, turnkey contracts and toward the use of hybrid contracts that reflect a mix of work-package decomposition and tailored arrangements (see Figure 4). Such is the state of the current EPC marketplace—what was once unnecessary is now table stakes, and what was once thought unconventional now is considered fundamental.
Another approach available to owners to build contracting momentum is to recognize the lack of complete EPC firm insight into final plant design, and consequently time-phase the contracting process. Under this approach, the negotiation of future construction requirements and expectations can be better achieved upon greater completion of engineering. Accordingly, the owner and EPC carve-out the design and engineering phases separately from construction and negotiate discrete contracts for defined scopes of work that are executed at different points in time.
Separating construction from the total scope of the EPC firm and deferring contracting until such time as better knowledge of quantities, sequencing and conditions is available may provide for better predictability around outcomes, and hence ultimate costs. However, this approach may not be available to all owners, as their regulators may elect to not move forward with a staged approach, thus requiring a higher degree of completeness in project approach, contract structure and estimates before moving forward, potentially leading to a longer execution schedule.
Regardless of the approach, the requirements upon the owner are clear: adapt and adopt mechanisms that reduce risk and increase the likelihood of success. Whether through contracting strategy, contract form or contract terms and conditions, a successful development approach will focus on understanding project uncertainties, developing approaches to risk mitigation and implementing models to enable effective management of project outcomes.
Mitigating Challenges
The presence of various risk types suggests that achieving desired project outcomes remains an uncertainty at this stage. Success will hinge on the ability to foresee underlying markets, adroitly balance conflicting objectives and then demonstrate the will to embed and sustain rigorous project-management discipline over an extended timeframe. In an environment of increasing costs, where project economics are susceptible to factor variability, multiple performance aspects must be managed to preserve the advantage that nuclear is currently perceived to hold.
In reality, the new nuclear development cycle still is nascent. While COL applications have been filed by a number of owners, few commitments actually have been made as few plant components have been ordered, contracts have not been signed, financing has not been arranged, boards have not given approval and, regulators have yet to opine on resource plans. Consequently, the bulk of the effort, and the risk, lies in front of the owner, notwithstanding the level of planning that already has occurred.
To date, owners mainly have been consumed by the task of preparing COL applications for the NRC and have focused on jump-starting their development programs through technical avenues. In addition, groundwork has been laid with legislators and regulators for shaping policy supportive of new nuclear development. With many applications having been filed or legislation enacted, owners now can turn attention to positioning themselves for the elevated challenge of developing an execution plan for the project. Managing the risks of cost and schedule performance, project execution, regulatory action (or inaction), access to capital and marketplace volatility requires thoughtful planning. In particular, providing a compelling risk-adjusted economic proposition—and exhibiting confidence in the ability to execute against that proposition—to those parties providing financing remains a challenge not yet fully addressed.
Addressing these complex challenges calls for expanded option exploration and focused decision-making by owners. Mitigating the risk inherent in nuclear new build will require owners to make progress on five paths: risk assessment; contracting approaches; project management models; regulatory strategies; and cross-owner collaboration.
Taking this five-path approach offers certain advantages to owners that individually or collectively advance their ability to minimize identified risks and enhance the likelihood of desired outcomes. However, such approaches may not be elective in the future; emerging project challenges may also turn these paths into requirements for owners.
• Risk Assessment: Managing project risk successfully first requires a thorough understanding of the nature of risks that affect new nuclear build. Comprehensive identification of these relevant risks across political, regulatory, financial, technical, project and market dimensions is critical as a starting point. More important, however, is developing an open-minded understanding of their likelihood, their underlying drivers and the probabilistic range of occurrence. Development of a risk register to capture, catalogue, assess and, quantify relevant risks provides the owner a useful initial tool and ongoing mechanism to provide a reference point for development of management response and mitigating actions. Most important, the ability to link schedule and cost implications is paramount as many approaches concentrate on one or the other. The "art" is found in closely linking the two to achieve a more comprehensive and useful representation of potential outcomes. Using these identified risks in a scenario-based probability analysis provides the owner with the analytical capacity to determine potential outcomes and define preferred paths to mitigate the impact of foreseeable risks and preserve flexibility in light of uncertainty.
A comprehensive risk assessment is not just a project tool; rather it has applicability beyond project planning and execution and is necessary to support the fulfillment of financing criteria from the DOE, commercial lenders and rating agencies. Further, the risk assessment supports corporate and board of directors decision-making with respect to financial commitments and overall business impacts.
• Contracting Approaches: Getting to a signed contract that is mutually agreeable between the owner and the EPC firm is among the most critical of current activities. Owners are, of course, trying to address several outcomes through their contracting process: predictability, accountability and equity. Finding the sweet spot between full accountability and risk apportionment is at the nexus of preserving the rights of the owner. To address the lack of clarity in project definition and the current seller's market for services, owners can adopt several approaches to minimizing future risk while instituting life-of-project mechanisms for enhanced project management and control. In addition to component decomposition and time-phasing, owners can adopt target-based incentive provisions to address defined pieces of the work effort or overall performance, e.g., man-hours. In addition, price indices can be adopted to create defined limits on escalation.
Similarly, owners can modify the usual EPC model to an EPCM model where greater scope and direct performance or management responsibility is assumed by the owner for a defined scope of work. The terms and conditions within the contract also can offer a mechanism for mitigating risks through the specific delineation of responsibilities, evaluation mechanisms and performance commitments. Finally, owner's rights can be spelled out more comprehensively and directly in the contract to provide for ongoing close management of the EPC firm.
• Project Management Models: The role that the owner assumes in managing the project is vital to its success. Many owners, across all types of mega-project construction, assume that the contract itself will suffice as a means to secure contractor performance and to preserve their interests. However, this is not the case, particularly with projects that have the visibility of new nuclear and where prudence standards subsequently might be applied. One of the principal lessons learned from the first wave of nuclear construction is that the role of the owner grossly was underestimated. The level of owner resources dedicated to projects vastly changed over the course of the project as the complexity became more apparent and the outcomes more at risk.
Owners of the next wave of projects need to plan for resource levels well beyond the current level of thinking both to achieve desired project visibility and control and preserve their interests. In addition, owners can create management concepts and adopt project models that assume certain performance responsibilities, e.g., project controls, or provide for direct resource oversight within an EPCM model in critical areas, such as procurement or construction.
Finally, the project management model should be conceived to evolve over the course of the project as complexities increase. For this next wave of construction, foresight with respect to understanding project management requirements has incalculable value and exemplifies the requirements of development. Close owner involvement and hands-on management are requisites for successful project outcomes.
• Regulatory Strategies: The ability to achieve intended project outcomes relies heavily on the adequate support of regulators through their policies and decisions. The last wave of nuclear construction suffered through a process that only accommodated ex post resolution of project issues. This time around, the stakes are too high for such open-ended determinations, and they mandate a more timely and defined approach to outcome definition. Several areas are ripe for policy determination including: the treatment of development costs, use of incentive provisions, recognition of incurred costs (CWIP), depreciation recovery, abandonment cost treatment and the definition of the prudence standard. Clarity around the treatment of these issues, preferably through legislation, would provide greater certainty both to the owner and to the financing community around the risks of regulatory outcomes. Moreover, joint agreement on the standard of performance to be applied for determining prudence provides an early yardstick for owners to incorporate into their planning. In addition, owners can seek to develop alternative ratemaking treatments for cost recovery, such as levelization to mitigate rate impacts that traditionally arise from rate-basing of large capital investments.
Finally, owners and regulators can cooperate more directly on project progress reviews so that commissions are fully informed regarding project progress and issues on a continuous basis. Under this approach, owners can shape the scope of regular progress reporting and synchronize regulatory reviews with major project milestones. Regulatory processes that reflect parameters of this type provide an effective basis for mitigating financial risks and lowering the construction costs of the facility.
• Cross-Owner Collaboration: This era of new nuclear build is characterized by the formation of consortia with several owners lining up against select NSSS offerings. While this structural model offers the chance for owners groups to coordinate development, particularly in the early days of activity, another mechanism may be available to owners to achieve even more beneficial outcomes. Collaboration across multiple owners and projects can occur not only at a technological level, but also with respect to commercial operations planning.
For example, the planned in-service dates of many of the AP-1000 owners in the Southeast are close in sequence between 2016 and 2018. At the same time, the impacts from anticipated shortages in engineers, craft labor and construction management all will peak during a tight window of the construction cycle of these plants. If possible from a need-for-power perspective, collaboration among the owners to collectively plan for these shortages and perhaps develop a more consortia-based plan for resource sharing could be an attractive solution. Such a solution also could carry over into similar, but discrete, aspects of procurement and construction, such as expediting or specialized oversight activities, that could be more closely coordinated or performed. Where common risks are borne by multiple owners, syndicating these uncertainties might be a fruitful means of diluting the total impact to all parties.
Improving the Odds
Economically, nuclear development in the United States appears compelling under any moderate carbon regime, but owners need to capitalize on this advantage and focus on how to effectively manage and equitably allocate design, global supply chain and execution risk.
In many respects, an unprecedented global expansion in energy and infrastructure demand, the global warming debate and the legacy of the last cycle serve as reminders that externalities can have unexpected implications, notwithstanding the best efforts of the industry to advance its preparation.
Three key factors will be important to managing the uncertainty surrounding successful nuclear development.
First, thoughtful owners will develop a project-management structure that manages the areas of risk most under their influence. Clarity of risk ownership by the OEM and EPC contractor will be complemented by owner expertise to assess performance and provide credible accountability mechanisms. This is no small task and will require an aggressive program of management and technical talent development.
Most owners today have not yet fully considered these requirements and are assuming that lean teams, often drawn from already limited internal resources, will manage the project. The early definition of capability requirements, management processes and talent-management plans, including retention, hiring, training and education sponsorship, is as important as technical design in the ultimate successful development of a nuclear project.
Second, the contracting approach and related terms and conditions will allocate the risks to the natural owners, thus appropriately aligning incentives and mitigating the overall project risk profile. This will have benefits for how both regulators and financiers view the overall viability of the project, expediting regulatory approvals and leading to more favorable financial market confidence and financing terms. The differences in the risk profile of the project's sub-components—most notably major equipment and labor productivity—call for alternative contracting approaches to ensure appropriate risk allocation. Thus, dividing the project into discrete, but natural, groupings that share similar risk profiles, and can leverage similar risk-mitigation strategies, should lead to contract approaches that allow owners, EPC contractors and OEMs to think in a more integrated manner and avoid surprises.
Third, managing the financial implications of project development and construction is supported by achieving an appropriate alignment of risk through decomposition of decisions, work, project conditions and external events into discrete risk packages. The intent is to increase visibility into potential impacts and risk-mitigation approaches, thereby minimizing risk to financiers and the owner. Financial strategy can be structured around these risk profiles and actively managed as the project proceeds from stage-to-stage to reduce uncertainty of outcomes, and therefore reduce project-risk-driven financing costs. Regulatory strategy also can be structured in parallel to attempt to complement flexible financial structuring to improve cost recovery certainty at clearly defined milestones.
Each of these factors increases the likelihood that desired outcomes will be attained and the owner will be protected. Of course, the importance of each will differ depending on the project situation, but the fundamentals generally apply in all circumstances. As projects move closer to actually breaking ground, the challenges of thorough pre-planning and execution will become more acute. Owners that can demonstrate they have preemptively addressed these risks will find that market confidence in their ability to execute is an invaluable asset.