Deck:
The PJM complaint and the rising cost of electric reliability.
Author Bio:
Bruce W. Radford is publisher of Public Utilities Fortnightly .
The PJM complaint and the rising cost of electric reliability.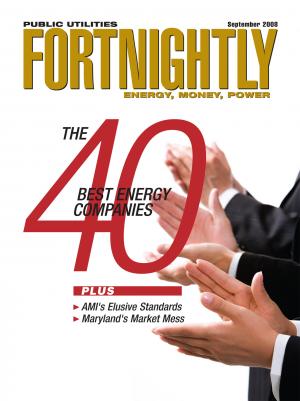 Who says ratepayers must accept the traditional measure of electric reliability—a single one-hour outage every ten years? If shown the bill ahead of time, might they decide otherwise; that such luxury is no longer affordable? Consumers are making similar decisions about gasoline and mortgages. Why not electricity?
Notice that Chairman Joseph Kelliher and his fellow commissioners at the FERC already are busy preparing consumers for this sobering comeuppance—that we as a nation can no longer afford our grandfathers' grid. Listen to Commissioner Suedeen Kelly, commenting at FERC's June 19th meeting on an eye-opening presentation from the commission staff (see Figure 1) on the rising cost of electric-generation facilities.
"We have a weak dollar," warned Kelly. "We have an economic slowdown … We have a financial sector that has been battered by financial crises, and credit is tight.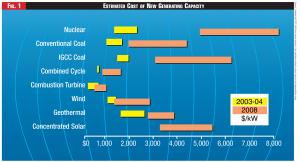 "This," she added, "makes the whole notion of building more electricity infrastructure a difficult one."
And Kelliher added, "I think it is important that these hard realities be better understood by the general public and others."
Such concerns are emerging in other regulatory proceedings. Exhibit A is the recent complaint against the PJM power grid, which was filed at FERC at the start of summer to dispute results of the first four base residual auctions conducted under the region's new and controversial "reliability pricing model" (RPM). (See, Maryland PSC v. PJM, FERC Docket EL08-67, filed May 30, 2008.)
The RPM regime, analogous to the ICAP program in New York and New England's forward capacity market (FCM), serves to recruit electric-generating capacity three years ahead of time, in order to keep the lights on. RPM includes market auctions built on complex mathematical algorithms aimed specifically at complying with the one-in-10 reliability standard. This new complaint, filed by a group of self-styled capacity "buyers"—including state utility commissions in Maryland, Delaware, New Jersey and Pennsylvania, rural cooperatives, and state-funded ratepayer advocates, plus a dozen or so additional parties, with various federal government agencies thrown in—marks a new turning point in the unsteady march of utility restructuring.
Now, for perhaps the first time, we see opponents confronting a market regime not because electricity is special and so cannot abide a market, or that that deregulation violates the laws of physics or the duty to serve. Rather, this new complaint attacks PJM's capacity market because, in essence, it mandates too much reliability—a level of security that American ratepayers simply cannot afford.
A $26 Billion Mistake?
Put in place by a settlement agreement OK'd by FERC on December 22, 2006 (Docket ER05-1410, 117 FERC ¶61,331) , PJM's RPM regime features regular auctions in which suppliers offer for a given price to sell future availability of electric power resources to the RTO (be it plant output, demand response, or even space on a new transmission line), for physical delivery across a 12-month commitment period that does not ordinarily begin until three years later. In May 2008, for example, PJM