Deck:
Utilities consider imposing a retail surcharge to fund clean-tech R&D.
When OPEC boycotted the United States in October 1973, the resulting energy crisis rocked America's economy. Among the many consequences of that crisis, American industries and consumers began burning more natural gas instead of oil. Consequently gas prices doubled, tripled and then quadrupled over the decade from 1974 to 1983.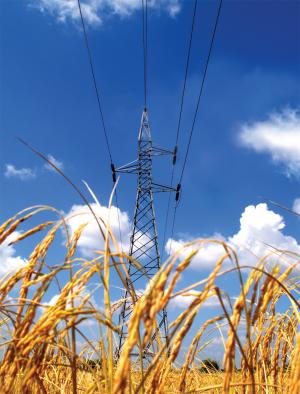 In the midst of the energy crisis, the American Gas Association (AGA) assembled a coalition of gas utilities, pipeline companies, gas producers and political leaders to address a fundamental problem—namely, the industry was spending too little on research and development (R&D) into technologies that would improve efficiencies all along the value chain, from gas well to water heater. R&D funding suffered because regulators in many states wouldn't allow pipelines and utility companies to recoup research costs in retail rates, and unregulated gas producers had little incentive to invest in research that would benefit their competitors.
AGA's solution was to ask the Federal Power Commission (FERC's predecessor agency) to create the Gas Research Institute (GRI), and to finance it with a nationwide surcharge on interstate gas sales. GRI invested the proceeds in more than 100 private-sector R&D projects, many of which paid off handsomely for the industry and its consumers. (See "Cultivating Clean Tech," Fortnightly, May 2008.)
Now, America's electric utilities face circumstances similar to what the gas industry faced during the 1970's energy crisis. But this time, instead of a multi-national oil cartel, America itself is the culprit—staging what amounts to a boycott against its most important power-generation fuel: coal.
Most recently, the EPA's environmental appeals board ruled on November 13 that regulators in EPA's Region 8 must reconsider developing a CO2 emissions limit as part of the region's New Source Review process, and "develop an adequate record for its decision." (See In re Deseret Power Electric Cooperative, Nov. 13, 2008.) Whether or not the decision "freezes the coal industry in its tracks," as a Sierra Club representative asserted in a Time article on November 14, it deepened the industry's uncertainty about the future of coal in the U.S. power mix.
Of the more than 150 coal-fired power plants on the drawing board just a few years ago, all but a handful have been canceled or indefinitely delayed as a result of converging forces—most notably, the looming threat of future greenhouse-gas (GHG) regulation, and a tidal wave of popular sentiment favoring alternative (i.e., non-fossil) sources of energy. Additionally, carbon capture and sequestration (CCS)—coal's high-tech white knight—has suffered a barrage of bad press and policy setbacks. In January 2008, the U.S. Department of Energy (DOE) "restructured" the zero-emissions FutureGen project, effectively killing it as originally envisioned, and at least two coal-rich states withdrew support from CCS demonstration projects—raising fears that even coal's allies were having doubts about the viability of CCS. Electric Power Research Institute (EPRI) President Steve Specker told the New York Times in May 2008, "A year ago, [2020] was an aggressive target [for commercializing CCS]. A year has gone by, and now it's a very aggressive target."
Meanwhile, the U.S. Supreme Court ruled that carbon was a pollutant under the Clean Air Act, Congress debated the merits of various GHG-regulation proposals, and coal's story began to resemble the sad tale of nuclear energy after the Three Mile Island accident. But then, as happened in 1976 with GRI's formation, a coalition came together to reclaim coal's future.
The National Mining Association and the United Mine Workers of America, along with several of the country's biggest coal-burning utilities, threw their support behind a bill co-sponsored by Congressmen Rick Boucher (D-Va.) and Fred Upton (R-Mich.) to assess a surcharge on retail electricity sales. H.R. 6258, the Carbon Capture and Storage Early Deployment Act, would raise about $1 billion a year to finance private research, development and demonstration (RD&D) of CCS technology.
"This legislation is absolutely essential if coal-fired electric utilities are to continue using coal in a carbon-constrained economy," Boucher told attendees at the Edison Electric Institute (EEI) Finance Conference in November 2008. "We know we cannot rely on the regular appropriations and budgeting process of the Congress to develop these technologies in the near time frame."
The Boucher-Upton bill has garnered support from many companies in the U.S. investor-owned utility industry, including most members of EEI and EPRI. At the same time, however, even some supporters of the bill question the wisdom of funneling surcharge funds exclusively into CCS, just one of many possible approaches to GHG abatement. To further examine the Boucher bill and its structural approach to funding RD&D, Fortnightly hosted a roundtable discussion among four utility leaders:
• Mike Chesser, Chairman & CEO, Great Plains Energy/KCP&L and Chairman of EPRI;
• Ralph Izzo, Chairman, President & CEO, Public Service Enterprise Group;
• Mike Morris, Chairman, President & CEO, American Electric Power, and past Chairman of EEI; and
• Bob Catell, Executive Director and Deputy Chairman, National Grid.
Research Agenda
Fortnightly: What's your position on the concept of a surcharge on electricity sales to fund an RD&D effort? Is it necessary, desirable and realistic?
Chesser: If you want to make inroads in restricting the use of carbon, it's necessary. Experience has shown you get a much better return on your investment [when it's privately funded], although a broad group should oversee that funding, not just only from the industry but interests from all across our community.
The other thing to emphasize is that we should focus on all technologies, not just carbon sequestration. There's a very real possibility that we could have a longer stretch than we thought where we wouldn't have to build any base load [capacity] if we could develop renewables, including solar, and storage and efficiency technologies quickly enough.
Morris: I may see things a little differently than my good friend Mike Chesser does. I had the opportunity yesterday to do a one-hour TV piece with both Congressmen Boucher and Upton on this very bill, and I have testified in front of Boucher's subcommittee. This is the first time that I've ever had the opportunity to testify where there was not only bipartisan support for a piece of legislation, but bipartisan comments [supporting] the legislation, save Congressman Markey [D-Mass.] who wants the money to go to the government general fund so it can then be doled back out by them.
The Boucher bill's concept has been worked out for a long time, and honestly most of the credit should go to [PNM CEO] Jeff Sterba, who worked this out while he was both chair of EEI and simultaneously the chair of EPRI. There was a time when I thought it was a silly idea that had zero chance of becoming the law of the land. I would tell you that now, based on many conversations with members of that subcommittee and other members of the House, it has a chance.
The point that Mike made is so important, and that is that this stays out of the hands of the government and is administered through a very broad board of directors, including state regulatory utility commissions and others, not just utility members. It has a technical committee as well to review the project so it isn't EPRI all on its own. They'll be representatives of research colleges from around the country.
I don't disagree with Mike about the notion that if in fact renewables and conservation and all the other things we believe in [allow] us not to build any new stations, that's great. But this technology will also be directed toward retrofitting the existing fleet, because there's not enough renewables or energy efficiency to replace the current 50 percent of the electricity that's coal-based. So I wouldn't broaden it out. I'd leave it to direct itself toward CCS. That's the name of the bill and that is its intent.
I do appreciate the point Mike made and I'm not arguing about it. I just think this unique piece of legislation should be driven toward that. It's not dissimilar from the subsidies that solar and wind get already in tax [credits]. So let's leave it as a single issue.
It is the predicate and not the replacement of cap and trade.
Fortnightly: AEP worked with NARUC, the United Mine Workers, EPRI and others to develop proposed amendments to the bill back in August. Have those amendments made their way into the Boucher-Upton bill?
Morris: In fact Congressman Boucher had asked then-Chairman Kerr of the North Carolina Utilities Commission and me to work with the United Mine Workers and others to find a compromise that works. We brought that to the EEI executive committee and full board a week or so ago, when we had our fall meeting, and as far as I know the language that's in the bill is acceptable to the industry and acceptable to NARUC. Congressman Boucher was very thankful for that.
Fortnightly: Speaking more broadly, even if the Boucher bill doesn't go forward, what do you think about the concept of an energy surcharge to finance RD&D?
Izzo: Let me start with the specific and then go to the general. I also serve on the EEI executive committee and was part of the group that unanimously endorsed the Boucher bill. Going to the more general, I think the Boucher bill is necessary only because we have a situation right now which is sub-optimal. By that I mean I'm a greater believer in markets providing accurate price signals so the private sector conducts commercial development in response to those market signals. I think it's more the role of consortia and governments to provide support for basic research. But when we're talking about enhancing the commercial viability of products and services, whether that's energy efficiency, renewables or CCS, which is the target of the Boucher bill, the reason we need surcharges and the reason we are stepping in is because government has failed to regulate carbon in a way that sends an accurate price signal through the electric price. If we had that, I think you would see the private sector push on the necessary research agenda, from the GEs to the First Solars and the Sun Powers and the Siemens, and everybody in between. So what we need is an accurate price signal to unleash the creativity of the marketplace.
Catell: I have a slightly different perspective from my colleagues. Certainly there's no question there's a need for government intervention in funding some basic R&D. And I congratulate Congressman Boucher and EEI and EPRI for coming up with this surcharge idea. But this is focused on commercialization of one specific activity. We would certainly support a broader concept. I understand the difficulty if you don't have something that's focused. But in the Northeast, where Ralph and I come from, our customers already are paying some of the highest costs for electricity. We have an RPS, and our customers are paying tens of millions of dollars to fund R&D, so this would be an added cost on the customer. If our customers are going to be paying more, I think it would be appropriate that the focus of this R&D activity be somewhat broader than just the carbon sequestration effort.
Fairness Matters
Fortnightly: Would expanding the Boucher bill reduce its chances for viability from a political perspective?
Morris: That really is an interesting question. If you broadened it there's no question that it would touch more congressmen. I could see the solar band of the country going to their congressmen and saying, 'Hey this is another really good idea.' Surely the wind players and the New Englanders who get a great deal of their energy from gas might think that's a great idea as well. I appreciate that you'd pick up some votes, but at the same time you'd struggle with some votes [from legislators] who'd say, 'Here we go again, here's a classic energy Christmas tree with 10,000 ornaments on it.'
When we do that, as we do far too frequently, the tree topples over and nothing gets done. I will tell you Congressman Boucher is laser focused on getting it done and might well consider those kinds of things if he thought the vote calculus would add value. It's beyond my ability to forecast what would happen with that. I'm just afraid if you did that you'd lose votes, and you'd make it too complicated for anyone to embrace it.
Chesser: For the record, I was responding to what the ideal scenario would be. I think it would be ideal if we had all the technologies being addressed. But in terms of my perspective on the Boucher bill, I think it would be a good start, and I don't think it would preclude using the same model for subsequent technologies once it was proven. I fully endorse the Boucher bill as a good start in that direction.
Morris: We've got to get onto what [CCS] will cost per unit. The sooner we do that the better off we are. As Upton and Boucher said yesterday, they consider this one of the important steps to get on to cap and trade. When you get the rates and dates right, you need to have deployable technology. So I think those things work hand in glove.
Catell: I wasn't suggesting that I was opposed to the Boucher bill in its current form. I think solving the problem of carbon collection is one that will be important because coal for a long time will play an important role in meeting our energy needs. I just think if you were to look for the kind of support you need to get this done, particularly from some of the states we operate in, you need to open it up to everything, to demonstrate some of the benefits to the customers who are unfortunately paying some of the highest rates in the country. Now we in New York are going to have to buy credits for the carbon we emit from our generating stations. It's an added cost for the customer and there will be a tremendous amount of pressure if this bill is just focused in this one particular area. But as Mike said, you have to start somewhere. I understand that. If this concept could be broadened in the future to cover other technologies, and at the end of the day you can get the market playing in this game, we'd be supportive of that.
Izzo: I agree with what Bob is saying. Life is a series of compromises. We don't have a perfect world, and the Boucher bill is an important way to get started. But if you look at the geology of the Northeast, broadly speaking, [DOE says] the region from Maryland to Maine will not be subject to analysis for possible carbon storage. The rest of the nation is suitable for storage. So the headline is great news: 80 percent of the nation is suitable for carbon storage, but the other 20 percent happens to be where Bob and I operate with nuclear and gas-fired generation, which is much higher cost than generation in other parts of the country, and emits less carbon and other things, including nitrogen, etc.
The need to expand the research is important. Even with the early start the Boucher bill allows us, the reality is the initial reductions in carbon won't be achieved through CCS. They'll be achieved through energy efficiency, international offsets, further deployment of wind and potentially further deployment of grid-connected solar. So that's the way we can deliver benefits to everyone, including those jurisdictions that already are paying higher prices and don't lend themselves to CCS. I think fairness matters. It clearly does.
Intellectual Capital
Fortnightly: What do you think the financial crisis means for RD&D for clean energy technology? Should we be saying, 'We can't afford this right now'? Or should we look at it from the opposite direction and say an investment in technology is exactly what the country needs at this point, from an economic perspective as well as environmental and national security perspective?
Izzo: I'd take more the latter view. This is a good opportunity for us to invest, to slay two dragons at once—dependence on foreign fuels and to address the long-term environmental threat, which will have economic consequences that are difficult to predict right now.
We're all old enough to feel a little embarrassed that in 1973 we saw this, and in 1979 we saw this, and we let three decades go by. Not long ago, we were at the mercy of $170-a barrel oil, and now people are asking where's the floor and where's the ceiling. That kind of uncertainty tends to paralyze the capital markets.
That kind of uncertainty isn't healthy for us, as we ponder the next investment. How do you make that decision not knowing if carbon is going to cost $5 a ton or $50 a ton, and not knowing if that regime is going to come in 2012 or 2015, or if you're going to have the technology to do CCS or not? One can never have a perfectly predictable future, but to the extent we have some control over the uncertainty that we self-inflict, I'd always vote for eliminating that uncertainty and allowing a rational glide path to investing. Because these investments will pay off in the end. Whenever you use your national resources wisely, society is better off. We'll be able to use them wisely once we have a much clearer view of how stringently we want to regulate this particular pollutant.
Morris: I'd add that I don't think we can afford not to go forward and do these things, notwithstanding the current economic situation. The sooner we have these answers, the better off we'll be as a country, and quite honestly, the better off we'll be as a world. Because it's clear to me that the utilities in India, China and other stretches of the world are waiting to see what steps the United States will take. This is an area where we can lead the way.
To Ralph's point, developing and deploying this technology will provide long-term benefits to jobs in this country, and intellectual capital we can export to other countries. So we just simply can't sit back and say, 'Gosh, things are really odd right now, let's not do this, let's wait.'
As Sen. John McCain told Sen. Jim Inhofe, if the scientists are wrong, we'll be investing a tremendous amount of capital to advance science and make the world a better place. If that's the downside, let's do it. But let's say the scientists are right, and this could be a calamity beyond calamities, and the productive parts of the world could shift like tectonic plates. Where would we be then? So let's err on the side of doing the right rather than being a naysayer and doing the wrong.
Notwithstanding the financial pressure we're all feeling right now, we need to reduce our dependence on imported oil. I'm a fan of Boone Pickens' idea of getting natural gas into cars. Put plug-in electric cars on top of that with off-peak power production, and you've taken 30 percent, 40 percent or maybe even 50 percent of the liquid fuels out of transportation. If you do that, you'll have a permanent impact on the price of gasoline for our country.
We need to move forward. The U.S. economy has, will, and can, absorb these kinds of blows.
Catell: We can't take our eye off the ball. There's more enthusiasm now than I've ever seen for investments in new technologies. The pressure of high prices, the recognition that we need to reduce our dependence on imported oil and the environmental considerations are more in the public's eye than they ever have been. We're in a rough period, but we've got to maintain a long-term focus, and not waste another 30 years without addressing the problems.
Chesser: The international benefits of carbon-sequestration technology might be at the top of the list. If you're going to have any real impact on carbon, it's not in the United States but in the developing countries. Developing CCS technology for export could be a huge benefit.
But one thing keeps haunting me. If you go back to the '70s, the experts were projecting load growth out through 2010 or 2020, and that rate of growth was between 6 and 8 percent. That never came to fruition. It was more like 2 percent. Today we're looking at 2030 and saying energy demand will increase by 30 percent by 2030, assuming a 2 percent cumulative effect. There's a scenario I can see with prices continuing to rise, and particularly if we get more penetration with energy efficiency, in which we basically have flat load growth or maybe even a little less than flat. There are all kinds of potential scenarios.
The thing about distributed technologies like solar and energy efficiency is you can dial them up or back. They don't need huge lumps of investment that would be potentially stranded, so they have a strategic benefit in the utility industry, combined with the smart grid, that I'm not sure we've fully come to grips with.
Izzo: I'd combine that point with one that Mike Morris made, that [renewables and efficiency] technologies are vitally important for us to develop for the same export reasons [as for CCS]. When you think about developing nations that don't have our infrastructure, what better export product for us to have? Right now, quite candidly, we're buying our solar panels from China and Germany and I don't like that. It's not a rap on China or Germany, but I'd like to see some things manufactured here in the United States.
Morris: Including the infrastructure for whatever nuclear stations need to be built. We need to reconstruct the nuclear supply chain in this country, and we need to construct the supply chain for energy efficiency and solar panels in this country.
I'm deeply excited about Silicon Valley getting involved in these issues. I spent time with [Intel's former Chairman & CEO] Andy Grove on retrofitting the current fleet of automobiles to become plug-in electric hybrid vehicles. Companies like that have the time and energy, as well as the garages, to do the skunk works that will change this equation. Mike Chesser could very well be right that we don't need to build anywhere near the [expected] number of central stations. But I'd simply love to see the supply-chain infrastructure blossom in this country.
Chesser: I'm sure Andy Grove told you, the solar panels these days are expected to conform to Moore's Law. You cut the price in half every five years. They're expecting the same effect, particularly with nanotechnology with solar cells.
Morris: That's exactly right. The capacity is increasing as they change the chemical constituents of the panels. It's great to have all that intellect working on these things. It truly is.
Izzo: You used the word 'intellect.' The other thing that's so important about getting the price signals right and getting the long-term commitment is that it allows you to develop the infrastructure, whether it's manufacturing capacity to build nuclear plants or equally importantly the human infrastructure. We can't have schools saying, 'We want a nuclear department,' then saying, 'No we don't.' We can't have schools saying, 'PV is the wave of the future,' and then saying, 'Nobody is going to do it because fossil fuels are cheap, so let's shut it down.' Whether it's the engineering talent, the scientific talent or the craft skills, it's important to stick to the theme that energy is important to our quality of life, and with engineering we can make the world a better place, even if the scientists are wrong about climate change.
Fortnightly: Aside from collecting the surcharge, what's the utility's role in R&D? After all, utilities generally are purchasers of technology, not developers of technology.
Catell: Utilities can play a vital role in getting new technologies into the marketplace. But it might require a new utility model to allow you to at least make investments in these technologies and get them into the market.
In the near term, the primary things we can do to help solve the problem are conservation and efficiency. This is an area and a role that utilities can play, working with their customers. There may need to be changes in the regulatory strategy to get that done.
Chesser: Our whole growth strategy has got to be moving down the value chain with the customer. We've to get innovative about how we do that.
Izzo: I worry sometimes, not out of disrespect, that policy makers haven't yet caught up to this. Look at two choices, as a hypothetical example: investing in LED streetlights versus investing in a transformer substation. The transformer gives me a 10 percent return, but I'm not allowed to do the other unless it's part of my foundation giving.
The regulatory system hasn't caught up with the espoused goals that the legislative and executive branches have rightly laid out for us.
Morris: The model of yesterday just won't work for what we need to do tomorrow. It's so troubling when you try to do things that make sense for everyone except for the cottage industry that's grown up around rate cases.
Giant Awakening
Fortnightly: Specifically in the area of electric vehicles, do you see any institutional or regulatory barriers that we need to overcome to electrify more of the transportation industry?
Morris: Rick Wagoner, CEO of General Motors, said the fuel of tomorrow for the U.S. transportation fleet will be electricity. GM isn't the company it once was, but those words coming out of his mouth … it's incredibly important. The foreign nationals are way ahead of the U.S. manufacturers in that space.
I'm impressed with the way the NRDC [Natural Resources Defense Council] and others see plug-in electric hybrids. They see using off-peak electricity as a plus compared to the carbon footprint associated with drilling for, producing, cleaning, cracking, transporting and ultimately consuming gasoline. There are, of course, barriers in infrastructure, but I think gasoline at $4 a gallon woke up the sleeping giant, and it will not go back to sleep.
Chesser: I'm very bullish on plug-in hybrids as well. I think there's a real business opportunity there for utilities. In the early stages, we're the logical people to make sure the installation happens in a safe way, is synchronized with the grid, is reliable, and of course that it's coupled with the right price incentives.
To define the boundaries of our business to include the plug and to improve the interconnection with the vehicle would be a real opportunity.
Izzo: To me it's almost simple arithmetic. If we're going to achieve a 60- to 80-percent reduction in CO2 emissions by 2050, there are two things we have to do. We have to make transportation electric based, and we have to get the carbon out of electricity, either by CCS, renewables or nuclear. Without those things, this is just foo-foo dust. It's just imagination that we can get to these targets.
Catell: There's also a role for natural gas vehicles in this picture. Maybe it's in a transition until we get to the electric vehicle, which I agree is where we want to be. The technology for natural gas vehicles is here right now, it works and certainly is less polluting than gasoline and diesel. So there are things that could be done in the near term, including expanding the use of natural gas vehicles until we get to the point where a plug-in electric vehicle is the way to go.
Morris: I don't think one ought to push the other out of the marketplace. There's room for both of them, and collectively that is a way to get liquid fuels out of the transportation sector.
Fortnightly: If you had a single wish for clean energy technology, what would it be? Another way of asking the question: What are your top priorities for funding energy technology RD&D?
Izzo: I'm not smart enough to answer that question. I am smart enough to say, 'Give me the right price signal and let all the entrepreneurs and creative people out there provide me with the products that I as a service delivery agent can choose from to provide safe, clean, reliable electricity to our customers at the lowest possible cost.' I think we have to avoid the pitfall of picking the technology winner. Let the market choose the most creative alternatives. Give me a carbon price and the rest will follow.
Chesser: If you were to pin me down and say, 'You're in 'Vegas, put your bet on the roulette wheel for the technology that will have the highest payoff,' I'd say, 'Give me improved battery-storage technology and improved cost of solar.' Those are the two things that would have the greatest quantum impact on what we're trying to achieve.
Catell: I think it's all of the above, and yes, let the marketplace decide. But certain things can have a greater impact in the short term—perhaps conservation, efficiency, renewable technologies and batteries. And some things will be absolutely essential, like CCS. It's both a short- and long-term situation. It's all of the above, and the market will decide.
Morris: I'm a pragmatist and I'd wish for CCS technology, because without that we'll never get a carbon price, which I really do agree with. Unfortunately, there may well be a groundswell on the international nature of [climate change]. Considering the economic impact, compared to all the other things that are affecting Mom and Dad at home, there will be enough votes to frustrate this from going forward if we don't get started. [Enacting the Boucher bill will allow us to] stand in front of elected officials and say, 'We're already on the road to developing and deploying the technology that will allow us to accomplish this.'