Deck:
Left-coast lawmakers envision a greener America.
Left-coast lawmakers envision a greener America.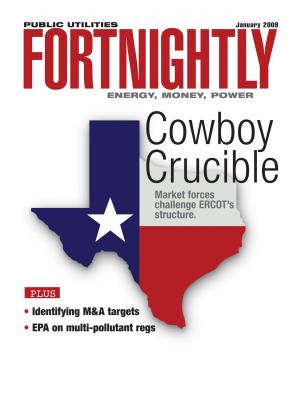 As the new U.S. government takes shape, at least one trend seems clear: California is taking over the country. Well, maybe not "taking over," exactly. But leading.
With such Californians as Lawrence-Berkeley National Lab Director Steven Chu ascending to DOE secretary and Rep. Henry Waxman becoming chairman of the House Energy & Commerce Committee, leaders from the Left Coast definitely are taking a higher profile in the new Washington regime—particularly with regard to energy and environmental policies. Whether that's a good or bad thing depends on one's perspective.
"It's true that federal policy as well as the myriad state policies will continue emulating California policy," says Tom Tanton, a senior environmental policy fellow with the Pacific Research Institute. " We can only hope lawmakers will come to understand that California energy policy hasn't been beneficial to ratepayers or consumers."
A litany of examples support Tanton's observation, from the state's abortive attempt to mandate zero-emissions vehicles in 1990 to the energy crisis of 2000, and the subsequent collapse of the state's competitive retail electricity market. In short, California's trailblazing energy policies seem to have yielded more disasters than they have triumphs, which argues against applying the California model nationwide.
At the same time, however, California has earned distinction as one of the country's most energy-efficient states, embracing a series of policies and programs that have helped minimize per-capita energy demand growth for nearly 30 years.
"If lawmakers from California take that orientation and apply it to the United States, that would be a very positive outcome," says John Bewick, president of consulting firm Compliance Management Inc., and formerly environmental secretary for the Commonwealth of Massachusetts. "That's exactly where we need to focus for the next five years."
Californication
When conservation proponents seek examples to illustrate the effectiveness of revenue decoupling, they frequently put California at the top of the list. After all, the state decoupled utility sales volumes from profits at about the same time it saw a significant drop in per-capita electricity consumption. Decoupling policies, together with a portfolio of conservation and efficiency incentives, have delivered impressive results for the state of California—results leaders in Washington logically might seek to replicate elsewhere in the country.
"California has done a fabulous job of leveling out demand, partly in response to the energy crisis," says Donna Attanasio, a partner in the Washington, D.C., office of White & Case. "It's more than policy, but leadership that made energy efficiency a priority and integrated it into different areas of state government. Those things are part of the Obama platform."
But the degree to which California's experience can apply to other states and the country as a whole depends on numerous factors—some of which are disconnected from energy policies, or connected in an undesirable way.
For example, during the past three decades California's manufacturing and processing industries largely have disappeared. Thus the state's flat demand growth might have more to do with macroeconomic trends than with the