Deck:
Left-coast lawmakers envision a greener America.
As the new U.S. government takes shape, at least one trend seems clear: California is taking over the country. Well, maybe not "taking over," exactly. But leading.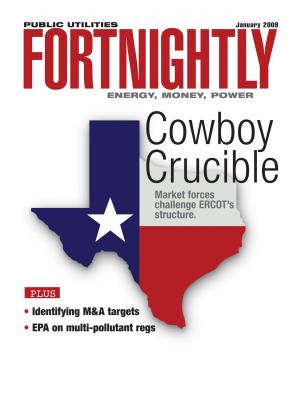 With such Californians as Lawrence-Berkeley National Lab Director Steven Chu ascending to DOE secretary and Rep. Henry Waxman becoming chairman of the House Energy & Commerce Committee, leaders from the Left Coast definitely are taking a higher profile in the new Washington regime—particularly with regard to energy and environmental policies. Whether that's a good or bad thing depends on one's perspective.
"It's true that federal policy as well as the myriad state policies will continue emulating California policy," says Tom Tanton, a senior environmental policy fellow with the Pacific Research Institute. " We can only hope lawmakers will come to understand that California energy policy hasn't been beneficial to ratepayers or consumers."
A litany of examples support Tanton's observation, from the state's abortive attempt to mandate zero-emissions vehicles in 1990 to the energy crisis of 2000, and the subsequent collapse of the state's competitive retail electricity market. In short, California's trailblazing energy policies seem to have yielded more disasters than they have triumphs, which argues against applying the California model nationwide.
At the same time, however, California has earned distinction as one of the country's most energy-efficient states, embracing a series of policies and programs that have helped minimize per-capita energy demand growth for nearly 30 years.
"If lawmakers from California take that orientation and apply it to the United States, that would be a very positive outcome," says John Bewick, president of consulting firm Compliance Management Inc., and formerly environmental secretary for the Commonwealth of Massachusetts. "That's exactly where we need to focus for the next five years."
Californication
When conservation proponents seek examples to illustrate the effectiveness of revenue decoupling, they frequently put California at the top of the list. After all, the state decoupled utility sales volumes from profits at about the same time it saw a significant drop in per-capita electricity consumption. Decoupling policies, together with a portfolio of conservation and efficiency incentives, have delivered impressive results for the state of California—results leaders in Washington logically might seek to replicate elsewhere in the country.
"California has done a fabulous job of leveling out demand, partly in response to the energy crisis," says Donna Attanasio, a partner in the Washington, D.C., office of White & Case. "It's more than policy, but leadership that made energy efficiency a priority and integrated it into different areas of state government. Those things are part of the Obama platform."
But the degree to which California's experience can apply to other states and the country as a whole depends on numerous factors—some of which are disconnected from energy policies, or connected in an undesirable way.
For example, during the past three decades California's manufacturing and processing industries largely have disappeared. Thus the state's flat demand growth might have more to do with macroeconomic trends than with the state's energy policies. Further, the state's emphasis on green policies—including the greenhouse gas (GHG) regulations recently approved by the California Air Resources Board (CARB)—put additional pressure on California's economy. Already California faces a gargantuan budget deficit, projected to reach nearly $42 billion by the end of fiscal year 2010, as well as an 8 percent unemployment rate—one of the highest in the country, right behind Michigan.
"Draconian environmental measures eliminate economic growth by reducing productivity," Tanton says. "We're already hurting. We need to increase production, not reduce it."
In addition, Tanton says California's approach to energy and environmental regulation has stymied economic development rather than encouraged it—in part because it's created an excessive government bureaucracy, which the new GHG regulations will exacerbate. "Implementation is byzantine," Tanton says. "We've had an RPS [renewable portfolio standard] in place for six years, yet renewable power continues to shrink as a percentage of total generation, because there are so many agencies, regulations and policies that businesses can barely move."
On the other hand, CARB published a report in September that said cutting GHG emissions actually will accelerate economic growth in California. CARB estimated the transition to a climate-friendly economy would create 100,000 more jobs than the state's economy will create in the status-quo scenario, and the average California household would save $400 a year in energy costs, by virtue of driving cars that get better gas mileage and living in homes that are more energy efficient.
"By moving first in the nation, California maintains its position at the front of the line in attracting venture capital," stated CARB Chairman Mary Nichols. "[It] positions us as a leader in the race to develop the clean technology products, patents and projects the global market demands and needs."
Green Gold Rush
At the recent Power-Gen International conference in Orlando, a power plant executive told me he was losing sleep about deep cuts that corporate managers had just mandated. On condition of anonymity, he said the company was seeking 30-percent reductions in non-fuel O&M spending across its entire generation fleet. He added that his plant already was operating on a shoestring, and had delayed outages and equipment replacements to the point where further delays would affect plant reliability.
When companies must make such tough economic decisions about their most fundamental business—keeping the lights on—green energy goals like those of California lawmakers can seem like a pipedream. Companies and states can't fathom investing in the future when immediate survival is at stake.
Nevertheless, one thing California consistently teaches the rest of the country is the importance of long-term, big-picture thinking. Although California's approach to regulation might beg for improvement, its leadership on efficiency, conservation and smart-grid development serves as an instructive example for policymakers and companies to emulate. Such leadership should be particularly welcome during today's tough economic times, when short-term cost-effectiveness trumps other considerations.
And the current economic crisis, like all cyclic events, eventually will end. When the economic cycle finally takes a turn for the better, those companies, states and nations that plan ahead will be better positioned to prosper.
"For the first time, the U.S. government is ready to provide a comprehensive energy policy," says Michael Zimmer, of counsel with the Thompson Hine law firm in Washington, D.C. "An energy policy that's integrated with the country's economic and foreign policies would be a major step forward in aligning the best interests of the country with its competitive future in the global marketplace."
In this respect at least, California-style forward thinking fits perfectly with the historic changes that are happening in Washington, D.C. As long as Left Coast leaders incorporate the sober realities of the real world into their national policy aspirations, California dreamin' might serve America well in the years to come.