Deck:
Perception trumps reality at Florida 'solar city.'
Perception trumps reality at Florida 'solar city.'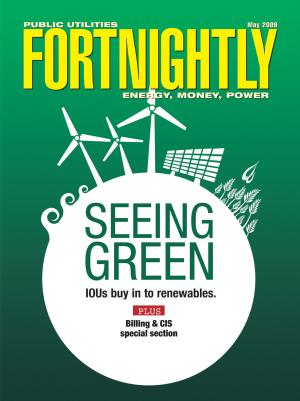 Once upon a time, a real estate developer dreamed of building a planned community. The developer, Syd Kitson, envisioned a "city of tomorrow™" in southwestern Florida, designed for efficiency, convenience and harmony with nature.
Instead of driving cars everywhere, the 45,000 residents of Kitson's Babcock Ranch would ride bikes to school, and walk to the cinema. They'd take a tram to visit friends in another hamlet, on the other side of a lush wildlife preserve.
The developers were making progress on this multi-billion dollar development—acquiring the 18,000-acre site and securing several important permits. But then the subprime-lending bubble burst, and the bottom fell out of Florida's real estate market. One of Kitson's primary financial backers—Morgan Stanley—teetered on the edge of collapse. And in November 2008 Fitch downgraded the ratings on Babcock Ranch's debt.
Kitson insisted the development would proceed, but in December the company laid off half of the staff members dedicated to the Babcock Ranch project, saying the remaining team would focus on "short-term planning."
Just as the city of tomorrow seemed headed for oblivion, an announcement from Florida Power & Light (FPL) put Babcock Ranch back on the map. In mid-April, FPL and Kitson hosted a joint press conference to announce the utility would build the world's largest photovoltaic (PV) power plant on the Babcock Ranch site, making it what Kitson called "the first city planned to be powered by the sun."
Whether this distinction will secure Babcock Ranch's success remains to be seen, but already it raised its profile; the announcement earned Babcock Ranch national news coverage and attracted a flurry of discussion in the blogosphere. More important, it increased the project's political capital. Representatives from the Audubon Society, World Wildlife Fund and the Sierra Club joined FPL and Kitson at the press conference. And several days later, Florida Gov. Charlie Crist praised Babcock Ranch as part of the state's economic turnaround and its leadership in solar-energy development.
Leveraging this attention, the developers are marketing Babcock Ranch as a Mecca for green R&D and manufacturing. Kitson told reporters his firm is courting solar module developers, lithium-ion battery manufacturers and other clean-energy companies "that want to use Babcock as a living laboratory."
If Kitson's solar-powered city idea succeeds, it will mark a major success story for the solar energy industry, and renewables in general. In addition to breaking size records, it will signal an important transformation for the power industry. Namely, in contrast to the NIMBY protestors and environmental litigants that greet most power plant proposals, Babcock Ranch actually is counting on the PV project to attract residents.
In principle, these all are good things for the renewable energy industry. In practice, however, Babcock Ranch represents a big gamble—both for its developers and for the renewable energy business. If it doesn't work out just exactly right for everyone involved, it could turn into an ugly black eye that will hurt, rather than help, the green energy revolution.