Deck:
Perception trumps reality at Florida 'solar city.'
Once upon a time, a real estate developer dreamed of building a planned community. The developer, Syd Kitson, envisioned a "city of tomorrow™" in southwestern Florida, designed for efficiency, convenience and harmony with nature.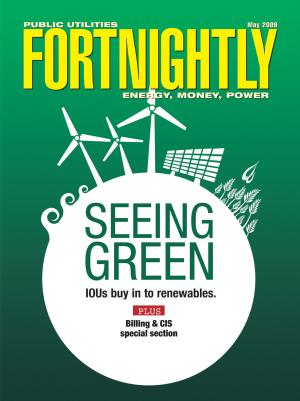 Instead of driving cars everywhere, the 45,000 residents of Kitson's Babcock Ranch would ride bikes to school, and walk to the cinema. They'd take a tram to visit friends in another hamlet, on the other side of a lush wildlife preserve.
The developers were making progress on this multi-billion dollar development—acquiring the 18,000-acre site and securing several important permits. But then the subprime-lending bubble burst, and the bottom fell out of Florida's real estate market. One of Kitson's primary financial backers—Morgan Stanley—teetered on the edge of collapse. And in November 2008 Fitch downgraded the ratings on Babcock Ranch's debt.
Kitson insisted the development would proceed, but in December the company laid off half of the staff members dedicated to the Babcock Ranch project, saying the remaining team would focus on "short-term planning."
Just as the city of tomorrow seemed headed for oblivion, an announcement from Florida Power & Light (FPL) put Babcock Ranch back on the map. In mid-April, FPL and Kitson hosted a joint press conference to announce the utility would build the world's largest photovoltaic (PV) power plant on the Babcock Ranch site, making it what Kitson called "the first city planned to be powered by the sun."
Whether this distinction will secure Babcock Ranch's success remains to be seen, but already it raised its profile; the announcement earned Babcock Ranch national news coverage and attracted a flurry of discussion in the blogosphere. More important, it increased the project's political capital. Representatives from the Audubon Society, World Wildlife Fund and the Sierra Club joined FPL and Kitson at the press conference. And several days later, Florida Gov. Charlie Crist praised Babcock Ranch as part of the state's economic turnaround and its leadership in solar-energy development.
Leveraging this attention, the developers are marketing Babcock Ranch as a Mecca for green R&D and manufacturing. Kitson told reporters his firm is courting solar module developers, lithium-ion battery manufacturers and other clean-energy companies "that want to use Babcock as a living laboratory."
If Kitson's solar-powered city idea succeeds, it will mark a major success story for the solar energy industry, and renewables in general. In addition to breaking size records, it will signal an important transformation for the power industry. Namely, in contrast to the NIMBY protestors and environmental litigants that greet most power plant proposals, Babcock Ranch actually is counting on the PV project to attract residents.
In principle, these all are good things for the renewable energy industry. In practice, however, Babcock Ranch represents a big gamble—both for its developers and for the renewable energy business. If it doesn't work out just exactly right for everyone involved, it could turn into an ugly black eye that will hurt, rather than help, the green energy revolution.
Solar Shell Game
Calling Babcock Ranch the world's first solar-powered city stretches the truth to its breaking point, and perhaps beyond it.
Kitson says FPL's on-site 75-MW PV array will generate more power than the city consumes, which makes it a solar-powered city. But irrespective of whether the numbers add up, FPL isn't building the plant specifically to serve the Babcock Ranch community. Indeed, FPL says it will build the PV project whether the city materializes or not—assuming it gets favorable rate treatment. Speaking during the press conference, FPL Chief Development Officer Eric Silagy said, "We are extremely excited to build one of the world's largest solar PV projects once the state legislative and regulatory authorities have taken the actions that would be required for us to move forward."
Those "actions" could include a bill (SB 1154) that was advancing in the Florida legislature at press time, which would create a "20 percent by 2020" clean-energy portfolio standard, and would provide "full cost recovery under the environmental cost-recovery clause" for clean energy plants in Florida, totaling 110 MW for each utility. Reportedly FPL wants to apply for such rate treatment for the Babcock Ranch project.
By putting the plant into its rate base, FPL proposes to spread the $350 million in costs among all FPL ratepayers—increasing the typical customer's bill by about 30 cents a month. From a public-policy perspective, this price seems reasonable enough, and the approach makes perfect sense if the goal is to encourage utility investments in renewable energy. However, this rate-making approach also belies the fact that Babcock Ranch really won't be a solar-powered city.
If this were just a case of misleading advertising, it wouldn't matter much. After all, real estate developers frequently exaggerate the "feel good" features of their properties. The problem, however, is that now FPL and the whole renewable power industry are part of the charade.
Green Backlash
By locating 75 MW of PV modules all in one place—at least partly so Babcock Ranch can pretend it's a solar-powered city—FPL might not optimize the potential of its investment. The same modules, installed on rooftops all over Florida, might produce greater value to ratepayers by virtue of geographic dispersion. Distributed modules might provide more reliable power than the same amount of centrally located modules would. On the other hand, even a solar power plant can benefit from scale economy. By using fewer, larger inverters and less wiring and other gear to integrate variable DC power into FPL's grid, one central station might be more cost-effective than hundreds of distributed panels.
All things being equal, engineering and resource analysis would answer those questions. But all things aren't equal, given the political factors driving support for the world's first solar-powered city. If SB 1154 becomes law, and if FPL takes advantage of its pre-approval provision and puts the project into its rate base, the utility won't need to ask whether 75 MW of PV at Babcock Ranch actually makes sense. The legislation says the PSC should approve FPL's rate-recovery request, as long as it doesn't exceed the price of any other power plants (including PV) the PSC has approved in the past 10 years—a virtual certainty given the downward price curve for solar technology.
More broadly, if the Kitson development turns out badly—as "cities of the future" have been known to do—then FPL ratepayers reasonably might view this 75-MW array as an orphaned white elephant.
In practical terms, it will cost ratepayers virtually the same amount of money whether Babcock Ranch goes forward or not. But that makes little difference in terms of public perception. If Babcock Ranch is anything but a perfect success, then Floridians will view the PV project as an expensive failure, even if it operates perfectly.
As sci-fi novelist L.E. Modesitt, Jr. told Fortnightly in one of this month's People in Power interviews (see "Green Progression"), "There always will be a backlash if things don't work."