Deck:
Utilities adapt to a shifting landscape.
The U.S. utility landscape is more dynamic and uncertain than it's been since Thomas Edison and George Westinghouse waged their infamous war over alternating current—and the results might be just as fundamental to the industry's future.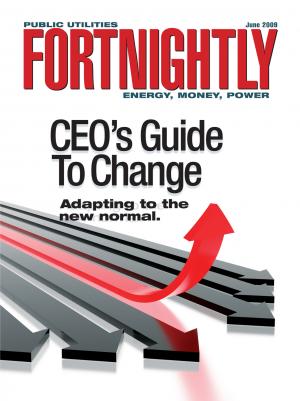 Last year at this time utilities were gearing up for the expected "big build"—an unprecedented investment in new infrastructure to produce, transmit and distribute gas and electricity. As exciting as this prospect was, industry executives worried about the spiraling costs for fuel, raw materials, equipment and skilled talent. Indeed, the talent gap ranked among utilities' biggest worries, as the industry's most experienced professionals were getting ready to retire, leaving a burgeoning industry short on human resources.
Today, a mere 365 days later, companies are focusing on a completely different set of challenges. In many places, the big build has been canceled or delayed. Utilities are re-thinking their capital-spending priorities, and are trimming their operating expenses as much as possible. At the same time, policy makers are pushing the industry toward a green future—with a combination of greenhouse gas (GHG) constraints, renewable energy standards and incentives for green-energy investments.
Some utility executives foresaw some of these changes, but few expected them to happen as quickly as they seem to be happening now. Utilities are struggling to keep up, with varying degrees of success.
Recently Fortnightly interviewed CEOs at utilities that are going through major changes, including: Mayo Shattuck, Constellation Energy; Paul Evanson, Allegheny Energy; and Steve Reynolds, Puget Sound Energy. In years past, we would've packaged these interviews together and called it our annual "CEO Roundtable." But because the topic of "change" is itself changing, and because it means different things to different executives, we've decided to take a different approach.
During the weeks and months to come, Fortnightly will interview senior executives at companies that are facing change in different ways. We'll feature their comments in an ongoing series of exclusive interviews, collectively titled "CEO's Guide to Change." Full transcripts of these interviews will appear on our website at www.fortnightly.com, and we'll analyze those comments in the pages of Fortnightly—starting right now, in this special Frontlines column, with Shattuck, Evanson and Reynolds.
Constellation: Focus on Quality
The financial meltdown that began in September 2008 sparked a crisis for many companies across the economy. One of the most dramatic in the U.S. investor-owned utility industry involved Constellation Energy.
Constellation ran into trouble when it misreported collateral obligations that would be triggered by a downgrade in its credit ratings. Then the financial crisis hit, and one of Constellation's major financial backers—Lehman Brothers—collapsed. What followed was, in effect, a run on Constellation stock. CEG lost two-thirds of its value, falling from $83 on July 31 to $24 on September 18, and the company sought a buyout suitor as it teetered on the brink of bankruptcy.
After first agreeing to be acquired by Warren Buffett's MidAmerican Energy for $4.7 billion, Constellation backed out of that deal in December and agreed to sell 49.99 percent of its nuclear energy business to EDF Group for $4.6 billion, including an immediate $1 billion cash infusion. The deal gave Constellation financial breathing room so it could begin what CEO Mayo Shattuck called a "strategic realignment." Among other things, Constellation sold the energy trading business that represented the lion's share of its daily collateral requirements.
When Fortnightly asked Shattuck what lessons he'd learned over the past year, he focused on the company's growth strategy, which in part aimed at building a lucrative wholesale trading book. "We tried to build a business based on the evolution of competitive markets in the states and internationally," he said. "We weren't successful at convincing people of the quality of earnings that fall into the bucket of trading earnings. They weren't valued in the market, so the additional risk associated with lower-quality earnings wasn't worth it. To the extent you degrade your model with a lower-quality earnings base, you potentially aren't adding as much shareholder value as you might hope."
Constellation's prospects have improved, but the company isn't out of the woods yet. CEG shares fell to $15.50 in mid-March, and since then have rebounded to only about $25. Some investors worry that Constellation surrendered half of the long-term cash flow from its most valuable assets in exchange for short-term life support. Others, however, view CEG as a bargain at $25, given the long-term potential for nuclear development and the regulated cash flow of the company's Baltimore Gas & Electric subsidiary.
Shattuck takes the latter view, of course, and time will tell whether the nuclear renaissance has merely been delayed or whether it's been buried in permanent storage. Either way, teaming with EDF and exiting the trading business allowed Constellation to step back from the brink, and to prepare for a possible nuclear future—a future that holds opportunities for companies with rock-solid credit and strong balance sheets.
"In the United States, all of us are pretty small in the scheme of things, to be building plants that can cost $10 to $13 billion," Shattuck said. "We have to think creatively about alliances. It's not just about money, but also skill and perseverance to stay in the game and in fact lead the charge."
Allegheny: Move Fast
For Allegheny Energy, the current shifts in the U.S. utility landscape represent only the most recent chapter in an ongoing saga of change.
In the 1990s, Allegheny sought growth in the wholesale energy trading business—to become what current CEO Paul Evanson calls "a mini-Enron." The company acquired Merrill Lynch's trading book and operations, and bought power plants all over the country. Then, when Enron collapsed and brought the energy-trading industry down with it, Allegheny's growth strategy turned into a recipe for disaster. Burdened with a mountain of debt in a risky business, Allegheny's credit ratings fell from investment grade to triple-C.
In 2003, Allegheny hired Evanson, formerly president of Florida Power & Light, to manage the company's turnaround. Allegheny went back to basics, like many other companies did, shedding unregulated trading businesses, divesting some utility operations, and reducing and refinancing debt. Additionally the company downsized its workforce, trimming its total O&M costs by one-third. The result, according to Evanson, is a flatter organization with better communication and a tighter focus on the company's core competencies—most notably its T&D operations and coal-fired power plants in Pennsylvania, Maryland and West Virginia.
As a consequence, the rating agencies restored Allegheny's ratings to investment grade, allowing the company to access low-cost financing for the $2 billion in transmission projects it's now developing.
"There's no doubt the turnaround positioned us to perform well," Evanson said. "We can earn a return in this economy, which is great considering power prices are down."
In the future, Allegheny's primary challenge likely will be GHG regulation. The company relies heavily on coal—95 percent of Allegheny Energy Supply's 20-plant portfolio is coal-fired—and the company has invested $1 billion in emissions controls across its fleet since 2003. To address that challenge, Allegheny is bringing gas-fired power plants into the mix, and now is considering investments in renewables. "We're a little late getting into that," Evanson said. "We're talking with some groups about joint venturing on some projects. It will take some time."
Meanwhile, the company is working through policy channels, trying to ensure GHG regulations provide a reasonable transition for coal generators. "Only recently have people focused on CO2 as a potential pollutant," Evanson said. "We need time and R&D in the spirit of American innovation to make sure coal continues to be a viable fuel."
When asked what lessons he's learned through Allegheny's turnaround, Evanson emphasized the need for speed. "You have to move as fast as possible, probably faster than you think you can," he said. "And move as comprehensively as you can. People hate uncertainty, and they don't like wondering when the other shoe is going to drop. So think comprehensively, and as soon as possible, get in place a team that is geared to the changes and challenges you'll face."
Puget Sound Energy: Listen Carefully
In February 2009, a consortium of institutional investors—including three Canadian pension funds and three Macquarie Group investment funds—completed the $7.4 billion acquisition of Puget Energy, parent of Puget Sound Energy (PSE). The transaction happened at a fortuitous time, according to CEO Steve Reynolds.
"We're excited," he said. "This is a great pairing of patient capital with a pretty voracious need for capital to invest on behalf of our customers."
That capital need involves the company's strategy to reduce its reliance on coal-fired generation and replace it with renewables and efficiency measures. Reynolds said PSE is "significantly ahead" of Washington state's renewable portfolio standard, which requires utilities to supply 20 percent of their electricity from renewable sources by 2020.
In addition to investing in energy efficiency and smart-grid technology, PSE announced a joint development agreement in 2008 to build nearly 1,200 MW of wind power capacity over five years, along with gas-fired generation to augment and supplement the variable wind. The recent acquisition supports these plans by providing PSE with investment dollars when it needs them, rather than when public capital markets are accessible.
"From our standpoint, we solved our capital requirement challenges," Reynolds said. "We don't have to worry about where we're going to get financing. With our committed capital [at least $500 million, per the terms of the acquisition] we can work to execute our plan."
Additionally, the merger prompted rating agencies to raise PSE's corporate credit ratings higher into the investment-grade category, strengthening the company's financial position. However, just because PSE has access to deep-pockets financing from its new owners doesn't mean the company's financial worries are over. PSE still must gain regulatory approvals to put investments into its rate base. The Washington Utilities and Transportation Commission (UTC) conditioned its approval of PSE's acquisition on $100 million in rate credits and other savings over 10 years. PSE recently announced it would pass through gas-price savings to its customers in a 12.5 percent gas rate reduction. But while fuel cost reductions will help, ultimately the company's multi-billion dollar investment plan will impact ratepayers' bills—assuming regulators approve it. In that regard, PSE has the advantage of operating in just one state, which will help the company manage regulatory risk.
"We have a very positive, forward-thinking regulatory commission," Reynolds said. "We're following the law in meeting the RPS requirements, and our relations with the commission are positive."
When asked what lessons he's learned over the past several years, Reynolds said, "Listen to your customers. Too often people in our industry have decided what they think is best for customers, and then crammed it down. We've tried to listen and learn from what our customers, communities and elected officials are saying, and then tried to adopt a strategy to do that. That's allowed us to be a first mover, and to do it in a positive way, united with our customers."
CEO's Guide to Change
Visit www.fortnightly.com for full transcripts from these interviews, and watch for future installments in our series, "CEO's Guide to Change." Next up: Christopher Crane, Exelon Corp.