New Opportunities: Constellation Energy announced the promotion of Shameek Konar as senior v.p. for corporate strategy and development.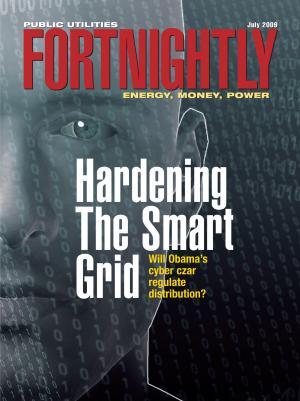 Pepco Holdings, Inc. promoted Kenneth J. Parker to v.p., public policy, and will be succeeded by Vincent Maione as region president, Atlantic City Electric. Karen Lefkowitz was appointed director, customer relations.
DPL appointed Joseph Mulpas v.p., controller and chief accounting officer. He was a partner in the energy utility practice at Deloitte & Touche.
Otter Tail Corp. hired Michael J. Olsen as v.p., corporate communications and public affairs, a new position.
Black Hills Corp. appointed Perry Krush to the position of v.p., supply chain, while the responsibilities of Jeff Berzina were expanded to v.p., corporate controller, to encompass accounting responsibilities previously managed by Krush.
Nicor promoted James Griffin to v.p. operations administration for Nicor Gas and Scott Lewis to v.p. governmental relations for Nicor Inc. and Nicor Gas.
Avista Corp. named Jason Thackston as v.p., finance, while retaining responsibilities in corporate development and investor relations. Ann Wilson, v.p., finance and treasurer, stepped down.
Atmos Energy Corp. promoted Christopher T. Forsythe from director financial reporting to v.p. and controller. He succeeds Fred E. Meisenheimer, who was named senior v.p. and CFO in February.
Accenture Utilities announced that Sharon Allen joined its utilities industry group's transmission and distribution practice as its smart grids offering lead.
CH Energy Group named John E. Gould to head its new internal legal services team. He was a senior partner at Thompson Hine LLP and outside chief legal counsel to CH Energy for over a decade.
Chesapeake Utilities Corp. named Jeffrey R. Tietbohl as assistant v.p., from director of natural gas distribution at the company's Delaware and Maryland divisions.
Southwestern Energy Corp. promoted Steven L. Mueller to CEO. He was named president and COO in June 2008.
Ice Energy appointed John McGee as COO.
Ventyx hired Lee Van Atta as v.p. of fuels markets on its advisory services team.
WePower named James Abromitis as president and CEO.
Boards of Directors: CMS Energy announced re-election of all 11 board members: Kenneth Whipple, chairman of CMS Energy and principal subsidiary Consumers Energy and David Joos, president and CEO of CMS Energy and CEO of Consumers Energy. Nine independent directors are: Merribel S. Ayres, Jon E. Barfield, Richard M. Gabrys, Philip R. Lochner Jr., Michael T. Monahan, Joseph F. Paquette Jr., Percy A. Pierre, Kenneth L. Way and John B. Yasinsky.
Peabody Energy announced that M. Frances Keeth, former executive v.p. of Royal Dutch Shell, plc, and former CEO and president of Shell Chemicals Ltd., was elected to its board. Re-elected were: Gregory H. Boyce, chairman and CEO of Peabody Energy, and William E. James, Robert B. Karn III, Henry E. Lentz. Dr. Blanche M. Touhill retired.
El Paso Electric selected Catherine A. Allen to serve on it board replacing Gary Hedrick who resigned.
Pepco Holdings, Inc. (PHI) announced the election of Joseph M. Rigby as chairman of the board, succeeding Dennis R. Wraase, who retired. Rigby is president and CEO of PHI. Patrick T. Harker also was elected to the board.
Avista Corp. appointed Marc Racicot to its board effective Aug. 1, 2009. He was governor of Montana.
Atmos Energy Corp. elected Robert C. Grable to its board, increasing the size of the board to 14.
We welcome submissions to People, especially those accompanied by a high-resolution color photograph. E-mail to: people@pur.com.