Deck:
Utilities protect their balance sheets.
Author Bio:
Joe Fontana is partner, Global Power & Utilities Transaction Leader, Ernst & Young. Email him: joseph.fontana@ey.com. This article reflects his views and not necessarily those of Ernst & Young.
What a difference a year can make. Since September 2008, M&A has slowed dramatically as both buyers and sellers play a waiting game. So who will blink first?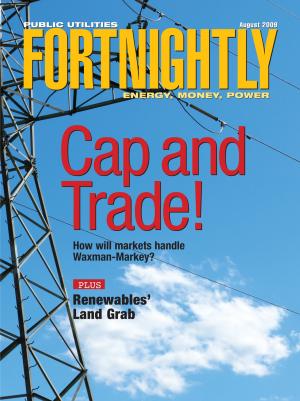 In the current state of the market, the recession is upon us, equilibrium has yet to be restored to the credit markets and companies across all sectors are engaging in cost cutting while struggling with continued uncertainty. And while utilities with strong balance sheets and credit ratings haven't been as badly affected as the rest of the economy, many have experienced an uncharacteristic scramble to protect their liquidity.
Just Looking
In terms of volume, this is a quiet market. While completed deals in the third quarter of 2008 (Q3 08) came to a total value of $5.87 billion, in Q4 08 this halved to just $2.44 billion. During the first quarter of 2009, domestic M&A activity declined even further; the total deal value was just $1.03 billion.
Also, the number of deals has been affected. While in Q4 08, there were 14 completed deals; in Q1 2009 there were only eight M&A transactions. So, there has been both a significant decline in deal value and volume in recent months.
On the part of the buyers, there's a lot of looking and not much buying, as they hold out for real bargains. Early last year, buyers included corporations (which accounted for 77 percent of total deals in 2008), very active private equity (PE) funds (19 percent), infrastructure funds (3 percent) and, to a lesser extent, investment banks buying for their own balance sheets (1 percent). This year, the investment banks have all but disappeared, the PE funds are sitting on the sidelines because they can't raise debt at attractive rates that allow them to earn sufficient returns, and corporates are hesitant to enter. Their key concern is maintaining resources for capital expenditure plans.
Those deals that are taking place are primarily due to streamlining and sales of noncore assets. This is a continuation of last year's trend, when, for example, we saw Consolidated Edison complete its sale of Con Edison Energy in early 2008. It is expected that power plants and small regulated utility service territories will continue to be sold in order to raise cash or to free a business from problems related to internal competition for resources.
Desperately Seeking Liquidity
The absolute priority across the sector is liquidity. Every CFO is focused on it. Credit ratings, always a focal point, now have taken on an even higher importance. In a tight credit market, a downgrade—for example from a credit rating of A to BBB—can trigger calls for collateral and dramatically increase interest costs. These are real fears, not speculation. When access to credit froze in September and October 2008, the commercial paper market, which most utilities use for working capital, all but dried up. Those in the unfortunate position of needing short-term cash had to draw down bank lines of credit they had set up as a fallback. Subsequently, a number of utilities have been proactive and accessed lines of credit even though the funds weren't needed, in order to avoid a use-or-lose ultimatum from banks.
As Stephen De May, Duke Energy's senior vice president, treasurer and chief risk officer told Fortnightly, "We're pre-funding our credit strategy because we don't know if the markets will be there when we really need the capital."1 This was echoed by Mark Snell, Sempra's executive vice president and CFO: "In a choppy market, you take what you can get, when you can get it."
Doing Deals Now
One of the larger leveraged buyout deals at the moment, infrastructure fund EQT's and Fortistar's $525 million acquisition of Midland Cogeneration Venture, a 1,848.61-MW gas-fired combined-cycle power plant in Michigan, illustrates just how different the market for M&A is compared to 16 months—or even six months—ago. Some of these trends include:
• Struggle to fund debt issues: 16 months ago, billion-dollar transactions were not uncommon, including the largest deal ever: TXU Corp.'s $32 billion ($45 billion including debt) buyout, led by TPG and Kohlberg Kravis Roberts & Co. Prior to the credit crisis that began in late 2007, these large transactions could be financed with bank loans, where the banks fiercely competed with one another for the right to underwrite these loans. That competition provided borrowers with the ability to obtain significant concessions in loan terms. Today, finding even one or two banks to underwrite a leveraged loan is difficult. By contrast, the EQT deal was structured so that all parties can walk away from the transaction if the banks couldn't syndicate the debt. That this deal was structured as a best-efforts syndication shows just how tight the market remains.
• High interest rates for debt: Before the credit freeze, leveraged loans used to acquire a business could be priced as low as 150-basis points above LIBOR (London Interbank Offered Rate). In the third quarter of 2008, leveraged loan spreads rose to a staggering 1,000-basis points over LIBOR. At the moment, leveraged loans spreads are between 600- and 800-basis points above LIBOR, so debt is still coming at a much higher cost.
• The collapse of the secondary leveraged loan market: One of the main characteristics of the transaction market was the easy access to bank loans to finance transactions. This trillion-dollar market was kept liquid by institutional investors such as collateral loan obligation (CLO) funds, which were eager to acquire these loans for use as collateral in issuing their own debt securities. Banks were able to quickly sell their loans to institutional investors, enabling them to continually fund new leveraged loans to new buyers. Now, the secondary market for leveraged loans has all but disappeared because the buyers of such loans have suffered staggering losses. As an immediate consequence, banks don't have the capital to continue funding new leveraged loans as they can't sell them.
Financing Renewables
Current conditions are having a significant impact on renewable energy projects. Given that electricity from renewable sources is more expensive to produce than electricity generated from fossil fuels, incentives play a fundamental role in this sector. While some countries, such as Germany, use feed-in tariffs (guaranteeing producers a higher rate for energy generated from renewables), in the United States, tax incentives such as the production tax credits (PTCs) and the availability of five-year MACRS (modified accelerated cost recovery system) depreciation have played an important role in making renewable projects competitive.
These tax benefits cannot be sold; therefore, developers must attract third-party investors or have taxable income high enough to utilize all the tax benefits. These third-party investors, known as tax-equity investors, were represented by banks such as JPMorgan Chase, investment banks such as Lehman Brothers and insurance companies such as New York Life. The combination of the economic downturn and the credit crisis has reduced the taxable income of these tax-equity investors and therefore the attractiveness of investing in such projects. Given the lack of tax-equity investors, and the rise of return requirements needed to attract investors, we have seen the cancellation of wind projects and delays to a host of other investments.
Government intervention may help this beleaguered sector. The American Recovery and Reinvestment Act of 2009, which provides a $787 million stimulus package, includes a number of provisions affecting renewable power, including $6 billion in loan guarantees for renewable energy and power transmission projects that commence construction by Sept. 30, 2011, and an up-front cash-grant program administered by the Treasury that will provide 30 percent of a project's cost for renewable projects (such as wind and solar) in lieu of a tax credit, if the project is started and completed within certain time frames specified by the act.
While the long-term outlook for renewables remains strong, especially if Congressman Henry Waxman's proposed bill on a carbon cap-and-trade program coupled with a national renewable energy portfolio standard is enacted, the short term is not so rosy for many of these small businesses. The renewable energy industry should expect consolidation in the short term as smaller developers sell out to larger players due to lack of project financing.
Coming Off the Sidelines
Looking ahead, we can expect an austere year for M&A in 2009. While there were nine transactions with a value above $500 million in 2008, probably no more than one or two will be completed this year. In this market, large-scale transactions will be slow and frustrating to execute. Companies will need a razor focus on how a transaction's benefits will translate to customers, negotiating with multiple regulators across state lines regarding the fear of job losses and staying the course over 12 to 18 months.
The biggest issue is capital expenditure. It's estimated the U.S. power and utility industry will be required to spend over $2 trillion in capital investment in new power plants, transmission and distribution systems and environmental compliance over the next 20 years.2 If the economy worsens, putting capital budgets under threat, this could affect both long-term profitability and the fundamental issue of reliability. Can we count on the continued delivery of reliable electric energy? Delays to capital spending could have very significant repercussions, and hopefully, that is a worst-case scenario that will not materialize.
In this recession, there will be winners and losers. The winners will be those who can demonstrate operational excellence and whose executives have a laser focus on operating efficiently. The good news for the losers is that there will be someone to sell to; they may not get the price they want, but at least there are buyers out there.
Three things are needed for this market to improve: 1) credit markets need to continue their march toward stabilization; 2) realization that leverage must be reduced with value created through operational efficiencies; and 3) sellers' expectations must continue coming down. Sellers seem to be holding onto values that were common one to two years ago but may be unrealistic in today's marketplace, while buyers must accept that, at least for the near term, large amount of leverage will not be available.
Once these triggers are activated, PE and infrastructure funds will come off the sidelines to take advantage of attractive opportunities and start investing again, while corporations with strong balance sheets will seek out opportunities that may have been overpriced just a few years ago—an indication that the market is on the road to recovery.
Endnotes:
1. Burr, Michael T., "Desperately Seeking Liquidity," Public Utilities Fortnightly, February 2009.
2. World Energy Outlook, International Energy Agency, 2008.