Deck:
Can a European-style renewable model work in the Americas?
Can a European-style renewable model work in the Americas?
The Province of Ontario, Canada is the first jurisdiction in North America to implement a European style feed-in tariff (FIT). It also was the first jurisdiction in North America to have a comprehensive standard-offer program for electricity supply from renewables.
The renewable energy standard offer program (RESOP) was the subject of a Fortnightly article published in December 2008. 1 At that time, the program had been suspended and was under review because, although more generation was offered than had been anticipated, 2 several problems had emerged. Some problems came from the sheer size of the response: Distribution utilities couldn't cope with the volume of connection applications and T&D systems couldn't absorb the new generation. A related problem was that developers had no financial commitment so they could treat contracts as a free option, hoarding connection queue positions while not progressing on project development. This is a significant issue given that the attractiveness of standard-offer rates varies with changes in foreign exchange rates because a high proportion of project costs are likely to be denominated in foreign currencies, which have varied by over 20 percent in the last 12 months. Finally, the vast majority of contracts were held by commercial developers, so community groups that had advocated for the development of a standard offer or feed-in tariff couldn't, in many instances, secure the connection they needed for contract award.
During the RESOP review, a new Ontario energy minister travelled to Germany, Denmark and Spain and was impressed with the success of those countries' FIT programs. They built a large amount of renewable generation, attracted companies to manufacture the generation equipment and positioned these companies to become technology leaders. The German government reports more than 214,000 people are employed in the country's renewable energy sector, with the FIT a major contributor to this level of economic activity. 3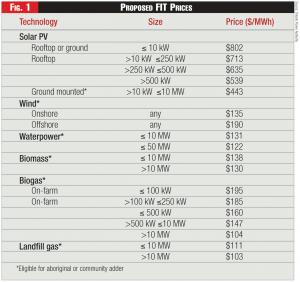 As a result of the minister's interest, the province of Ontario formed a committee composed of government electricity sector agencies 4 to design a FIT and address many of the barriers to renewable project development that became apparent under the RESOP.
FIT vs. Standard Offer
While in some ways quite new, the government's enabling legislation, the Green Energy and Green Economy Act (GEGEA), returns to a previous practice of using the electricity supply industry as a tool of economic development. The government stated its objectives in the preamble to the GEGEA: "The government of Ontario is committed to fostering the growth of renewable energy projects, which use cleaner sources of energy, and to removing barriers to and promoting opportunities for renewable energy projects and to promoting a green economy." 5
In addition to its energy policy directions, the GEGEA advances other policy objectives, such as promoting industrial development in the production of equipment for renewable energy, to replacing lost activity in the automotive sector and assisting in development of aboriginal and community