Deck:
Integrated demand offerings could be the next generation of energy management.
Author Bio:
Thomas Brunetto is managing partner of Distributed Energy Financial Group LLC. Email him at tbrunetto@defgllc.com.
Integrated demand offerings could be the next generation of energy management.
Over the last five years, demand-side offerings have seen significant growth and technological advancement. Critical to this advancement is the industry's commitment to advanced metering infrastructure (AMI) and the smart grid. AMI and smart grid have the potential to facilitate efficient pricing, better information and visibility into consumers' consumption patterns, and opportunities for improved energy efficiency and cost savings.
Customer attitudes and regulatory policy also have shifted toward supporting a national response to climate change. The result is a focus on energy efficiency, reducing customer energy consumption and reducing carbon production. Achieving reduced end-use consumption will require innovation and new products and services.
Experience with customer expectations regarding energy and utility customer service suggests that what began as separate energy efficiency (EE), demand response (DR) and distributed energy (DE) program offerings are now poised for integration. These integrated demand offerings (IDO) will need to be personalized, robust, easy and valuable. IDOs open new opportunities for service providers, will stimulate the development of new products and services, and will enhance the customer experience with one-stop products.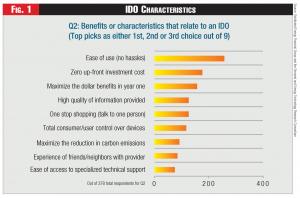 The increased consumer interest in energy and demand management, coupled with a more favorable business environment as a result of policy changes and higher energy prices, has encouraged a number of non-traditional providers to enter the market. Google, Microsoft and GE already have entered the market with new products; Verizon and AT&T are piloting services; such big box stores as Best Buy and Home Depot are evaluating their options; partnerships are forming among such companies as FP&L, GE and Silver Spring Networks. These non-traditional entrants are changing the game with respect to EE, DR and DE, and might alter the utility-customer relationship.
The results of a recent survey provide interesting insights into the desired characteristics of an IDO, market trends, delivery approaches, energy savings opportunity and the drivers for participating in an IDO ( see sidebar "About the IDO Survey" ).
IDO Characteristics
The IDO was defined as providing a combination of EE, DR and DE options that best meet the customers' needs and improve the customer experience. These options include: technologies that provide both EE and DR results, such as smart thermostats; specific technologies, such as photovoltaics, that can be integrated with other technologies, such as battery storage; innovative pricing approaches and products ( e.g., critical peak pricing, time-of-use pricing, and real-time pricing) combined with customer information and technologies; home displays and other channels for the presentation of usage, price and performance data to customers; and control and communications technologies that enable optimized performance of other technologies.
These IDO options could be offered á la carte—from a portfolio allowing customer selection—as a fixed package of solutions, or through a community offering and local energy solution.
The characteristics of an IDO are important to its success. To assess the preferable characteristics of an IDO, respondents were asked to rank items on a list of characteristics developed from