Deck:
Locational marginal prices in PJM respond to demand and fuel costs.
Author Bio:
Andrew L. Ott is senior vice president-markets for PJM Interconnection. E-mail him at ott@pjm.com.
Locational marginal prices in PJM respond to demand and fuel costs.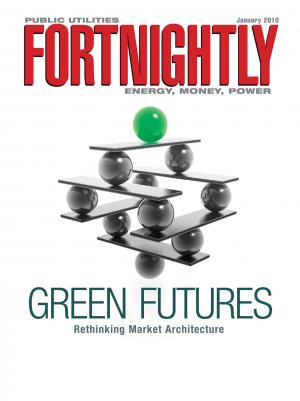 The evolution of real-time locational marginal prices (LMP) in PJM Interconnection's wholesale electricity markets demonstrates the characteristics of a well functioning and competitive market; prices are driven by supply and demand fundamentals. Although critics of wholesale electricity markets frequently have pointed to increases in LMP as proof that the wholesale markets aren't working, in reality, the markets are working as they should. Increases in LMP are driven by higher demand for electricity or increasing fuel prices. Critics of wholesale markets, however, often fail to acknowledge that decreases in demand and fuel prices also immediately lead to declining LMP.
The connection between decreasing demand and fuel prices and lower LMPs is strong evidence of how well PJM's wholesale electricity markets are functioning. Often lacking in the debate about the performance of wholesale electricity markets, such as PJM's, is an objective examination of LMP data side-by-side with fuel price and demand data. Such an analysis of publicly available data shows the unmistakable effects of fuel prices and electricity demand in driving LMP in PJM's wholesale electricity market. The dynamic nature of electricity prices in PJM since May 2005 clearly demonstrates this connection—with distinct periods of fuel- and demand-related increases and decreases over the last four years. The latest example is the significant decline in fuel prices and demand concurrent with the recession that has driven the marked decrease in LMP in PJM since July 2008.
Fuel Prices and LMP
Assuming demand is held constant, as fuel prices rise, LMPs also rise. Conversely, as fuel prices fall LMPs fall in response (see Figure 1) .1 From May 2005 to January 2006, the trend in fuel and power prices was upward. During 2006 the trend in fuel and LMP prices was downward relative to 2005 prices. In 2007, fuel prices remained steady through September before trending upward, while LMPs trended upward through most of 2007. The increase in LMP while fuel prices remained steady through most of 2007 can be attributed to a 4.6-percent increase in average load over 2006. From the autumn of 2007 through the summer of 2008, LMPs and fuel prices increased rapidly, before the fast decline of LMP and fuel prices concurrent with the acceleration of the economic downturn beginning in early autumn 2008.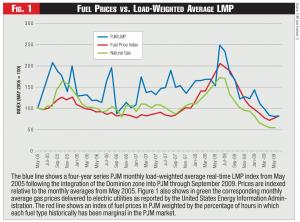 Averages on an annual basis also demonstrate the relationship between LMP and fuel prices (see Figure 2) .2
State of the Market Report
, and each year it adjusts the load-weighted average LMP using fuel costs from the previous year.
3
Using fuel-cost adjusted LMP provides a consistent comparison of price performance between two years by holding fuel prices constant. Moreover, an examination of fuel-cost adjusted LMP provides insights about the influence of demand on LMP
(see Figure 3)
.
4
For example, if natural gas and other