Deck:
Rate case risk in a climate of declining sales.
Rate case risk in a climate of declining sales.
A review of electric and natural gas rate cases decided over the past 12 months shows state utility regulators struggling to balance the interests of ratepayers and investors in an economy that continues to put pressure on both. A major factor in many cases was a decline in actual retail energy sales—whether attributable to the depressed economy or efforts to promote conservation and energy efficiency.
Decoupling plans offer a remedy for such shortfalls in sales. Decoupling plans serve to sever the link between energy sales and the rate case revenue requirement, so that utility earnings won't suffer, even as consumers conserve energy. Decoupling plans allow regulators to promote energy efficiency and conservation without imposing undue financial risk on utilities and their investors. Yet they also introduce a new complication in retail utility rate cases. Decoupling tends to shift rate case risk from investors to customers—a result that some consumer advocates say should require a downward adjustment to the authorized target rate for ROE.
In fact, several rate cases decided during the past year and included in the following list can serve as examples of how state regulators are dealing with utility revenue risk in an unfavorable economic climate. In Maryland and the District of Columbia, in electric rate cases for PEPCO and Delmarva Power & Light, regulators adopted downward adjustments of 50 basis points to account for the fact that decoupling plans tend to reduce investor risk. (Md.P.S.C. Order 83085, Dec. 30, 2009, at 278 PUR4th 419; D.C.P.S.C. Order 15710, March 2, 2010, at 280 PUR4th 381.)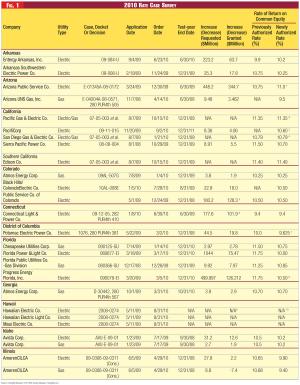 In Nevada, which has been hit harder by the recent recession, the state Public Utilities Commission in a natural gas rate case chose to reduce ROE by 25 basis points to reflect the reduced risk of decoupling. (Nev.P.U.C. Docket 09-04003, Nov. 3, 2009, at 277 PUR4th 182.)
In Michigan, however, where unemployment has proven to be particularly severe, the state Public Service Commission rejected calls to reduce the approved ROE for Detroit Edison to reflect the changed risk profile from implementing a pilot program for revenue decoupling, along with cost trackers for uncollectibles and extraordinary storm expenses. The commission in that case acknowledged that such plans could shift risk from investors to ratepayers, but found that economic conditions in the utility's service area remained uncertain, posing challenges for the utility, and justifying an ROE allowance at the top end of the range deemed reasonable in the financial models presented by the commission staff. (Mich.P.S.C. Case Nos. U-15768, U-15751, Jan. 11, 2010, at 280 PUR4th 310.)
Yet there remains another possible wrinkle in the decoupling story. If decoupling plans indeed are favorable for investors, and shift revenue risk to ratepayers, might it be reasonable to assume that investors already have discounted that information— i.e., that investors have already factored this advantage into equity prices, so the lowered risk will show up already in the studies of comparable equity returns that expert witnesses