Deck:
Building a workforce for today's utility landscape.
Author Bio:
Victor Synylo and Philip McLemore are directors in PwC's utilities human capital practice.
Like many other long-established industries, the utilities sector is facing an aging workforce and an upcoming employee exodus as its core workers in both management and the physical work force approach retirement age. This is causing an unprecedented focus on the industry's HR function, which must now compete for a pool of young, technology-savvy employees, many of whom are attracted to what they perceive as more lucrative and cutting-edge industries, such as high-tech and defense.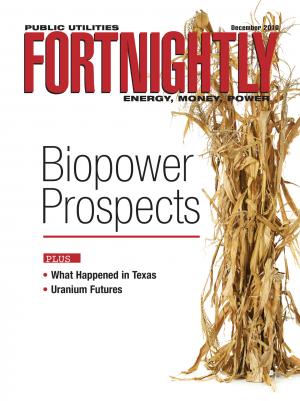 Utilities are already struggling with integrating and managing a multi-generational workforce with very different professional expectations. As the utility workforce transitions from being dominated by more mature traditional and baby boomer workers to the so-called generation X and generation Y age brackets, the industry must change or replace practices and support structures that were designed to manage and address the needs of those earlier generations.
Many utilities are already addressing this challenge, but many have just started, or have yet to start, understanding how they will be impacted by this challenge and how they will address it.
At the same time, utilities are implementing innovations such as smart grid, alternative fuel, and new nuclear generation technologies, which require them to have the skills and resources in place to successfully implement and sustain these innovations. This makes the utilities industry a potentially attractive career choice for young workers. But utility companies must shed their stodgy image characterized by outdated technologies and a hesitancy to change if they want to appeal to the next generation of talent.
Too often, potential employees perceive utilities as dominated by poles, wires, and coal, and they are turned off by the less attractive, non-urban locations of many utility companies and facilities. Utilities can best attract a new generation of employees by emphasizing the transformational inflection point the industry now faces, and the immense opportunity it creates. New skills are needed to manage these technologies and meet the leadership challenge of taking a diverse workforce through substantial changes in the way the day to day work will get done.
Multi-Generational Workforce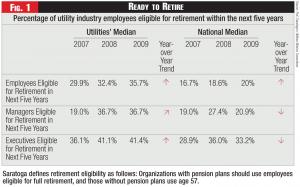 Individual companies must learn to market themselves as part of a technology-intensive industry that presents its workers with challenging career opportunities and safe, friendly, and flexible work environments that give back to the community. The next generation of employees isn't wooed by the promise of life-long employment and generous retirement benefits. Gen Y alone is equal to or slightly larger than the baby boomers in terms of absolute numbers, and is much larger than the gen X population. They value challenging, family-friendly work environments over stable, steady salaries. They look for non-traditional work arrangements, including flexible hours, shorter schedules, and telecommuting options. They fully expect to work in multiple companies during their career and plan to move on to other opportunities whenever they are no longer challenged or advancing. They want employers that are environmentally conscious and active members of their communities. They want to be part of something greater than themselves, and what better option than to work in an industry that's focused on making every other industry, and day-to-day life, work? Without power, nothing happens.
Unfortunately, these values often conflict with those of older workers who are accustomed to 9-to-5 work days and traditional hierarchical leadership structures. Many of these employees worked a lifetime to attain leadership positions, while young workers expect to climb corporate ladders much faster. Older workers tend to personally identify with their careers and value their continued involvement in their chosen industries. Utility companies must learn how to simultaneously appeal to young recruits to maintain their talent pipeline, manage the expectations of young employees, and retain their older workers to preserve and transfer valuable institutional knowledge.
One of the workforce-related metrics from PwC Saratoga's Utilities Metrics Consortium (UMC) shows that the percentage of workers in the utilities industry eligible for retirement in the next five years is steadily increasing (see Figure 1). Although some baby boomers have begun to retire already, many others say they plan to remain in the workforce for a while longer. In the 2010 Retirement Confidence Survey by the Employee Benefit Research Institute, nearly 69 percent of boomers (ages 45 to 54) who haven't yet retired said they plan to retire at age 65 or older—or never retire.
As these workers approach their intended retirement, companies can work to retain their skills and knowledge by paying attention to their concerns about preserving their health and well-being, financial security, and mental engagement. Older workers need to continue to believe that their contributions to their employers are as valued as their younger peers' contributions. If they perceive this, they'll be more forthcoming in applying their valuable experience, and also more willing to transfer it to the next generation of employees.
While a number of large utility companies have been examining their future workforce strategies for some time, many medium and small utilities haven't, and they are subsequently behind in assessing their pipeline for filling their most pivotal positions as their older employees approach retirement age. According to PwC's 2009 survey of utility CEOs, 57 percent of the 42 utility CEOs surveyed stated they were "somewhat to extremely concerned" about the availability of key skills in their workforce.
In addition, utilities have a more difficult time retaining young workers than they do attracting them. Companies invest considerable time, money, and effort in recruiting young talent, but they must also ensure they retain that talent. High turnover can have multiple, far-reaching consequences in a company, including:
• Lost productivity during vacancies and on-boarding of new employees;
• Diminished productivity of the team and managers who are covering for a vacant position;
• Increased labor costs due to overtime or contractor needs;
• Hiring and on-boarding costs; and
• Loss of institutional knowledge.
HR departments should be careful to present company leadership with a business case for reducing high turnover. This case must include pinpointing turnover hot spots in the organization; quantifying the financial impact of turnover by business unit, job class, and performance ranking; and determining actions the company can take to reduce turnover. If HR doesn't clearly demonstrate the impact of a company's turnover on its bottom line, company leadership might dismiss excessive turnover as having little financial impact and thus not make it a priority.
A number of methods can serve to give younger workers the things they look for from their employers, such as coaching and mentoring programs that pair young and experienced workers. This can go a long way toward promoting multi-generational employee teamwork. Other methods include giving young leaders challenging development assignments, networking opportunities, and more flexible work arrangements. Many of these and other methods of addressing the motivations and expectations of generations X and Y don't require large dollar investments, but they do require thoughtful consideration and planning. Nevertheless, according to the utility CEO survey, only 21 percent of CEOs expect to make large or significant changes to flexible working environments.
Intensifying local recruiting programs can also curb early turnover. These include forming formal relationships with schools, unions, and agencies to promote internships and establish early industry loyalty. Some successful programs include PG&E's PowerPathway program, which uses pre-employment candidate qualifications for line workers, and the Lansing Board of Water and Light's First School to Training and Employment Program (First STEP), which consists of internship and outreach programs with local high schools.
Closing Skill Gaps
Some companies adopt a counter-productive mindset when it comes to the processes and practices they use to address their talent management needs. They think of talent management as a tactical HR function rather than as a strategic management function that HR facilitates and to which HR contributes expertise and value. This can separate effective workforce talent management from the potential bottom line impact in the minds of company leadership. They fail to perceive the importance of their talent management strategy because of its indirect ROI, and they thus underestimate its importance to the peril of the entire company.
This especially applies to a company's pivotal positions, which perform a significant part of the strategically critical work of an organization. These positions usually don't exceed 15 percent of the total number of a company's jobs, and some functions might not have any such positions. Decreasing turnover in these positions is in a company's best interests. A company's talent management strategy is its plan detailing how it will acquire, deploy, develop, manage, and reward the premium resources it needs to fill its pivotal jobs. It's a clear vision of the performance objectives, competencies, employment terms, and engagement each position must possess. To deliver on performance objectives, individuals in pivotal positions should have a clear understanding of the knowledge, skills, and attributes expected of them, and they should be compensated based on those measures of performance.
Boards of directors and top management appear to be getting the message. They're concerned about a growing skill gap as experienced employees retire or otherwise exit the market. PwC research indicates 39 percent of surveyed CEOs see a lack of skilled labor as a major or significant constraint to growth. At the same time, 36 percent stated that their boards of directors are more engaged in assessing the leadership pipeline for succession planning.
All management must be committed to attracting optimal talent from outside the organization, deploying appropriate talent in jobs and on projects, developing technical and leadership competencies, managing talent for optimal performance, rewarding talent for success, and managing generational differences. Companies need to ensure their pivotal positions are staffed with premier talent, and that there's a reliable pipeline of potential candidates ready to succeed retiring workers. For example, in the nuclear sector, forecasts indicate that 38 percent of current nuclear utility employees will be eligible to retire between 2009 and 2014. During the same time period, non-retirement attrition might be another 10 percent, according to Carol L. Berrigan, senior director for industry infrastructure and supply chain at the Nuclear Energy Institute (see "Statement of Carol L. Berrigan," Blue Ribbon Commission on America's Nuclear Future, August 31, 2010). To address the issue, the nuclear industry as a whole collaborated to develop the Nuclear Uniform Curriculum Program (NUCP) in partnership with community colleges to meet the industry's demands for new workers in key disciplines. To be successful over the long term, this kind of program must be reinforced with effective and ongoing talent management once the employees enter the organization.
Technology Talent
As utility companies invest in their transmission, distribution, IT infrastructure, and new and existing methods of power generation, they'll be demanding a lot from their employees as they support these and other initiatives and attend to day-to-day business. To mitigate the risk to their investments and the stress and strain on their employees, utilities need to balance their initiatives with the human capital necessary to implement and maintain new technologies. Companies that fail to do enough resource analysis before asking leadership for capital for specific projects might ask for less than they need, and thus end up short of workers to implement and maintain new capital assets. Like many companies, utilities can fall victim to focusing on the construction and implementation of new assets and capabilities, but not sufficiently take into account the ongoing need to maintain those assets. This puts the short-term and long-term success of new initiatives and the ability to attract and retain workers at risk.
While it's important for utility companies to be able to attract well-educated, technology-savvy younger workers, they also need to educate their current employee base on the use of new technologies. Older workers are perfectly capable of learning new, complex skills. As a matter of fact, matching mature workers' vast experience with new technologies can give a utility company unique perspectives that knowledge of new technologies alone can't provide. This is particularly true for the largest part of the utility employee base represented by the physical workforce that builds, operates and maintains the infrastructure.
The learning and talent management systems available today can help companies better understand and compare the competencies, skills, and experience they have with those they need. These systems also provide integrated capabilities for assigning learning content, 360-degree and multi-rater feedback, succession planning, performance management, and compensation capabilities. In addition to providing robust functionality in one system, management benefits from having access to more comprehensive employee data and information.
Assets that Improve
The utilities industry will continue to wrestle with these same challenges over the next several years. As both the traditionalists and baby boomers start retiring, many more will stay in the workforce for some time. These years are a time of unprecedented change for the industry as it begins to transition traditional sources of energy and delivery models for new sources and models. To stay competitive, companies must put a premium on their talent management strategies, their efforts to promote a productive multi-generational workforce, and their ongoing employee development. At the end of the day, the industry must understand that employees are the most important asset of any company, and the only assets that can improve over time.