Deck:
Utilities stay the course in a volatile market.
This has always been a complex industry.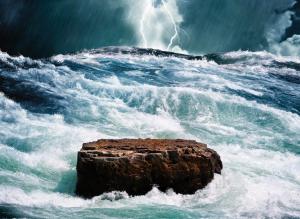 Many factors drive the successes and failures of the companies in the U.S. power and utility business. But today the industry faces historic challenges and complexities on almost every front—from technology to regulation to business strategy.
Ironically, the one area where utility companies seem to be enjoying relative tranquility is also the area where uncertainty has its greatest effect: finance.
It's a truism that investors hate uncertainty, but uncertainty is a relative term. Amid the raging sea that is Wall Street these days, utilities represent a safe haven, with balance sheets based on steady cash flow and steel in the ground. As a result utilities have maintained easy access to low-cost capital, even in the worst of times (see Figures 1 through 3).
At the same time, however, utilities and power companies face serious headwinds that will affect their future business prospects. To learn how banks and investors view these factors, Fortnightly spoke with eight finance executives and two industry lawyers: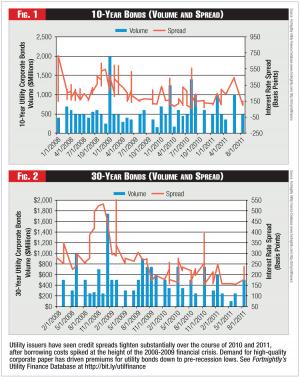 • Jeff Holmstead, Bracewell & Giuliani
• Larry Eisenstat, Dickstein Shapiro
• Tim Kingston, Goldman Sachs
• Andy Redinger, KeyBanc Capital Markets
• George Bilicic, Lazard Ltd.
• James Hempstead, Mike Haggerty and Ryan Wobbrock, Moody's Investors Service
• David Nastro, Morgan Stanley
• Frank Napolitano, RBC Capital Markets
Fortnightly: What trends do you see in capital market access and terms for utility and power companies? In particular, how has the financial turmoil since July affected financing for companies in this sector?
Kingston, Goldman Sachs: There's been a high level of investor interest in the utility and power sector despite the difficult times we've been through. Utilities aren't immune to the kind of volatility we've seen in the equity markets recently, but they've been among the first to recover and have had relatively open access to the markets. Debt markets were enormously volatile in August, but our clients successfully priced debt transactions at historically low coupon rates, and in general utility companies saw their equity valuations recover faster than companies in other sectors.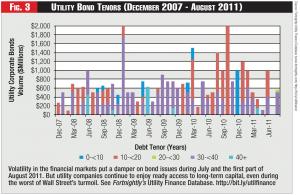 There's a focus on financial conservatism. Utilities that have been prudent and conservative in their financing plans are being rewarded with market access and historic low rates.
Redinger, KeyBanc: Capital was more expensive during the financial turmoil a couple of years ago, but since the capital markets recovered, it's never been better for the utility sector. Investors have been clamoring for utility debt. There isn't enough supply, because bonus depreciation provisions have allowed utilities to avoid raising capital. So we've seen spreads tighten a bit, and it's very easy for utilities to access capital.
Economic sentiment is changing toward greater concern about a double-dip recession, and that's affected the capital markets in general. But quite frankly, it's probably helped the demand for utility paper, because it's seen as a defensive investment.
Nastro, Morgan Stanley: Poor economic data has investors worried about a faltering economy and even a double dip recession. That has driven a rally in Treasuries in spite of the Federal Reserve's quantitative easing program and S&P's downgrade of the U.S. government's credit rating. Investors continue to show tremendous appetite for high quality credits in this uncertain environment. In short, there's been a flight to quality. Buy-side investors are asking for long-dated, high-quality non-financial paper. We've seen nimble issuers accelerate their issuance timetables to take advantage of historically low rates and favorable terms. But given the market uncertainty and volatility, new issue windows have been largely day-to-day. In the utility sector, companies have issued five-year unsecured debt with coupon rates below 2 percent, and 10-year secured notes at around 3 percent.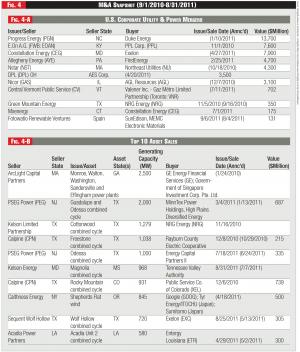 At the same time, there has been a structural change in the bank market. Pricing for revolving credit has tightened across the ratings spectrum, which has resulted in a number of utilities refinancing their corporate bank facilities over the past year and extending the tenor. However, while supply and demand dynamics have driven the market tighter, we might see a floor in pricing due to regulatory capital changes and increasing cost of funds for lenders.
In terms of equity, the near-term cash benefits associated with bonus depreciation have limited the need for new issuance from the utility sector, outside of acquisition financing. New equity requirements have largely been pushed out by a year or two. This is a timing point, however, and doesn't change the long-term need to right-size companies' balance sheets and fund significant future capital requirements.
In the secondary market, utilities have maintained their defensive characteristic amidst a selloff in the broader markets, and have become the preferred hiding place for many investors looking for yield. That being said, we're starting to see divergence in valuations within the utility space. The safety bid is now driving intra-sector price movements. Regulated utilities have outperformed hybrid companies, which have outperformed merchant generators, because investors have a strong preference for the largest, most liquid and safest names in the sector—especially those with decoupled regulatory frameworks, which provide protection from declining sales.
The volatility has most affected the high-yield debt market, where new issuance dramatically slowed in August and September. But given all-in cost of debt, it's still attractive in a broader historical context. A number of IPPs took advantage of an attractive new issue window in May and June to restructure their balance sheets.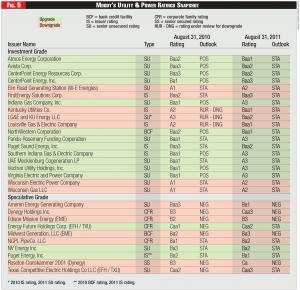 Bilicic, Lazard: The power and utility industry in general has terrific access to the capital markets. We'd expect that access will continue to be strong and stable for the foreseeable future, particularly for companies that are regulated or mostly regulated. Access will be more intermittent and unpredictable for non-regulated companies, particularly those that aren't publicly traded.
Napolitano, RBC: It's a world of haves and have-nots. The haves are investment-grade utilities, and they can exert their will on the bond buyers market because there's a shortage of paper.
We started the year expecting $40 billion in bond issues for utilities, and the actual numbers are far below that. You can see the same thing on the equity side. There have been hardly any equity offers, except for deal-related capital. Because of bonus depreciation, companies have been able to defer issuing capital.
Hempstead, Moody's: Utilities' financial metrics have been surprisingly steady over the last couple of years despite recessionary pressures. The capital markets remain open and welcoming, and utilities have been very successful in accessing the capital they need for low prices and attractive maturities. The focus now is on capital expenditures. Some companies are planning very high cap-ex over the next couple of years. We saw during the recession how utilities can ramp down cap-ex somewhat in a scenario where they can't make spending commitments, and that's a good tool. In the face of rising rates and a slow economic recovery, we see a more contentious regulatory environment building, and that could lead to political intervention in some situations.
Fortnightly: New air quality rules are expected to drive investments in scrubbers and coal plant shutdowns. How do you see that driving cap-ex investments and generating resource plans?
Haggerty, Moody's: The Clean Air Act 'Transport' [renamed 'Cross-State'] rules have been manageable and utilities should be prepared for them. But the EPA has the MACT [maximum achievable control technology] rules coming out in November, and they could have a more significant impact on costs, particularly for coal-based utilities. Some utilities have been quite vocal about the impact on rates and jobs if these rules unfold as the EPA currently envisions. But one could argue there were pressures on coal-fired generators already. There was talk a few years ago about putting a price on carbon emissions, and many people thought that would be here by 2012. So the pressure has been around for a while, and utilities that were watching from the sidelines are now becoming more aggressive in their opposition to EPA mandates.
We're not concerned yet from a ratings standpoint, especially for companies that are operating in a regulatory environment that allows them to pass through costs. But there could be credit implications for companies that have more contentious relationships with regulators. We'll see how the costs are incurred and passed on.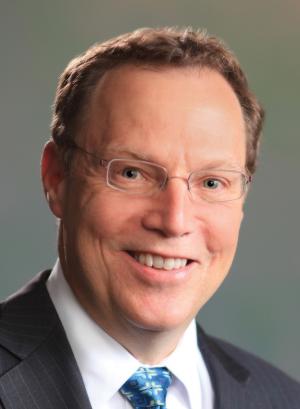 Kingston, Goldman Sachs: What's challenging for utilities is the pressure of required large capital expenditures on the one hand and the uncertainty on the other.
Holmstead, Bracewell & Giuliani: This is the interesting irony of the whole situation. If EPA had produced reasonable regulations on a reasonable deadline, there would be much more certainty. Utilities would begin to look seriously at their schedule for closing down some older coal-fired plants. We've already seen some of that, with turnover in large part caused by low natural gas prices. But because EPA has been so aggressive, much more attention has been focused on fighting EPA because companies don't see a reasonable path forward to implement the new rules. When you have public utility commissions and independent system operators saying, 'Hold on, we need to keep the lights on, and we can't afford dramatic increases in rates,' it creates a lot of political pressure. There's been a big increase in efforts in the courts and in Congress to try to overturn EPA's decisions.
Eisenstat, Dickstein Shapiro: None of these regulations are a surprise. Certainly the EPA is trying to change things, but I believe the agency is acting in good faith to draft the best regulations it can. The nature of any new regulation is that the agency comes out with what it believes is the best place to start. I'm sure they could have taken a more extreme position.
Bilicic, Lazard: A lot of coal plants might be around a little longer than some people think they will. They're important for system integrity and in some regions it will be difficult to replace that capacity, given current market signals and rate pressures. As a result, some of the coal plants that are available for purchase may ultimately be worth more than people have possibly considered.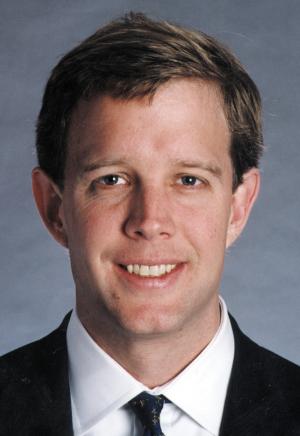 Fortnightly: Several major corporate mergers are moving forward, and also many power plants and other assets are changing hands. Are we seeing a wave of M&A, or is this activity driven by short-term factors? (See Figure 4, "M&A Snapshot.")
Napolitano, RBC: Right now companies are focused on their organic strategies, which might involve acquisitions of businesses or assets, but probably not merging companies or re-casting their business profile. A lot of things are happening in our sector right now, with a lot of uncertainty, so people are just taking stock and focusing on making sure their companies are running right. We've had financial turmoil, hurricanes, blackouts … until things become clearer, I expect utilities to take a time out rather than initiate mergers of equals. Then they'll focus on M&A as a tool to accelerate their organic growth, or to fit parts together based on what they think the rules of the road are going to be.
Bilicic, Lazard: Our thoughts are about the same as they've been for the last 20 years. This industry is going to consolidate slowly and steadily. On average, there will be three or four public company mergers a year, and now maybe one more because today there are financial investors looking at acquiring utilities. In that regard, financial investors with the capability and interest in investing in the industry are looking across the map at opportunities to invest in existing publicly traded companies and their subsidiaries, as well as transmission assets, contracted generation facilities, renewables-based infrastructure, and others.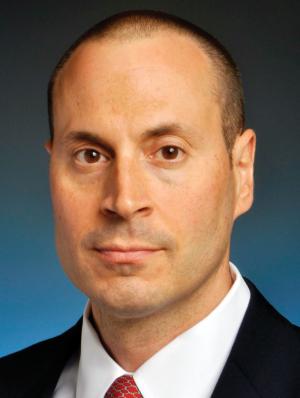 To be clear, we don't see any transactional floodgate opening up. Nevertheless, there remains extraordinary pent-up interest in consolidation, but that interest always will be constrained by regulatory concerns, the peculiarities of the industry and by the long history of consolidation discussions in this industry. Those and other factors cause logical transactions to move forward at a reduced pace compared to what otherwise makes sense.
On the asset front, you will see an ongoing movement of assets from one owner to another, and from time to time that will mean a non-regulated asset will move into regulated rate base because it's the right resource-planning decision. There is a very high churn factor in this area of transaction activity. We also continue to think the presence of a non-regulated generation business attached to a regulated utility will raise a strategic question about whether those two businesses belong under the same holding company. The non-regulated business is very cyclical, and that's different from the regulated business. Capital allocation questions also need to be addressed very differently.
Eisenstat, Dickstein Shapiro: Right now regulated returns look pretty good to the financial markets. People have become very risk averse, both politically and financially. That increases pressure on the independent side of the business and gives an advantage to regulated utilities.
Wobbrock, Moody's: The industrial logic behind consolidation makes a lot of sense. This is a highly fragmented industry, and it makes sense for companies to get bigger and spread costs across a larger platform, and gain access to lower-cost capital. Also where companies change the business mix to provide a more predictable cash flow, that will reduce the risk profile of the company. We expect to see more of that activity in the future.
Nastro, Morgan Stanley: The catalysts are all in place for continued M&A activity. Capital is still cheap and readily available; companies have large cap-ex plans; and, in the near to mid-term, we expect only modest growth, which is a challenge especially for a commodity-linked business. These catalysts are prompting utilities to seek larger balance sheets. In addition, if a utility deal has demonstrated strategic logic and has the opportunity to create value, then equity investors are rewarding acquiring companies. This is one of the few times I've seen where the stock prices of acquiring companies have outperformed their peer group and the broader utility index. That market reaction helps give management teams the incentive to look at strategic opportunities.
Redinger, KeyBanc: There are more people thinking about strategic transactions now than in the near past. Companies are looking to find a strategic partner that they can execute a deal with, and produce a win-win situation for shareholders and ratepayers. It comes down to regulatory risk, as it always does.
Fortnightly: Some recent deals are moving forward more quickly than some earlier utility mergers did. Is it true that regulators are more amenable to mergers today, because they see rates going up in the future as a result of rising commodity prices and cap-ex requirements?
Nastro, Morgan Stanley: We're seeing a more constructive regulatory approval process. Regulators recognize there's a need for balance sheet strength to finance large cap-ex requirements. And utilities are making commitments to preserve jobs, so that takes that issue off the table. Regulatory approvals are getting done on a more expedited manner. The FirstEnergy-Allegheny merger was approved by four states in 12 months. When PPL acquired E.On in Kentucky, they got approvals from three states in six months. These recent precedents help give utility boards the confidence to proceed with well-conceived combinations.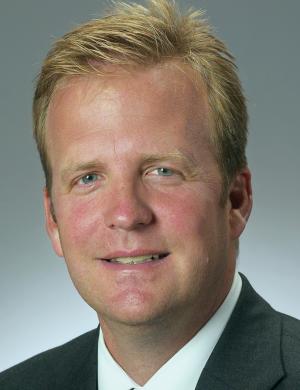 Redinger, KeyBanc: I haven't seen direct evidence that regulators are more amenable, but that's the thinking in the industry. On a macro level it makes sense, but it depends on what's going on in a given state at that point. So many factors come into play.
Fortnightly: Isn't it unusual for companies to engage in M&A during a time of such turmoil in the financial markets?
Kingston, Goldman Sachs: During the recent volatility, if you look at individual deals, generally you'll see that they're announced at times of relative calm. Large cash deals are difficult in this environment. The alternative is to do a stock-for-stock transaction. If the relative valuation is right, both stocks will move up and down together in the market.
This type of M&A activity is further proof of the resiliency of our sector, despite the global turmoil.
Napolitano, RBC: In terms of asset sales, the question is what's driving the sellers, given the fundamentals of low prices for gas and power? In some cases the sellers are private equity funds or hedge funds that acquired assets through debt exchanges. They might be driven by technical factors involving timing or strategy. A fund's strategy might change and that can mean a decision to liquidate assets. We've also had corporate sellers with changing strategies or financial drivers.
Nastro, Morgan Stanley: Companies are looking at their portfolios and asking whether they have the optimal business structure. Hybrids are trading at a discount to regulated companies, so some utilities are looking to sell off non-regulated assets to help mitigate that valuation discount. Other companies are looking at non-core assets as a source of funding. They still need to finance the equity component of their cap-ex programs, and bonus depreciation won't always be available.
Fortnightly: Much of the asset-related financing activity in the past couple of years has involved renewable power plants, both for acquisitions and new development. But federal incentives seem unlikely to continue at their current levels. Is the renewable energy business headed for a downturn and a shakeup?
Redinger, KeyBanc: The renewable industry is largely financed in the bank market. This is the last year before the cash grant expires, so a slew of projects are rushing to get financing before the end of the year. However, that's being affected by what's happening in Europe. The European banks were very important players in financing renewable energy in the United States, and there are now clouds on the horizon.
A lot of federal incentives are expiring or going away for renewables, and developers are trying to come up with alternative financing vehicles to take the place of those incentives. Some people are talking about REITs and MLPs [real estate investment trusts and master limited partnerships]. Renewable projects don't qualify for those structures now, but if they did, it would open a new source of capital that's attractively priced. We're at the point now where the renewable sector needs to think about ways to finance projects through other investment vehicles. And the government would be well served by, instead of only providing direct incentives, to allow these things to be financed with a REIT or MLP.
Eisenstat, Dickstein Shapiro: Allowing REIT or MLP financing would help. Extending the grants in lieu of tax credits also would help, but who knows how long that will last? If you're looking to have a long-term presence in renewable energy development, then you need long-term power purchase agreements (PPA) and transmission commitments. In many states it's quite difficult to get a PPA, and transmission is difficult to arrange. There's still a lot of headroom in existing RPS requirements, but fewer purchasers are inclined to enter long-term contracts. Without those things, it's very problematic.
It comes down to what the regulators want. If they want to facilitate the development of new, cleaner, more efficient energy projects, then there are ways of getting it done. Right now there's extraordinary political and regulatory uncertainty.
Napolitano, RBC: If the federal balance sheet can no longer afford subsidies for renewables, then there may be a wave of consolidation coming. There are a large number of players in that space. If the incentives aren't there, and PPAs aren't there, then what's left? We might see consolidation to achieve operational economies of scale.
Nastro, Morgan Stanley: We see a number of headwinds facing the renewable sector. On the wind side, the capital markets aren't closed, but investors are very valuation-sensitive. Current public market trading levels suggest that spinning wind assets are trading below book value, and development projects only have value if they are in late stages, with attractive PPAs and return profiles.
If the window closes for renewables to access the public markets, then we'd expect to see increasing consolidation, which would favor companies with a lower cost of capital and a global value chain. Specifically, several Asian companies represent a new pool of capital looking to expand in U.S. markets, and are seeking to exploit their technological and cost advantages.
The solar market is different. We've seen an enormous increase in installed capacity. Solar projects are expected to reach 24 GW in 2013. Solar had been driven more by government and regulatory support, but declining prices and maturing technologies have made solar more bankable today. There's still project financing available for high-quality projects located in stable regulatory environments with RPS requirements. At this point, there's more support for solar than for wind, and that's where many renewable energy investors are spending their time.