Deck:
Utilities stay the course in a volatile market.
Utilities stay the course in a volatile market.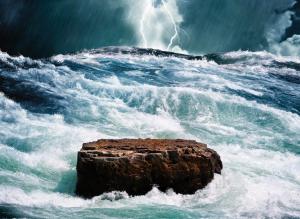 This has always been a complex industry.
Many factors drive the successes and failures of the companies in the U.S. power and utility business. But today the industry faces historic challenges and complexities on almost every front—from technology to regulation to business strategy.
Ironically, the one area where utility companies seem to be enjoying relative tranquility is also the area where uncertainty has its greatest effect: finance.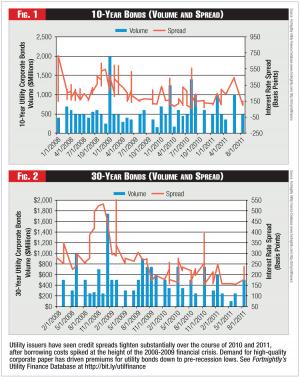 It's a truism that investors hate uncertainty, but uncertainty is a relative term. Amid the raging sea that is Wall Street these days, utilities represent a safe haven, with balance sheets based on steady cash flow and steel in the ground. As a result utilities have maintained easy access to low-cost capital, even in the worst of times (see Figures 1 through 3) .
At the same time, however, utilities and power companies face serious headwinds that will affect their future business prospects. To learn how banks and investors view these factors, Fortnightly spoke with eight finance executives and two industry lawyers:
• Jeff Holmstead, Bracewell & Giuliani
• Larry Eisenstat, Dickstein Shapiro
• Tim Kingston, Goldman Sachs
• Andy Redinger, KeyBanc Capital Markets
• George Bilicic, Lazard Ltd.
• James Hempstead, Mike Haggerty and Ryan Wobbrock, Moody's Investors Service
• David Nastro, Morgan Stanley
• Frank Napolitano, RBC Capital Markets
Fortnightly: What trends do you see in capital market access and terms for utility and power companies? In particular, how has the financial turmoil since July affected financing for companies in this sector?
Kingston, Goldman Sachs: There's been a high level of investor interest in the utility and power sector despite the difficult times we've been through. Utilities aren't immune to the kind of volatility we've seen in the equity markets recently, but they've been among the first to recover and have had relatively open access to the markets. Debt markets were enormously volatile in August, but our clients successfully priced debt transactions at historically low coupon rates, and in general utility companies saw their equity valuations recover faster than companies in other sectors.
There's a focus on financial conservatism. Utilities that have been prudent and conservative in their financing plans are being rewarded with market access and historic low rates.
Redinger, KeyBanc: Capital was more expensive during the financial turmoil a couple of years ago, but since the capital markets recovered, it's never been better for the utility sector. Investors have been clamoring for utility debt. There isn't enough supply, because bonus depreciation provisions have allowed utilities to avoid raising capital. So we've seen spreads tighten a bit, and it's very easy for utilities to access capital.
Economic sentiment is changing toward greater concern about a double-dip recession, and that's affected the capital markets in general. But quite frankly, it's probably helped the demand for utility paper, because it's seen as a defensive investment.
Nastro, Morgan Stanley: Poor economic data has investors worried about a faltering economy and even a