Generation
The US Department of Energy (DOE) launched a new five-year research and development project to design and demonstrate dry cask storage technology for high burn-up spent nuclear fuel. The project, to be led the Electric Power Research Institute (EPRI), will be funded at least 20 percent by private industry, according to DOE, which intends to invest $15.8 million in the research over a five-year period. DOE studied the current long-term dry cask systems used to store spent nuclear fuel and has "identified areas for continued research and data collection related to the storage of high burn-up spent fuel." EPRI aims to finalize a testing plant by the end of 2013. Activities from 2014 through 2016 will focus on designing the instrumented lid, obtaining a license for the modified lid, identifying the fuel rods to be included in the test program, procuring the cask, and conducting a dry run.
Florida Power & Light completed a five-year, multibillion-dollar investment to upgrade its Turkey Point and St. Lucie nuclear plants, adding more than 500 MW of energy capacity. The upgrades of Turkey Point Unit 3, located in Miami-Dade County, and St. Lucie Units 1 and 2, located in St. Lucie County, were completed in 2012. FPL says it exceeded the initial 399 MW expected for the entire project at the end of 2012, with total capacity exceeding plans by nearly 30 percent. 
Babcock & Wilcox mPower (B&W mPower) and the DOE signed a cooperative agreement for funding through DOE's small modular reactor (SMR) licensing technical support program. For the first year of the program, $79 million will be immediately available to support development and licensing of B&W's mPower technology. DOE says that about $150 million will be made conditionally available during the five-year period of the award, with the possibility of $76 million or more of additional federal funding in the future. 
Panda Energy awarded an engineering, procurement, and construction contract to Bechtel for the Panda Temple II generating station, a 758-MW natural gas-fueled, combined-cycle power plant in Temple, Texas, south of Dallas. Bechtel also is designing and building the adjacent Panda Temple I project, and the Panda Sherman power project in Sherman, Texas. Siemens will provide the power-island package, including the natural gas and steam turbines, and waste heat recovery boilers. This is the third power facility to be built by Bechtel and consortium partner Siemens for Panda Power Funds. 
Siemens entered a long-term service contract for the largest combined cycle power plant in Russia, the 800-MW Kirishi power plant, which was repowered in March 2012. Per the agreement, Siemens will provide maintenance of the gas turbines and generators for 12 years. Kirishi was the first combined-cycle repowering project in Russia, and it increased the unit's capacity from 300 MW to 800 MW, and raised its efficiency from 38 percent to 55 percent.
American Electric Power (AEP) selected Open Systems International (OSI) to provide two generation management systems for the company's generation assets in the Southwest Power Pool (SPP) and PJM markets. The generation management systems are based on OSI's monarch (Multi-platform Open Network ARCHitecture) platform.
S&C Electric was awarded a $7.9 million contract by Green States Energy to construct a 2.5-MW PV farm near Roswell, N.M. S&C will provide procurement and construction services for the entire project. Engineering and construction work is already underway and will be completed by July 2013. 
Ohio State University purchased 50 MW from Iberdrola Renewables' Blue Creek wind farm, located in Van Wert and Paulding counties in Ohio. The project consists of 152 Gamesa 2-MW wind turbines, located in the Tully, Union, and Hoaglin townships of Van Wert County, Ohio; and the Benton, Blue Creek, and Latty townships of Paulding County, Ohio. Ohio State University joins two previously announced customers for the project. FirstEnergy is purchasing 100 MW, and American Municipal Power (AMP) is purchasing about 52 MW. With the Ohio State purchase, more than 202 MW of the project's 304 MW have been sold under long-term agreements.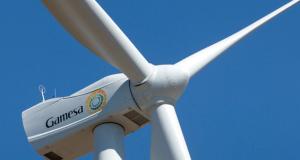 San Diego Gas & Electric (SDG&E) signed five agreements to purchase nearly 62 MW of solar and wind energy. SDG&E signed contracts totaling 14.7 MW with TerraGen Development for two wind projects in Kern and Riverside counties, and a 20-MW contract with E.ON Climate and Renewables, for a PV facility to be built in Kern County. Finally, SDG&E signed a 7-MW contract with Northlight Power and another 20-MW contract with Silverado Power, both PV projects in San Diego County. 
DTE Energy and the Immaculate Heart of Mary (IHM) community dedicated a 518-kW solar energy system at the IHM property in Monroe County, Mich. The $2.6 million project includes more than 2,000 PV modules, covers three acres, and connects directly with the DTE Energy electric grid. The array is part of DTE Energy's SolarCurrents pilot program to install PV systems on customer rooftops or property. DTE Energy will own, operate, and maintain the system, the second in Monroe County. 
Salt River Project (SRP) and SunPower Corp. dedicated a 1-MW solar PV power plant at Arizona State University's (ASU) Polytechnic campus in Mesa, Ariz. The facility is the first commercial deployment of the SunPower C7 Tracker. SunPower engineered and constructed the plant on the southeast corner of the ASU Polytechnic campus, and is currently operating and maintaining it. SRP will purchase the output under a long-term agreement. 
Washington Gas Energy Systems signed a contract with the town of Bellingham, Mass. to build, own, and operate a 3,802-kW solar array that includes 12,672 ground-mounted panels. Bellingham will purchase the output under a 20-year agreement. The project was developed by NextSun Energy and will be engineered and constructed by Gehrlicher Solar. Startup is scheduled for June.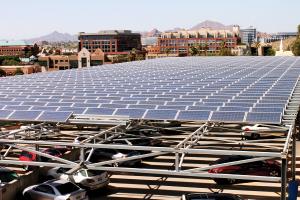 ReneSola, a global manufacturer of PV modules and wafers, has agreed to provide more than 108,000 of its 300-Watt high-efficiency Virtus II 72-cell polycrystalline modules to Strata Solar, for use in five 6.5-MW solar farms in North Carolina. According to the terms of the contract, ReneSola will deliver its modules to Strata Solar project sites in June and July of this year. The five solar farms will use 21,677 ReneSola modules each.
SunEdison signed an agreement with Petrobras to build one of the largest PV power plants in Brazil. The plant will be located in Alto do Rodrigues, Rio Grande do Norte. Once completed, SunEdison will manage the plant from its central operations center. The energy generated will be fed into Brazil's National Interconnected System. The plant will have an installed capacity of 1.1 MW DC and will be built on land adjacent to Termoacu SA's Jesus Soares Pereira power plant. 
ReneSola agreed to provide Enerparc AG with 43.6 MW of solar modules, 35 MW of which will be delivered through original equipment manufacturers (OEM) in Poland and India. ReneSola and the OEMs were expected to deliver 43.6 MW of solar modules to Enerparc between June and June of this year.
Amerifreight awarded a new 129.5 kW solar system installation contract to Sunvalley Solar. The system will use 518 polycrystalline solar panels, 250 Watts each. Installation is expected to begin by the middle of 2013.
U.S. tidal power company ResHydro plans to establish operations in Glasgow, Scotland, facilitating its work with the University of Strathclyde to advance hydrokinetic energy technology. The partnership between ResHydro and Scotland is made possible with the support of a $152,000 award from Scottish Enterprise, the country's economic development organization.
DR& Conservation
GDF SUEZ Energy Resources NA announced an agreement with Viridity Energy to provide demand response (DR) services. GDF SUEZ's large energy users now will have access to Viridity's load-management systems and tools. The companies are planning a pilot project with several large commercial and industrial (C&I) customers using standby generation, battery storage, and automated control and measurement technology.
ABB launched Emax 2, which the company says is the world's first low-voltage circuit breaker with integrated energy management functions. Emax 2 breakers are intended for protection and control of large energy loads in low-voltage environments, such as C&I buildings, data centers, and ships. The energy management functions are designed to help prevent outages caused by peak demand exceeding supply. The breaker's communication module allows it to share consumption and system reliability data with smart grid and other systems.
M&A
ITC Holdings shareholders approved the proposed acquisition of Entergy's transmission business. The transaction is expected to close by the end of 2013, subject to regulatory approvals and closing conditions. 
Atlantic Power closed on its previously announced sale of interests in three Florida projects—Auburndale, Lake Cogen, and Pasco Cogen—to Quantum Utility Generation, a Houston-based generation company owned by Quantum Energy Partners and Canada Pension Plan Investment Board. The total sale price was approximately $140 million, with net proceeds of $117 million after repayment of project-level debt at Auburndale and settlement of all outstanding natural gas swap agreements at Lake and Auburndale. The proceeds include $92 million received at closing and $25 million of cash distributions received since January 1. The company expects to use part of the proceeds to pay down its senior credit facility, totaling about $64 million.
NRG Energy agreed to acquire the Gregory cogeneration plant in Corpus Christi, Texas, from a consortium Atlantic Power, John Hancock Life Insurance, and Rockland Capital, for about $244 million. The 560-MW combined cycle gas turbine plant produces about 400 MW of electricity plus steam capacity of more than a million pounds per hour. 
Southern Company acquired the 139-MW Campo Verde Solar Project by subsidiary Southern Power and Turner Renewable Energy from First Solar. This is the Southern Power-Turner partnership's fifth solar acquisition and its first solar project in California. The new solar project will be built, operated, and maintained by First Solar, and is located on a 1,443-acre site in Imperial County. San Diego Gas & Electric (SDG&E) will buy the output under a 20-year agreement.
Duke Energy Renewables acquired two commercial solar power projects near Twentynine Palms, Calif., from project developer SolarWorld. The twin projects, named Highlander Solar 1 and 2, will be run as a single operation, generating 21 MW. Southern California Edison will purchase the output under a 20-year agreement. Terms weren't disclosed.
First Solar agreed to acquire TetraSun, a PV technology startup that developed cell architecture reportedly capable of conversion efficiencies exceeding 21 percent with commercial-scale manufacturing costs comparable to conventional multicrystalline silicon solar cells. TetraSun was owned by JX Nippon Oil & Energy and other investors, including TetraSun management. Terms weren't disclosed.
First Solar acquired the 60-MW North Star solar project in Fresno County, Calif., from NorthLight Power, a joint venture of Renewable Energy Corp., ASA and Summit Power Group. Terms weren't disclosed. Construction is expected to begin in 2014 with startup in 2015. 
First Solar acquired the 150-MW Solar Gen 2 power project from an affiliate of Goldman Sachs, Energy Power Partners, and an unnamed third equity partner. Construction of the facility, which is located in Imperial County, Calif., near El Centro, is expected to start this year and be completed in 2014. SDG&E will buy the output under a 25-year agreement. Terms weren't disclosed. 
T&D
Minnesota Power installed several electric infrastructure projects including substations and new transmission lines near Nashwauk, Minn., that will energize an Essar Steel taconite mine and processing facility. Minnesota Power and its contractors spent two years building the facilities, with a total $35 million investment. One of the new substations, the McCarthy Lake facility, was built to serve the taconite plant, and the new Calumet substation will serve the mine area. Ownership and costs of the facilities are split between the town of Nashwauk and Minnesota Power. 
The City of Georgetown, Texas, chose Elster's EnergyAxis for its system-wide, multi-utility meter replacement project. Georgetown will deploy the system throughout its service territory, installing 21,000 each of Elster's water and electricity meters. Additionally, Elster will work with partners Hometown Connections, the utility services subsidiary of the American Public Power Association (APPA), as well as Texas Meter & Device and Wesco Distribution, to customize the system for the city. 
Florida Power & Light successfully completed its DOE-supported grid modernization projects, including 4.5 million smart meters in its 35-county service area. FPL was one of only six utilities in the U.S. to receive a $200 million grant from the DOE to help fund a grid modernization project.
EVs & Storage
The University of Delaware and NRG Energy's eV2g project is now an official resource of PJM Interconnection. Through the project's electric vehicle-to-grid technology, EVs are selling electricity to the power grid. The technology can aggregate power from multiple EVs to create one larger energy storage resource. The technology is expected to initially help managers of commercial EV fleets by providing revenue while the vehicles are parked, with individual EV owners eventually to follow. The system is currently in development with restricted test fleets.