Deck:
We took a ton of pics too; more like two tons
PUF's Pat McMurray, Editor-at-Large, and Steve Mitnick, Editor-in-Chief, attended the Exelon 2017 Innovation Expo on June 27, along with twenty-seven hundred Exelon employees. Yes, twenty-seven hundred! Across the Exelon companies, from Atlantic City, to Baltimore, to Chicago, to the District of Columbia, to Philadelphia, to Wilmington DE, and beyond.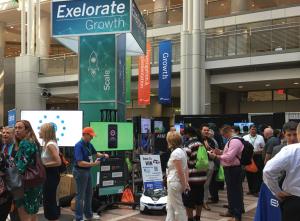 We spent the day talking with many of the young and diverse men and women that are leading the way for our industry. We took a ton of pics too; more like two tons. See Facebook photos here and nine short videos here.
We also interviewed senior vice presidents Chris Gould (also the company's chief innovation officer) and Maggie FitzPatrick. 
These brief interviews are a fascinating window into how today's innovation is bubbling up from the passion and "energy" of an evolving utility workforce. Times have surely changed. This is not your grandfather's or your father's utility. Well, this isn't even the utility we've spent our careers working with.