Deck:
SELCO Foundation developed solar-powered sewing machines
Author Bio:
Marilyn Smith is Executive Director of EnAct.
For millions of people in India, going to the local tailor remains less costly than buying ready-to-wear clothing.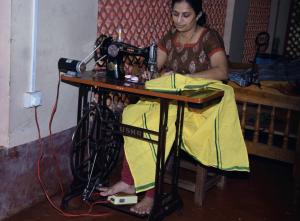 One study in the western state of Maharashtra estimated that twenty-one percent of women small-scale entrepreneurs choose tailoring to earn money, and many rely on self-financing.
"During the rainy season, we have time for sewing," says Rajeswari Paika. "But we cannot work because of severe power outages."
Ms. Paika lives in the Kasoragard District of the state of Kerala is southern India, where up to forty inches of rain falls each month during the monsoon season of June, July and August. With the rains come frequent and long power outages. While treadle machines off er the advantage that they can still be powered by nimble legs, they are slow - averaging about three hundred stitches per minute. But the combination of no lights and dark skies often leaves tailors unable to see well enough to work.
In the village of Badiadka, the challenge was amplified for Mahilodaya, an association that helps women learn tailoring skills and set up micro-businesses. Power outages regularly stop classes and make it diff icult to fill orders that are important to the association's revenues. Additionally, the shortages stymied growth of Mahilodaya itself, whose members could see an opportunity to expand.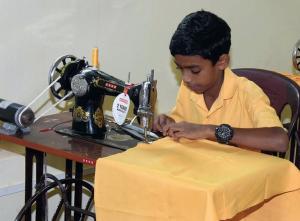 Looking for concrete solutions to the power problem, Mahilodaya turned to the SELCO Foundation (www.selcofoundation.org), a social enterprise established in 2010 to carry forward pioneering work by Harish Hande. Native to the area, Dr. Hande studied at the University of Massachusetts before returning to India with the aim of bringing aff ordable, sustainable energy to people at the bottom of the pyramid - long before such a concept became central to initiatives like the UN Sustainable Development Goals.
"It just made so much sense to me to work on linking sustainable energy and poverty reduction while protecting the planet," says Dr. Hande. Recognizing the importance of tailoring and the limitations of manual machines, the SELCO Foundation developed a permanent magnet DC motor (PMDC) that could be attached to machines and powered by solar energy. Immediately, the efficiency of machines increased by twenty-five percent.
With Mahilodaya, the Foundation saw an opportunity to test a larger scale roll-out of the solar-powered sewing machine, including incorporating new high-efficiency modern machines.
"With the solar-powered machines, I can work more," says Ms. Paika. "Moreover, I can work or give classes in the evening. I can work more hours at a stretch and complete more work than before."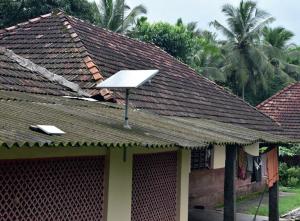 Just a few months into the project, productivity has increased by one hundred percent and Mahilodaya has been able to cater to more clients and offer more training classes, including to young students. Importantly, even when the lights are on for many more hours, the association's electricity bills have also dropped substantially, delivering a higher profit margin on overall revenues.
Also the critical to the success of such projects is the SELCO Foundation's commitment to working with banks and micro-lending facilities to demonstrate that improved energy services deliver returns which help to ensure small businesses, associations and individuals are low-risk loans.
EnAct is pleased to have played a role in this initiative by launching an initial crowdfunding campaign in late 2016. "Our supporters contributed more than two thousand dollars to the solar sewing machine project," says Executive Director Marilyn Smith. "We're excited that when the energy-rich see an opportunity to directly improve energy access elsewhere, they will give generously."
For more information on EnAct or how to support it, visit the websites http://www.en-act.org and http://www.coldathome.today, or contact the Executive Director at marilyn.smith@en-act.org
Lead image: Treadle sewing machines remain ubiquitous across India, in both cities and remote regions. The SELCO Foundation is making them far more efficient! Photo: SELCO Foundation