Author Bio:
Steve Mitnick is the Editor-in-Chief of Public Utilities Fortnightly and the president of Lines Up, Inc.
Everyone who is anyone in the cooperative world was in Orlando in early March at the National Rural Electric Cooperative Association Annual Meeting to discuss matters of importance. The PUF team was there too.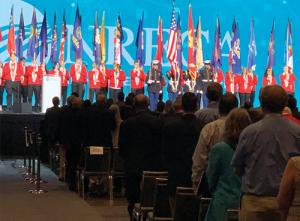 We watched first as young people from NRECA communities marched in wearing red jackets and holding flags of the fifty states during heartfelt opening ceremonies. It was a joy to behold and unique to NRECA. Then we watched as cooperative leaders from around the nation gathered together to celebrate the strengths found in the cooperative network that spans the country. Some of these leaders took time out of their busy schedules to talk to PUF. 
NRECA's 2019 Expo included The Lab, a model home featuring an array of devices, from smart thermostats and sensors to smart lighting and a residential battery. The applications are integrated into a whole-house solution that can communicate securely with the utility. You will find out more in these pages.
Cooperative Leaders Conversations: