Deck:
Scenes from This Year's Summertime Gathering
Author Bio:
Steve Mitnick is President of Lines Up, Inc., Editor-in-Chief of Public Utilities Fortnightly, and author of "Lines Down: How We Pay, Use, Value Grid Electricity Amid the Storm."
Were you in Indianapolis on July 21-24 for the NARUC's Sizzling Summer Policy Summit (aka the Summer Meeting)? If not, why not? Nearly a thousand utility regulators, utility regulatory leaders, consumer advocates, etc. were there to debate the most pressing policy matters of our day as well as to catch up with their colleagues across the continent.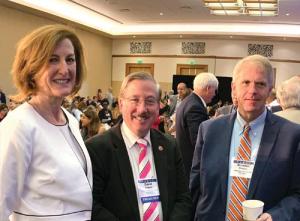 Where else can you find a thousand people to talk with about utility regulation? A dozen pics were taken in the general session room and in the nearby hallways at the Summer Meetings. Even after a hot debate on utility regulation in the middle of a hot summer, we can enjoy exchanging handshakes and a good laugh with old and new friends in our chosen and noble field of work. You can get a glimpse of what went on in our Facebook photo album by clicking here.
Top industry leaders said their piece and faced questions. NARUC's general sessions included the CEOs of Ameren, Duke Energy, the SUEZ water utilities and other execs. What's the utility industry's future? How should utility regulation evolve? Where are the toughest challenges? Commissioners and consumer advocates took the stage too and sharpened the debates.
Behind the Scenes
How does a Summer Meeting actually happen apparently seamlessly? It starts with NARUC president Nick Wagner and NARUC's Jedi master of meetings Michelle Malloy. Also, Commissioner David Ziegner and Chair James Huston of the Indiana Utility Regulatory Commission received a framed cover of July's Public Utilities Fortnightly from PUF's Steve Mitnick, with A Day at the Indiana Commission as the cover feature.
Fifteen Speakers at Summer Summit Soapbox Luncheon
The scene was set for this epic competition. For at the End, there will be Just One Winning "Most Electrifying Speech." The co-emcees, NARUC's president and PUF's chief editor, readied the crowd. And the merciless timekeepers, from the Pennsylvania and Florida commissions, readied their loud red cowbells. Their critical role, to let the speakers and everyone gathered know when two minutes elapsed. See the speakers at our event Facebook photo album here.
Lead image: Before a general session, three NARUC Executive Committee members, From left, Chair Judith Jagdmann, Virginia State Corporation Commission, Commissioner David Ziegner, Indiana Utility Regulatory Commission, Chair Brandon Presley, Mississippi Public Service Commission.