Author Bio:
Lori Burkhart is Editor-in-Chief of Public Utilities Fortnightly.
The State of Kansas is known as the Sunflower State and the Wheat State due to its proliferation of both, though only one being its state flower. Kansas is also smack dab in the middle of the continental U.S., with glorious plains, lending itself to high winds and the setting for the Wizard of Oz. Now that setting is for renewable energy, as Kansas holds the second largest share of wind power of any state.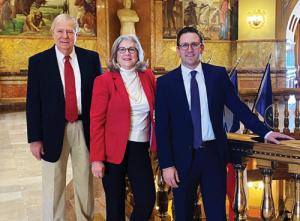 Much more than wind is going on in the Sunflower State, which led the PUF team down the virtual yellow brick road to the Kansas Corporation Commission. The PUF team found a nation-leading trucking safety program, one of two states that regulate utilities and the oil and gas industry through the same agency, a Chair chosen to sit on the Federal-State Task Force on Electric Transmission, and too much to name here.
Kansas is grappling with a multitude of issues, including moving that wind to far-away places that want it. The answers require more inspiration than Dorothy could achieve by tapping her ruby slippers. The Kansas Commissioners and Staff share their thoughts here. 

Kansas Corporation Commission conversations: