Updated 9:47 AM EST, Fri February 28, 2020
Excerpted from the February 1 issue of PUF: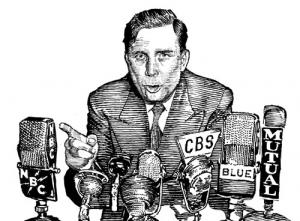 Wendell Willkie, the electricity industry's undisputed leader through the tumultuous 1930s as president of Commonwealth & Southern Corp., and the Republican Party's presidential candidate in 1940, was born on February 18, 1892 in Elwood, Indiana.
He's the only utility CEO — or utility anything — that has run for president of the United States. Though Bill Clinton did start his political career fighting utilities as Arkansas' attorney general in the late 1970s.
Willkie did some fighting of his own. With the administration of President Franklin Roosevelt throughout the 1930s. As the Great Depression dragged on, he was one of the leading voices for private enterprise versus government intervention in the economy.
In his June 1935 article in Public Utilities Fortnightly, Willkie wrote: "Many companies in 1930 completed generating plants or installed additional capacity already started or planned under the earnest urging of the Federal government that there was a patriotic obligation to continue the employment of people and upon the prediction by government that the financial depression would be of short life."
Willkie's utility holding company, Commonwealth & Southern, was one of the fourteen companies of the so-called power trust, that accounted for over three-fifths of electricity industry revenues in the mid-1930s. Willkie's company, formed by combining Commonwealth Power, Penn-Ohio Edison and Southeastern Power and Light in May 1929 at the peak of the merger era, alone sold about eight percent of the electricity in the U.S. and received about six percent of electric sales revenue.
The disparity, between electric sales and sales revenue, was because some seventy percent of the company's kilowatt-hour sales were to its industrial customers. Unlike the other large power trust utilities based in the big cities, such as Consolidated Edison in New York City, and Commonwealth Edison in Chicago.
Then, the Public Utility Holding Company Act became law. Under PUHCA's so-called "death sentence," Willkie's company was forced to separate its holdings of operating utilities. They had been assembled to diversify the considerable financial risk of investing the enormous quantities of capital that was necessary to electrify the country, including areas of highly unproven and uncertain consumer demand. And to build the scale suited to attract so much capital.
Ultimately the breakup scattered the Commonwealth & Southern operating utilities that today are in the hands of eight of the largest utilities of today. These are Ameren, Centerpoint Energy, Consumers Energy, Dominion Energy, First Energy, Florida Power & Light, Southern Company, and Tennessee Valley Authority.
After years of wrangling with Roosevelt and his administration, Willkie finally agreed in 1938 to sell key assets of Commonwealth & Southern to the Tennessee Valley Authority. This enabled TVA to emerge in its modern form. Willkie sold the assets for a relatively high price and ended up admired by the public and even FDR.