Deck:
Debt + secret triggers = another Enron.
It's a nightmare scenario that used to keep only bankers awake at night. It's now a plausible scenario that should be keeping energy executives awake at night, as well.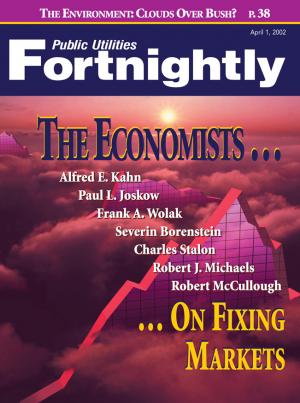 Much the same way that bankers used to worry about a "run on the bank," where there is an overwhelming demand for liquidity that causes a solvent bank to fail, so should energy companies be worried that their use of material adverse change (MAC) clauses might trigger an overwhelming demand for liquidity that causes a once solvent energy company to fail. Of course, the banks now have the Fed to protect the financial system from a liquidity crisis. No such luck for the energy industry.
Some may say that the concept is preposterous, and that other energy companies have a greater asset base and bear no resemblance to Enron because of non-existent off-balance sheet partnerships.
But many energy companies have MAC clauses in credit facilities and backup commercial paper lines that could increase the company's burden in the event of a downgrade, such as by forcing it to pay off debt immediately or pay a higher interest rate. Other MAC clauses could be triggered by a company's falling share price. In fact, it was financial triggers that led Enron to losses when its stock price fell below a certain threshold. 
The worry is that some energy companies, which are experiencing investor backlash for being in energy trading like Enron, are using mark-to-market accounting like Enron, or having high debt levels like Enron, are seeing their credit ratings downgraded and their stocks pummeled, unmercifully. The real question is will another energy company's fate be like Enron's? The answer depends on an energy company's MAC triggers embedded in contracts and credit lines, which are a mystery, except to trading counterparts, banks and, obviously, to the companies themselves.
Credit Ratings Agencies: Playing With Fire? It's not my business to tell credit rating agencies how to run their business. I know they have the bondholder's best interests at heart. But it appeared a bit dangerous to me, almost reckless, to be downgrading energy companies during December, January and February without fully knowing the consequence of those downgrades on companies. 
Ever since the Enron bankruptcy, credit rating agencies have been quick to downgrade companies like Calpine, Mirant and Williams. How did they know that a downgrade wouldn't lead to bankruptcy? MAC clauses inherently change the risk proposition that a company may default on its obligations. Furthermore, rating agencies create a self-fulfilling prophecy when a downgrade to "junk" status tips the company into bankruptcy, which may mean that bondholders may not get their money back. 
Susan Abbott of Moody's Investors Service told me that she has no problem with the energy trading and marketing business model, and feels that the industry has a future. But some changes have to be made, she adds. 
For example, in the case of Mirant, she believes that the company has taken on too much debt and that the company's use of mark-to-market accounting does not adequately reveal Mirant's cash flows, and therefore its ability to cover its obligations. 
Moody's Investors Service and Standard & Poor's said in early February that they had asked several hundred investment grade companies to disclose their borrowings and trading agreements in a bid to avoid being blindsided by risks such as those that were caused by Enron, according to press reports. Enron stunned investors in November when it disclosed it had to pay off a $690 million note because of a recent downgrade. As a result, the credit agencies have demanded better disclosing of triggers. 
Clifford Griep, S&P's chief credit officer, said the usage of such triggers have become so common that there is a need to incorporate triggers in the rating process. But as S&P and Moody's sort through hundreds of MAC clauses to incorporate in rating, what is to stop another credit agency downgrade from inadvertently causing another bankruptcy? 
Doomsday: From Run on Bank to the Domino Effect? Widget Energy, a fictional merchant energy trading company, finds itself being compared by investors to Enron because of its use of mark-to-market accounting. This has led to investors calling Widget a "black box" like Enron because they feel that the company's earnings are not transparent to investors. This results in a visible decline in the company's stock value. At the same time, credit ratings agencies are concerned over Widget's large levels of debt that the company has accumulated due to its merchant power plant development program. 
The drop in the stock and the downgrade of debt to "junk status" triggers a series of MAC clauses in the company's bank credit facilities and backup commercial lines. The company has to pay off a $700 million note. But because the stock has dropped, Widget has triggered another guarantee for another $200 million. Also, energy trading counterparts, due to the credit rating downgrade, are asking Widget to unwind all trades. Not having any other choice due to lack of access to capital, Widget declares bankruptcy.
But Widget is not the only merchant operator to see its stock drop and its credit rating decline. The credit ratings agencies, due to multiple downgrades in the sector, have inadvertently caused MAC clauses to be triggered in several other energy companies, leading to a credit crunch in the industry, or liquidity crisis. The liquidity crisis leads to multiple bankruptcies. 
Could this scenario happen? At the Edison Electric Institute's International Financial Conference in London, chief financial officers I talked with were showing quite a bit of concern over their MAC clauses and how their companies were being perceived as a result of their use of mark-to-market accounting. One company, Dominion, outwardly boasted of what a small share its mark-to-market contracts were in number to other hedged contracts. In addition, other CFOs confessed they were actively swapping out their MAC clauses for other credit facilities that might be considered less onerous, focusing on reducing the number of triggers contained in contracts. 
So, the industry is reacting to investors and credit agency concerns by paying-off debt, by selling off assets, and improving its financial and accounting practices. The question is will they do it quickly enough to avoid another catastrophe. 
Moreover, the result of the current credit crunch on power plant development and the resulting higher cost of capital have caused many merchant power companies to retreat on many previously planned merchant plant developments. As EEI's Executive Vice-President David Owens reminded me when he spoke at the conference about cancellation of plants, power demand tracks GDP, and that the economy is poised for a comeback. Will there be energy shortages in the next few years because of an over-correction? Time will tell. But first, the industry must restore investor confidence.