Deck:
Presenting a program to stimulate robust coal-gasification technology deployment at low federal cost.
Author Bio:
William Rosenberg is a senior fellow at the Kennedy School of Government, Harvard University, and professor in the Deparment of Engineering and Public Policy, Carnegie Mellon. Previously, he served as chairman, Michigan Public Service Commission; assistant administrator for Energy Resource Development, Federal Energy Administration; and assistant administrator for Air and Radiation, EPA. Michael Walker is a consultant who has spent the past 11 years working on environmental and regulatory issues affecting the electric power industry. Dwight Alpern is an attorney advisor at the Clean Air Markets Division, EPA, and previously was an attorney at FERC and the DOE. 
Presenting a program to stimulate robust coal-gasification technology deployment at low federal cost.
Near-term deployment of gasification technologies can supplement natural-gas supply, reduce demand, and promote long-term U.S. energy security and affordability. But near-term deployment must overcome high capital costs that affect commercial competitiveness and capital availability
A national gasification strategy that provides federal loan guarantees and other incentives for industrial and electricity sector investments in gasification technology can overcome these hurdles and stimulate a robust deployment. By relying on federal loan guarantees as the primary initial incentive approach, federal budget costs can be minimized while jumpstarting construction of significant capacity.
An important policy choice faces the U.S. Congress as it considers where gasification fits into U.S. energy policy. Would the national interest be best served by facilitating a limited number of prototype gasification facilities, or by boldly helping investors finance a substantial fleet of gasification projects to counter the natural gas shortfall and substitute for higher polluting direct coal-combustion facilities?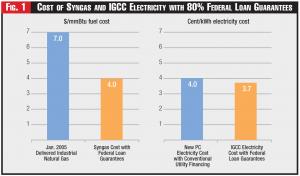 We propose a robust program leading to 50 commercial, industrial, and integrated gasification combined-cycle (IGCC) power plants that will deploy a variety of gasification technologies using coal, biomass, and petroleum-waste fuels. These plants also will help relieve high natural-gas demand and prices, support a move toward greater energy independence (and away from over-reliance on imports of liquefied natural gas), and create multiple commercial platforms for demonstrating carbon capture, sequestration, and hydrogen-fueled technologies. 1
Deployment Challenge
Despite substantial environmental benefits and a growing commercial interest in gasification technologies, commercial IGCC power plants and industrial gasification facilities have not yet materialized in the United States because of concerns over financing, cost, and financial risk. Most estimates suggest that the capital costs associated with the first generation of commercial IGCC power plants will be about 20 percent higher than the cost of a new pulverized coal plant, with IGCC operating and construction costs less certain. A recent filing by American Electric Power, which is seeking to build an IGCC power plant if the right regulatory treatment and incentives are available, indicated capital costs could be as high as $2,000/kW, well above most previous estimates for pulverized coal (PC) or IGCC. Unlike PC power plants, IGCC technology is not perceived to have sufficient commercial experience for developers to be comfortable with its operating performance, which has been demonstrated only at a handful of facilities.
A 2003 decision by the Wisconsin Public Service Commission approving a WEPCO proposal