Deck:
Recent attrition raises the question: Consolidation or death spiral?
When GridAmerica LLC closes its doors at the end of this year, the number of independent transmission companies (transcos) in the United States will fall by one-fourth. Only three ITCs will remain: American Transmission Co. (ATC), International Transmission Co. (ITC), and Trans-Elect Inc.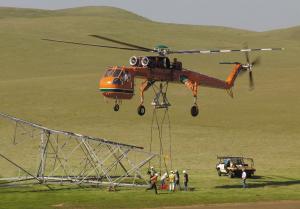 GridAmerica's demise follows a string of misfortunes for U.S. transcos. In late 2003, for example, a consortium of utilities in Minnesota, Iowa, and other states abandoned an initiative to create a new transco called TRANSLink. A 2002 deal that Illinois Power inked to spin off its transmission assets to a Trans-Elect subsidiary ended with a federal lawsuit and settlement in early 2004. And proposals to create transcos in the Southeast have run aground on independence and control issues. No proposals for stand-alone transcos since have  emerged.
Such attrition raises tough questions about the outlook for the budding U.S. transco industry.
"Momentum toward independent transmission slowed down, and companies are reverting back to vertical integration," says Masheed Rosenqvist, GridAmerica's COO. "Our objective always has been to purchase the transmission assets of the companies in GridAmerica. With utilities going back to basics, it didn't appear there'd be an appetite on the part of the participants, or encouragement from regulators, to move toward independence."
To the degree integrated utilities are unwilling to spin off their transmission assets, growth opportunities for transcos will be limited to expanding systems within their existing footprints, and pursuing occasional opportunities for raising new lines elsewhere. These growth prospects might be enough to sustain the existing transcos, but they seem unlikely to lead to new transcos forming.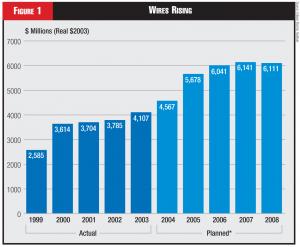 Moreover, in addition to moving back to basics, utilities today might be removing a primary reason for transcos to exist. In short, they might end up putting more money into transmission systems than they have in recent memory.
"The industry is willing and committed to invest over the next five years," said Al Fohrer, CEO of Southern California Edison (SCE), speaking on behalf of EEI at a FERC technical conference on April 22. "We have to focus on [whether] investments in transmission on a risk/return basis make sense. It's not a corporate-model issue, it's a risk issue."
Given IOUs' stepped-up transmission investments and back-to-basics business focus, the outlook for stand-alone transcos might appear to be growing dimmer.
Appearances, however, can be deceiving. Recent developments suggest that despite some setbacks, the transco business might be ready to turn the corner toward a new phase of growth. In recent years and months, transcos have made major investments in transmission upgrades, and have received accolades for doing so quickly, efficiently and with a healthy dose of innovation (See sidebar  "Successful Transco Models"). Lawmakers at both the state and federal levels are viewing transcos in an increasingly positive light, and capital markets likewise seem to be taking a greater interest in the stand-alone transmission business.
"There's been a huge transition for transcos in the last couple of years, but overall the view is bullish," says Robert Mitchell, managing director of Trans-Elect, a stand-alone transco based in Reston, Va. "I think we've established the value of independent transmission, regulators are supporting us, and the industry in general has accepted transcos."
What remains to be seen is whether the barriers before the transco business will diminish and allow the industry to grow beyond three companies.
Strategic Transmission
For many U.S. lawmakers, the August 2003 Northeast blackout was a wake-up call alerting them to the need for new transmission-system investments. Regulators and executives in the utility industry, however, needed no such wake-up call. They'd known for years that transmission investments were falling short. In September 2000, consultant Eric Hirst wrote in the pages of this magazine, "If the nation's electric transmission network continues as it has, failing to expand enough to keep pace with growth in demand for electricity, then within a few years today's problems could become a crisis" ("Transmission Crisis Looming," Fortnightly, Sept. 15, 2000).
Hirst's words proved prophetic when the Northeast was cast into darkness three years later. Yet today the industry still faces a shortfall in transmission investment, caused by a host of complicated factors. Those factors begin and end, however, with disincentives that keep investor-owned utilities (IOUs) from investing in transmission systems as much as most experts agree is necessary to maintain a reliable and efficient grid over the long term.
"The only way to allow recovery of transmission investments has been through a retail rate case," says Doug Jaeger, vice president of transmission with Xcel Energy in Minneapolis. "Transmission investments, while large, don't substantiate revenue requirements large enough for a rate case by themselves. What happens is you make significant investments over time, and don't recover costs for three to six years."
Along the way, transmission projects encounter many major hurdles, including local siting opposition and jurisdictional disputes. As a result, such investments represent significant risks for transmission owners. The rewards, however, might not be commensurate with the risks—at least not when compared with other investment options available to utility shareholders. This internal competition for capital creates dilemmas that have dogged integrated utilities ever since FERC issued Order No. 888 in 1996.
Order No. 888 effectively prohibits inegrated IOUs from using transmission assets to advance their strategic positions. In fact, transmission owners are required to provide open access for wholesale competitors to trade power in a free market. Thus, integrated utilities not only must accept front-loaded risks for rate-regulated transmission investments, they also must accept that such assets may be used against them in deregulated markets. It comes as no surprise, then, that executives and shareholders in integrated IOUs understandably have shied away from such investments.
Many of the dilemmas and uncertainties arise from the way IOUs in general are regulated, and the way transmission systems in particular are planned, financed, and built.
For example, conflicting policies between state and federal agencies have put the squeeze on utilities investing in transmission systems. Rate-of-return incentives that the federal government provides to encourage transmission investments can be taken away by state regulators seeking to minimize rate impacts on consumers. Moreover, IOUs often are reluctant to bring transmission-related rate cases before utility commissions if it means other revenue streams might be opened to scrutiny.
"Some of the barriers to investment via vertically integrated IOUs lie with state regulation," says FERC Commissioner Suedeen G. Kelly, speaking at the FERC technical conference in April. "If you have to go to the state regulator to get your transmission investment included in your rates, then the whole game is up. Since a significant portion of the investment of an IOU is in the generation assets, that opens up the generation assets to a rate case and potentially a lowering of the rate of return."
Such barriers are difficult to break down, given the historic and continuing turf war that rages between state and federal authorities. The transco business model, however, was conceived in the mid-1990s as a way to sidestep many barriers by disconnecting transmission operations and planning from integrated utility operations. Because transcos are focused solely on transmission systems, they are one step further removed from the competing interests that have discouraged integrated IOUs from investing in transmission. Additionally, they are regulated by the federal government, not by the states, which allows transcos to take a more expansive and less parochial view of the transmission system.
In theory, these advantages allow stand-alone transcos to invest more money in transmission upgrades faster than integrated utilities generally can. And in many cases that theory has proven to be true. "We'll invest more than $300 million this year alone," says Dale Landgren, vice president and chief strategic officer at American Transmission Co. in Pewaukee, Wis. "We expect to be in that range each year for the next few years at least. Our customers are clamoring to get greater access to the regional market, and we are working on projects to increase that."
The trouble with transcos, however, is they need a critical mass of operating transmission assets to work effectively. When the first transcos formed in the late 1990s, transmission assets were expected to become white elephants for IOUs and other integrated utilities. As wholesale electricity markets became more robust and competitive, integrated utilities were expected to divest their transmission assets and put the money into assets with greater strategic value—such as generation capacity.
But except for three examples, involving utilities in just two states (Michigan and Wisconsin), that hasn't happened. In many cases state lawmakers have stymied the move toward transcos, fearing they'd lose authority over key utility assets and ratepayers would be forced to pay for investments that would benefit out-of-state energy consumers. Additionally, IOUs in general have been unenthusiastic about getting out of the transmission business.
"Clearly many utilities view their transmission as a strategic asset, plain and simple," says Laurie J. Oppel, a managing director with Navigant Consulting in Albany, N.Y. "Where the utility has a fairly decent transmission portfolio and it is a significant piece of their asset valuation, they don't want to spin it off."
Recent trends among IOUs may be solidifying this position. Specifically, the "back-to-basics" business trend that has prevailed since mid-2002 makes wires assets look more attractive to utility investors, particularly in regions where overbuilding of power plants has led to low wholesale power prices, and consequently generation investments have underperformed expectations. Additionally, momentum toward deregulation has slowed down and taken unexpected turns, effectively serving to maintain the strategic value in owning transmission systems.
"Even though FERC has pushed since Order No. 888 to ensure there's no preferential access, there's still this question about what constitutes 'native load,'" says Elliot Roseman, a vice president with ICF Consulting in Fairfax, Va. "Utilities still want to preserve their ability to have enough access on the system to serve what they see as their native load, and there's no huge upside for shareholders to sell. The question is, if they sell, could they do something better with that cash?"
With IOUs' financial positions improving dramatically in the past couple of years, most utilities aren't facing major shortfalls in cash or credit. Indeed, after paying down their debt, many IOUs have increased dividends and initiated stock buy-backs to dispose of cash. At the same time, however, they are facing changing market conditions that demand management attention.
"Companies are trying to get a handle on rising gas prices, the next wave of new generation that will be required, RTO developments, and pending rate cases," Roseman says. "They have a lot of things on their plate that arguably are more important than thinking about functionally unbundling or structurally changing the utility."
Regional Rumblings
IOUs are not clamoring to spin off their transmission assets, nor do they seem to be neglecting transmission investments. According to the results of an EEI survey (conducted in late 2003 and released in May 2005), IOUs invested 12 percent more in transmission systems between 1999 and 2003 than they had in the previous five-year period. Furthermore, IOUs indicated plans to invest $28 billion in transmission systems between 2004 and 2009—a 60 percent jump in spending (see Figure 1).
Plans don't always translate into reality, of course, but EEI's figures provide a window into IOUs' intentions in the immediate aftermath of the 2003 blackout. And to the degree IOUs are closing the transmission-investment gap, they might be weakening a primary driver for alternative transmission-ownership structures.
"Utilities might not have made a complete turnaround, but they apparently are more focused on transmission than they were before," Roseman says. "In some ways that cuts against the need for transcos."
Whether investments by integrated utilities are meeting the economic needs of an interstate, open-access transmission grid, however, is another question. "If you are getting the 'right' investments in transmission, it doesn't really matter whether it comes from a transco or a traditional utility," Roseman says. "But that is a very pregnant question. Where are the right places for transmission to be built? Is the investment being made in transmission that would eliminate seams between regions?"
Such questions can't be answered in a general way for all investments, and indeed the fact that such uncertainties persist suggests stand-alone transcos have an important role to play in the U.S. transmission industry. In addition to the issues presented by internal competition for capital, the complexities if planning and building interstate systems, in particular, argue in favor of alternative structures.
"A major question being discussed is how to take a unified approach to planning and siting," Oppel says. "Conflicts appear between state and federal jurisdictions, and incentives for grid expansion."
Integrated utilities, regulated mostly by state commissions, encounter difficulties in planning transmission investments that cross state lines. To the degree regional investments are needed to effect a more economically efficient wholesale market, integrated utilities might not be well positioned to make those investments. RTOs are playing an increasing role in planning such investments, and they have authority to order needed investments. Integrated utilities nevertheless face disincentives and conflicts, however, and transcos arguably represent a better ownership structure for developing and building such regional systems.
"The investments that have the greatest risk of not being funded today are those that cross state boundaries," says Jaeger of Xcel Energy. "RTOs can provide a common forum for different bodies with different planning interests. But if you are looking at regional plans, requiring investment in transmission beyond what is needed to serve your native load, there is still an element of regulatory uncertainty."
The main reason for this? State regulators frequently are reluctant to approve cost recovery for projects that benefit regional rather than in-state markets. "We haven't landed on a model of cost allocation that clearly divides the costs among those who benefit," Jaeger says. "Until we do, it will be hard to make those investments unless you are under a transco type of model."
Transcos' key advantage is that they are regulated by the Federal Energy Regulatory Commission rather than by state commissions. Thus, they can respond more easily to regional transmission demands, independent of native-load considerations that dominate the planning processes of integrated utilities.
"We won't get the changes necessary if we keep tackling the problem one transmission owner at a time," Jaeger says. "As momentum grows for regional transmission investments, it's critical that regional planning coalitions form, either through RTO leadership or another approach to cooperative partnering."
One such approach is emerging from the ashes of TRANSLink, which was a proposal to combine 26,000 miles of transmission systems owned by several investor-owned, public, and cooperative utilities. Had it succeeded, TRANSLink would have been huge, with lines extending across 13 states: Colorado, Illinois, Iowa, Kansas, Michigan, Minnesota, Nebraska, New Mexico, North Dakota, Oklahoma, South Dakota, Texas, and Wisconsin. The systems would have been combined through divestiture, leases, and operating agreements, but the plan was scuttled when regulators in Minnesota and Iowa balked over jurisdictional issues, ratepayer impacts, and public-interest issues.
However, state regulators did not quash the idea entirely, with the Iowa Utilities Board going so far as to invite participants to try again. The forces that gave rise to the TRANSLink proposal have not disappeared, and the concept is showing signs of life once again.
Resurrecting TRANSLink
In 2004, a group of six utilities—again including Xcel Energy, as well as other investor-owned and non-profit entities—came together in an informal planning coalition known as CAPEX 2020 (see www.minnelectrans.com). "We are using a cooperative planning approach to develop a long-term vision of the growing transmission infrastructure needs of Minnesota and neighboring states," Jaeger says.
The CAPEX 2020 initiative was not envisioned as a transco, but legislative developments in Minnesota have paved the way for further progress in that direction. Specifically, on May 25, Minnesota Gov. Tim Pawlenty, R, signed a bill (SF 1368) that, among other things, codifies the state PUC's authority to approve the transfer of transmission assets to a transco. The provision eliminates one of the key barriers that prevented TRANSLink from moving forward in Minnesota—namely the state attorney general's opinion that the PUC did not have such authority, and therefore increased the likelihood of a court battle if a Minnesota utility attempted to divest its transmission assets.
Whether and when such legislative groundwork might lead to a new transco is uncertain, but Minnesota utilities' cooperative efforts, as well as signals coming from south of Minnesota's border, suggest a successor to TRANSLink might lie over the horizon.
MidAmerican Energy, the Des Moines, Iowa-based utility owned by Warren Buffet's Berkshire Hathaway, announced in mid-May that it plans to acquire PacifiCorp of Portland, Ore. In briefings after the announcement, MidAmerican Chairman & CEO David Sokol said the company is exploring the idea of forming a transco similar to TRANSLink, combining transmission systems owned by MidAmerican and other utilities of various types across several states.
"It's very important that we have cooperative relationships with investor-owned utilities, municipal utilities, electric cooperatives and federally owned agencies," Sokol reportedly said. "[FERC will] find that far superior to just us joining MISO."
Public-power and cooperative utilities own a large share of U.S. transmission assets, and many have been reluctant to join RTOs. The native-load concerns that irk IOUs and state regulators are doubly worrisome for munis and co-ops, whose sole focus, by definition, is ratepayer interests.
By invoking the memory of TRANSLink, MidAmerican is re-invigorating the debate over transmission ownership structures, emphasizing that independent transmission needn't be a Hobson's-choice proposition—i.e., alternatives exist to simply joining an RTO or divesting transmission assets. Non-profit utilities and IOUs alike particularly are attracted to TRANSLink's flexible and inclusive structure.
TRANSLink provides a flexible approach allowing transmission owners to participate in any of several ways, including outright divestiture, passive ownership, lease arrangements, and operating contracts.
"TRANSLink failed, and that was very unfortunate," said Roy Thilly, president of Wisconsin Public Power Inc., at the April 22 FERC conference. "TRANSLink was a hybrid, with a shared system that would morph into a transco with new facilities. Allowing passive investment, with careful restrictions, definitely will advance the model. We never would have gotten ATC created in Wisconsin without that ability to retain [the transmission] investment, which is a hedge against generation investment."
By floating the transco concept in concert with its acquisition plans, MidAmerican is positioning the merger as a benefit for wholesale electric competition. While the transco idea is not explicitly part of MidAmerican's acquisition plan, it puts the company in a strong position to garner support from federal regulators.
Indeed, FERC commissioners already have reacted positively to Sokol's transco concept. In a briefing after FERC's May 25 open meeting, Chairman Pat Wood III said he is "very heartened" by MidAmerican's transco plans. Commissioner Nora Mead Brownell added that the envisioned transco could mean "the potential for a huge infusion of cash to build infrastructure … in a region that has huge transmission needs."
Nevertheless, FERC harbors concerns about whether passive investment in transcos by former transmission owners violates the principles of independence the commission seeks to advance through its policies.
Advocates of passive investment argue that structural protections and governance oversight can be sufficient to ensure independence. "You take the assets through the veil and apply the commission's standards for independence," Landgren said. "The assets are independent."
While generally supporting the ATC model, however, FERC commissioners are reticent to give their full blessing to the idea of passive investment. "I'm afraid [of the consequences] if we start indicating we're OK with a lot of passive investment," Wood said during the April 22 conference. "We've been down that path with the other two industries [pipelines and hydropower], and it's not a really happy path. How do we keep the pressure on to get full independence ultimately?"
Possible answers include establishing incentives for transmission owners to divest their stake in the transco, or setting a date-certain for that divestiture. But such an approach raises potential uncertainties of its own, mostly regarding how the owners can get the most value from their assets under a mandatory divestiture timeline. By definition, the requirement to divest puts the seller at a disadvantage in the market, and liquidating such assets might be economically unattractive as the deadline approaches.
One possible solution to this issue, however, might be to list the transco's stock in a public market, as ITC now is attempting to do with its initial public offering (IPO) (see "Successful Transco Models"). Having a ready market for the transco's shares would allow transmission owners to incrementally sell down their holdings over time, as market prices and company needs dictate.
"Our experience around the world has been that the public listed markets are a good home for infrastructure," said Christopher Leslie, executive director of Macquarie Securities (USA) Inc., speaking at the April 22 conference. "If you focus on the end game being a listed, independent transmission market, with ticker symbols for [transcos], that might assist in making the transition through this phase where we're just trying to get utilities and incumbent public owners to cooperate with the vision."
Merger Momentum
A major wild card in the game is the omnibus energy bill, a draft of which the Senate Energy & Natural Resources Committee approved in late May. Two features of the bill could change the regulatory landscape significantly: its repeal of the Public Utility Holding Company Act, and the authority it gives to FERC to approve utility mergers.
Taken together, the two changes could accelerate the transco trend by encouraging utility mergers while strengthening FERC's hand to realize the goals of Order No. 888 through its merger-review authority. While FERC is unlikely to force merging companies to pursue any specific approach to achieving functional independence of transmission, commissioners' interest in the transco model amply was demonstrated in their strong positive reaction to MidAmerican's transco concept, as well as in the overall tenor of the April 22 conference.
Whether merging utilities will see more to gain from joining an RTO or spinning off transmission assets into a transco remains difficult to predict. "Is Exelon/PSEG a strategic merger for the transmission, the generation assets, or both?" asks Oppel of Navigant. "We might see them maintaining an integrated structure, or spinning off a separate wires company. It's hard to say whether that idea will be a key driver."
What seems certain, however, is that FERC will continue pushing the ideals of Order No. 888, and merging companies undoubtedly will feel this pressure in the months ahead. In addition to MidAmerican/PacifiCorp, the Exelon/PSEG and Duke/Cinergy mergers will face market-power questions from FERC, irrespective of whether the energy bill becomes law.
In mid-May, Chairman Wood noted that FERC likely would require Duke Energy to surrender control of its transmission system to an RTO as a condition of the commission approving its merger with Cinergy. "That has generally been the way to address vertical market power," Wood told reporters. "That's not to say there aren't other ways to address that. [It] could be some form of independent ownership or spinoff of transmission."
Wood's pending retirement from the commission might, in fact, signal a softening in FERC's drive toward RTOs. Wood's possible heir apparent on the commission, Joseph Kelliher, is known to be less determined to drive the formation of RTOs in every region of the country. Whether this leads toward development of stand-alone transcos or some other solution might depend on how flexible the various stakeholders are willing to be in conceiving approaches to transco structures.
"Flexibility is the key," says Mitchell of Trans-Elect. "I don't think there will ever be two deals that look exactly alike."
Transco advocates believe such flexibility can satisfy the independence aims of Order No. 888, the short- and long-term planning needs of various utilities, and the commercial interests of investors. If they can convince more IOUs and state regulators they are right, the transco model just might become the turnaround story of the decade.
---
Successful Transco Models
Despite the difficulties transcos have encountered, three of them have established solid positions in the U.S. electric transmission industry. Their experience demonstrates how various transco models can succeed in operating stand-alone transmission systems and attracting new capital to an industry that sorely needs investment dollars.
American Transmission Co.
Starting operations at the beginning of 2001, ATC combined transmission assets of several utilities serving Wisconsin, Michigan's Upper Peninsula and a small portion of northern Illinois. ATC now operates nearly 9,000 miles of high-voltage transmission lines and 450 substations.
One of the company's key strengths has been its inclusive nature; although the company gained the bulk of its assets through the divestiture of transmission systems by five vertically integrated utilities, more than 20 municipal and cooperative entities contributed transmission resources or cash to ATC. In fact, the company behaves much like a cooperative, in that its owners are its customers. Additionally, the company uses a postage-stamp tariff that gives ATC's owners a hedge against rising costs as the company invests in new facilities. In other words, ATC's structure helps small participants ensure the transmission upgrades they need are accomplished without undue concern about the rate impact for their small sub-set of customers.
"There is synergy in the fact that our owners are our customers," says Dale Landgren, ATC's vice president and chief strategic officer. The fact the original transmission owners retain a share of ATC means the company doesn't fit everyone's definition of an "independent" transmission company. Landgren says ATC takes pains, however, to ensure the company makes investment and operational decisions in an independent way. The company has several independent members on its board of directors, and gives owner-members on the board one vote each, irrespective of the size of their holdings in the company.
Ultimately ATC's owners likely will sell their stake in the transco. "We set up the company so we could do a public offering of stock, but so far our owners haven't chosen to do that." ATC's owners regularly consider the option, however. "How ITC does [in its pending IPO] will affect whether our owners want to pursue that option," Landgren says.
Thus far, however, ATC has had little trouble obtaining financing; the company is authorized to issue corporate debt totaling more than $700 million, and it already has secured $500 million in a combination of commercial paper and senior notes, which are rated investment grade by the major rating agencies. Its credit is bolstered by a relatively modest debt ratio of about 49 percent.
In the next 10 years, ATC plans to invest more than $2.5 billion in transmission infrastructure, both upgrades of existing systems and new lines to access regional markets. "We built our biggest project from Wausau to Duluth, and we will pay for and own the rights to a line being built by Commonwealth Edison," Landgren says. "When we started we knew we had quite a bit of work to do. We inherited some reliability problems. Some of the system was built in the 1920s and '30s, and is literally falling down."
As a result, ATC has its hands full with projects inside its Wisconsin, Michigan, and Illinois footprint, and it is not planning to expand far beyond that territory. "If an opportunity presents itself to acquire neighboring transmission assets, we will look at that, but it's not part of our current strategy," Landgren says. "We have significant opportunities in our own backyard."
International Transmission Co.
Despite their similar acronyms and the fact they both operate transmission systems in Michigan, ATC and ITC are structured very differently.
ITC started operations in June 2001 when Detroit-based utility DTE Energy Co. unbundled its transmission assets into a wholly owned subsidiary. In February 2003, DTE sold the subsidiary to ITC Holdings Corp., owned by a limited partnership of private-capital investors (90.55 percent), plus management and employees of the company (9.45 percent). Thus ITC is a "pure" independent transco; DTE, which remains ITC's primary customer, retains no ownership in the company.
ITC's assets include about 2,700 miles of transmission lines and 30 substations, mostly serving southeastern Michigan. It began operations with about $450 million in assets, and since has invested about $122 million in upgrades and new facilities. In 2004 the company invested about $81.5 million in its assets, and expects to invest about $100 million more in 2005. The company finances its investments with bonds and lines of credit totaling $483 million. Overall, ITC is leveraged to a ratio of about 71 percent debt.
In addition to upgrading ITCs' existing lines and building out to new facilities and markets in the region, ITC intends to expand its footprint by acquiring other transmission systems. ITC made an investment in Conjuction LLC, which had hoped to build the $700 million Empire Connection transmission project in New York. That project ran aground, however, and ITC has not since made any acquisitions or investments outside its Michigan-based footprint.
ITC hopes to advance this business strategy with its planned $300 million initial public offering (IPO) of stock, which FERC approved in early May. (Because of the IPO, ITC was under a quiet period and could not speak to for this story.) With publicly traded stock, ITC might be better positioned for merger and acquisition activity, by virtue of the ability to undertake stock-for-stock merger transactions.
More broadly, a successful ITC public offering would achieve two important goals for the transco business. First, it would establish transcos as a public investment vehicle on the New York Stock Exchange and open a new source of capital to finance transmission investments. Second, and perhaps most importantly, ITC's IPO could pave an exit path that would help FERC become more comfortable with hybrid transco models.
To the degree regulators have concerns about passive investment by former transmission owners, the possibility of a public offering down the road might provide some assurance that these owners will be able to sell down their shares in a liquid market. As a result, all eyes are on ITC as it proceeds with its IPO.
Trans-Elect Inc.
Trans-Elect's primary asset is Michigan Electric Transmission Company (METC), a transmission system comprised of 5,400 miles of lines and associated substations, which it acquired from Consumers Energy in May 2002 for $290 million. METC is not Trans-Elect's only system, however.
Just before it acquired METC, Trans-Elect was part of a consortium of investors that acquired TransAlta's former transmission assets in Alberta, Canada, in a $829 million transaction. Trans-Elect now owns a 10 percent stake in the AltaLink system, which includes 7,200 miles of high-voltage transmission lines and 260 substations.
Also, Trans-Elect led the 1,500 MW upgrade of California's notorious Path 15-blamed for contributing to blackouts in the state's 2000-2001 power crisis. Trans-Elect financed and built the $300 million line, and brought it into service in 2004. The project received accolades for its innovative public-private structure, which involved the Western Area Power Administration, Trans-Elect, Pacific Gas & Electric, and the California Independent System Operator. Private equity funds ArcLight Capital and EIF Group provided equity for the deal, with debt from banks led by Citigroup and Macquarie Securities.
"In the utility sector, there is more private equity and hedge-fund money available than there are deals," says Robert Mitchell, a managing director with Trans-Elect, based in Reston, Va. "The key is not so much the structure as it is putting together deals that make sense and have enough regulatory and economic certainty to get financing."
Another key for Trans-Elect is flexibility. On the Path 15 project, for example, the company financed the project and owns long-term capacity rights, but the facility itself is owned by WAPA and operated by the California ISO.
As a result, Trans-Elect is pursuing opportunities that might resemble the model of a merchant-transmission developer or turnkey contractor. "Our ideal model is to own and operate a transmission system, but we don't always have to do that," Mitchell says.
"A lot of utilities have expressed the desire to participate as an investor in a Trans-Elect project," adds Paul McCoy, Trans-Elect managing director. "We'd accept that equity as long as it is passive, and doesn't give the utility control over planning, budgeting and operation of the facility. We believe you can do that at the same time you are meeting the FERC's independence requirements."
Whether and when this approach might translate into new deals for Trans-Elect remains to be seen, but recently the company gained access to a deeper pool of development capital. In mid-April, GFI Energy Ventures LLC acquired 87 percent of Trans-Elect's preferred equity for an undisclosed sum, with commitments to provide additional capital funding for the company.
"We now have serious funding behind us," Mitchell says. "What we accomplished to date we did without a lot of capital in the company, so we feel like we are poised to take off in a bigger way now."-MTB