New Opportunities: Kathleen Chagnon, formerly senior vice president, general counsel, and corporate secretary for Baltimore-based Constellation Energy Group, joined Saul Ewing LLP as a partner in its business department. Prior to joining Constellation, Chagnon served as vice president, corporate general counsel of The St. Paul Cos. Inc.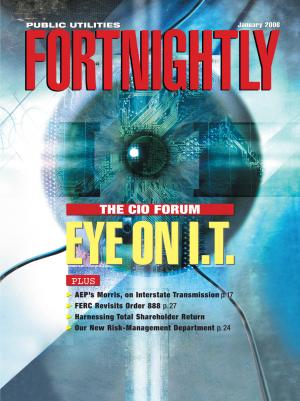 Sierra Pacific Resources announced that Donald D. Snyder, former president and board member of Boyd Gaming Corp., was elected to its board of directors. Snyder, 58, retired from Boyd Gaming in March 2005. He had served as the casino company's president since January 1997.
Avista Corp. named Linda M. Jones director of corporate communications. Jones replaces Patrick Lynch, who was recently promoted as director of energy solutions for Avista. Jones joins Avista from Grant County PUD in Ephrata, Wash., where she served in a variety of positions during her 15-year career.
Allegheny Energy Inc. named Loyd (Aldie) Warnock vice president, external affairs. Warnock previously served as senior vice president, governmental and regulatory affairs, for Mirant Corp.
Clean Energy named former U.S. Secretary of Energy John S. Herrington to its board of directors.
ComEd elected a new five-member board of directors: Frank M. Clark, chairman and CEO of ComEd; Sue Ling Gin, founder, owner, chairman, and CEO of Flying Food Group LLC; Edgar D. Jannotta, chairman of William Blair & Co. LLC; John W. Rogers Jr., chairman and CEO of Ariel Capital Management; and Richard L. Thomas, retired chairman of First Chicago NBD. In addition, the company announced the appointment of a new slate of ComEd officers, each without responsibilities to Exelon. They are: Frank M. Clark, chairman and CEO; Barry Mitchell, president; John Costello, executive vice president, COO; Bob McDonald, senior vice president, CFO; Anne Pramaggiore, senior vice president, regulatory affairs; John Hooker, senior vice president, government affairs; and Darryl Bradford, vice president, general counsel.
Upon completion of the Duke-Cinergy merger, the board of directors of the combined company is expected to elect Paul M. Anderson chairman of the board and James E. Rogers president and CEO. The companies announced earlier that Fred Fowler, currently Duke Energy president, will be CEO of the new company's gas businesses. David Hauser will be the new company's CFO. He currently serves as CFO for Duke Energy.
DTE Energy's board of directors elected Peter Oleksiak to the position of controller and Daniel Brudzynski to vice president, regulatory affairs. Oleksiak joined DTE Energy in 1998 and worked in a number of increasingly responsible financial positions until becoming assistant controller earlier this year.
New Jersey Natural Gas promoted Craig Lynch to vice president, energy delivery. Since 1997, Lynch has served as director, distribution.
Mirant named Thomas W. Cason to the company's proposed nine-member board of directors.
The Idaho Power board of directors expanded Idaho Power President J. LaMont Keen's responsibilities to include those of CEO. Keen assumes the CEO position from Jan B. Packwood.
Resigned: Progress Energy announced that Geoffrey S. Chatas, executive vice president and CFO, resigned to pursue other interests. Peter M. Scott III, president and CEO, Progress Energy Service Co., assumed the CFO title.