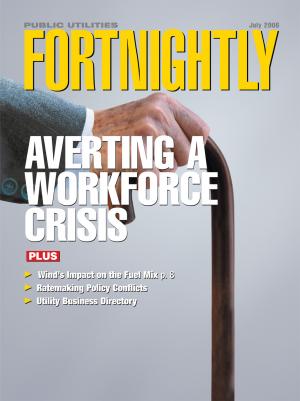 New Opportunities:  The New York Independent System Operator named Rana Mukerji to its senior management team to serve as vice president, market structures. Mukerji joins the ISO from Raleigh-based ABB Inc. , where he served since 1999 as vice president and general manager, and senior group vice president.
CMS Energy shareholders elected an interim appointee to the company's board of directors and also re-elected 10 incumbents. The interim appointee is Jon E. Barfield , chairman and president of The Bartech Group . Barfield was appointed to the board on Sept. 1, 2005.
Shareholders of Pepco Holdings Inc. elected two new members to the board of directors. Frank O. Heintz and Lester P. Silverman were the first directors elected to one-year terms under the restated certificate of incorporation that provides for the annual election of directors. Heintz, 62, is retired president and CEO of Baltimore Gas and Electric Co. From 1982 to 1995, Heintz was chairman of the Maryland Public Service Commission. Silverman, 59, is director emeritus of McKinsey & Co., having retired from the international management consulting firm in 2005.
TXU Corp. elected the following directors: E. Gail de Planque, Leldon E. Echols, Kerney Laday, Jack E. Little, Gerardo I. Lopez, J.E. Oesterreicher, Michael W. Ranger, Leonard H. Roberts, Glenn F. Tilton, and C. John Wilder . The TXU board of directors also elected C. John Wilder , adding chairman and president to his CEO title; David A. Campbell , executive vice president; David P. Poole , executive vice president and general counsel; M. Rizwan Chand , senior vice president; Anthony Horton , senior vice president, treasurer, and assistant secretary; Kim K.W. Rucker , senior vice president, secretary, and chief governance officer; Stan Szlauderbach , senior vice president and controller; Gina C. Thomas , vice president and general tax counsel; Gaylene M. McMahon , assistant controller; and Diane J. Kubin , assistant secretary.
Sempra Energy 's board of directors announced that Joseph A. Householder has been promoted to senior vice president, controller, and chief tax counsel. He also will serve as the chief accounting officer of Sempra Energy. Householder previously served since 2001 as vice president of corporate tax and chief tax counsel for Sempra Energy.
The Nuclear Energy Institute (NEI) re-elected DTE Energy Co. chairman and CEO Anthony F. Earley Jr. as chairman of its board of directors. John W. Rowe , chairman and CEO of Exelon Corp., was elected vice chairman of the NEI board of directors. Rowe succeeds Robert B. McGehee , chairman and CEO of Progress Energy Inc.
Reliant Energy announced that Rogers Herndon joined the company as senior vice president, commercial operations, and origination, effective May 17, 2006. He most recently directed the unregulated commercial activities for PSEG Energy Resources and Trade. Previously, he was responsible for Bank of America's entry into global electricity markets. Herndon also managed retail supply, natural gas, and power trading activities at Enron and Dynegy.
Scott L. Morris was named president and COO of Avista Corp. Morris previously served as Avista Corp. senior vice president and president of Avista Utilities. In addition,