Deck:
Policymakers are setting sights on new challenges facing utilities.
Author Bio:
Michael T. Burr is Public Utilities Fortnightly editor-at-large. E-mail him at burr@pur.com
Policymakers are setting sights on new challenges facing utilities.
Utilities in the United States are heading into a new frontier.
A combination of rising fuel prices, aging infrastructure, and environmental concerns is opening up uncharted territory for gas and electric utilities. Companies are struggling to control costs and avert capacity shortfalls while planning for future greenhouse-gas constraints.
The regulatory landscape is changing accordingly, with utility commissioners and policymakers trying to spur infrastructure investments and protect ratepayer interests in a time of rising costs and uncertainties.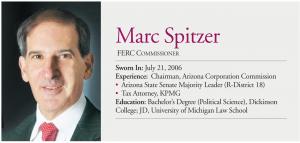 Such challenges require utility regulators to demonstrate both an open mind and steely eyed resolve, as well as a keen understanding of the difficult energy and environmental issues facing America. To learn what it takes to tame the new utility frontier, Public Utilities Fortnightly spoke with several lawmakers, including the three new appointees on the Federal Energy Regulatory Commission. We talked with:
• Marc Spitzer, FERC
• Philip D. Moeller, FERC
• Jon Wellinghoff, FERC
• Erin M. O'Connell-Diaz, Illinois Corporation Commission
• Phyllis Reha, Minnesota PUC
• Gov. Dave Freudenthal, Wyoming
Advocate for States
Marc Spitzer, FERC Commissioner
Fortnightly: What career experiences have been most important in preparing you for your job as FERC commissioner?
Spitzer: As an attorney representing taxpayers against the IRS, I've been on the other side of the table from the Feds. Being an attorney brings some valuable analytical experience and judgment. Judgment is the key to being a good lawyer.
At the Arizona Corporation Commission (ACC), we were able to site some transmission projects, which are harder to site than pipelines because they affect more people in the local community. That experience helped me learn how to make reliability and economic arguments in favor of infrastructure in ways that people can respect.
Also, I am the father of an asthmatic son. He has pretty much grown out of the asthma now, but it has made me aware of issues involving air quality. I didn't have to read the paper to find out if there was going to be a bad-air day. I could tell just from his breathing.
Fortnightly: What do you see as the most important priorities for FERC in wholesale electric markets? What principles should drive FERC's policies?
Spitzer: I am a believer in exercising sound judgment on a case-by-case basis. We should follow the law and try to avoid sweeping changes that go back and forth. I am a believer in competition, and having it evolve in a way that gets buy-in from as many stakeholders as possible. You can't please everyone, but it's extremely important to make sure everyone gets heard.
I tend to focus a lot on gas infrastructure and supply, because electricity prices are tied closely to the price of gas. We are concerned about volume, and FERC should do what it can to encourage construction of natural-gas pipelines and storage infrastructure.
At the same time, FERC must respect the role and authority of local officials. My hope is