Deck:
Policymakers are setting sights on new challenges facing utilities.
Author Bio:
Michael T. Burr is Public Utilities Fortnightly editor-at-large. E-mail him at burr@pur.com
Utilities in the United States are heading into a new frontier.
A combination of rising fuel prices, aging infrastructure, and environmental concerns is opening up uncharted territory for gas and electric utilities. Companies are struggling to control costs and avert capacity shortfalls while planning for future greenhouse-gas constraints.
The regulatory landscape is changing accordingly, with utility commissioners and policymakers trying to spur infrastructure investments and protect ratepayer interests in a time of rising costs and uncertainties.
Such challenges require utility regulators to demonstrate both an open mind and steely eyed resolve, as well as a keen understanding of the difficult energy and environmental issues facing America. To learn what it takes to tame the new utility frontier, Public Utilities Fortnightly spoke with several lawmakers, including the three new appointees on the Federal Energy Regulatory Commission. We talked with:
• Marc Spitzer, FERC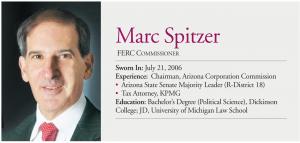 • Philip D. Moeller, FERC
• Jon Wellinghoff, FERC
• Erin M. O'Connell-Diaz, Illinois Corporation Commission
• Phyllis Reha, Minnesota PUC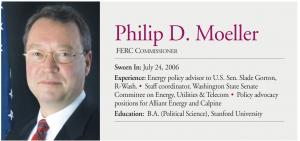 • Gov. Dave Freudenthal, Wyoming
Advocate for States
Marc Spitzer, FERC Commissioner
Fortnightly: What career experiences have been most important in preparing you for your job as FERC commissioner?
Spitzer: As an attorney representing taxpayers against the IRS, I've been on the other side of the table from the Feds. Being an attorney brings some valuable analytical experience and judgment. Judgment is the key to being a good lawyer.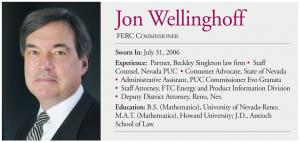 At the Arizona Corporation Commission (ACC), we were able to site some transmission projects, which are harder to site than pipelines because they affect more people in the local community. That experience helped me learn how to make reliability and economic arguments in favor of infrastructure in ways that people can respect.
Also, I am the father of an asthmatic son. He has pretty much grown out of the asthma now, but it has made me aware of issues involving air quality. I didn't have to read the paper to find out if there was going to be a bad-air day. I could tell just from his breathing.
Fortnightly: What do you see as the most important priorities for FERC in wholesale electric markets? What principles should drive FERC's policies?
Spitzer: I am a believer in exercising sound judgment on a case-by-case basis. We should follow the law and try to avoid sweeping changes that go back and forth. I am a believer in competition, and having it evolve in a way that gets buy-in from as many stakeholders as possible. You can't please everyone, but it's extremely important to make sure everyone gets heard.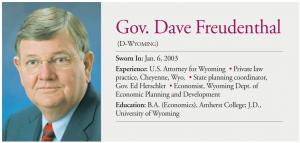 I tend to focus a lot on gas infrastructure and supply, because electricity prices are tied closely to the price of gas. We are concerned about volume, and FERC should do what it can to encourage construction of natural-gas pipelines and storage infrastructure.
At the same time, FERC must respect the role and authority of local officials. My hope is that applicants will pursue state remedies and the states will continue doing a good job siting infrastructure.
Congress took action [to give FERC back-stop siting authority for transmission lines] because it felt in certain circumstances of extreme congestion, the failure to act could jeopardize the interstate grid. I would hope FERC would not use its back-stop authority, but instead the states would remedy those problems and cooperate with FERC.
Also FERC policies should encourage demand-side management (DSM), efficiency, and renewable resources. If you can't get renewables and DSM to market, that stunts their growth. You have areas that are strong in wind resources but they are located far from load pockets. You have two or three proposals to take power from Wyoming to load pockets in Arizona and California. It may take federal action to accomplish that.
Fortnightly: What kind of federal action? Incentive-rate structures?
Spitzer: Return on investment for transmission improvements is a matter for debate. Should the investment be participant-funded or built into rates? It is a case-by-case question, and you consider the impacts. I am not wedded to one or the other; I can imagine scenarios where transmission improvements should be participant funded, and other cases where the costs should be rolled into rates.
But FERC should be mindful of the external benefits of transmission, including major economic and environmental benefits from bringing renewable power into load pockets and addressing the generation of greenhouse gases. Also, the last time I checked, the wind blows for free, so you have a fixed commodity cost that takes away some dependency on volatile gas.
Integrated-resource planning (IRP) is a uniquely state program. Arizona pursued DSM strongly in the Arizona Public Service (APS) rate case. Another state might not do as much. But to the extent academic engineering work is needed, the federal government can help with research and coordinate those efforts. Pursuant to EPACT (the Energy Policy Act of 2005), the federal government is preparing reports that will help state policies.
There's nothing worse than a program that fails and wastes money. FERC can help states and agencies avoid mistakes, by making sure they have access to the detailed information they need to craft programs that work.
In the organized markets, we want to encourage renewables getting to market, and give demand-side programs full credit for the value they create. Some RTOs are moving in that direction, and there are opportunities for renewables and DSM.
Fortnightly: Some states are considering rolling back utility restructuring. What does this mean for competition in the electric utility industry, and how should it affect FERC's policies?
Spitzer: As a former state regulator and student of federalism, I believe the federal government should be very reluctant to intrude on matters traditionally governed by state law, including rate structures. I recognize that federal policies affect retail rate structures, and we should work with the states to ensure transparency in wholesale market to serve retail policy choices.
Regulators need to be adaptive. For example, historically if a natural gas LDC committed to invest in storage facilities it was at their peril, and often they were reluctant to do it because they didn't want to get second-guessed. In Arizona we had no gas deposits and limited storage. The customers weren't benefiting from the situation, so we changed the rules to provide for pre-approval for participating in storage projects and pipeline open-season investments.
Retail choice is another example. It was still going in Arizona when I took office in 2001. I am in the pro-competition camp, but I am also a pragmatic person. Residential ratepayers had not expressed interest in competition, so we responded to what the people wanted. We moved back on some of the provisions and permitted APS to aggregate its generation assets under the same umbrella as its retail wires company.
At FERC my view is agnostic. Questions of retail structure should be up to the states. But if wholesale markets aren't competitive, it is hard to get a retail structure in place. So it's FERC's role to implement the laws enacted by Congress, and make sure markets are free from artificial constraints and manipulation.
Fortnightly: What's the appropriate way to apportion merger benefits? How should regulators balance the benefits of increased scale against the prospects of growing market power?
Spitzer: I was involved with the Unisource buyout proposal. It was defeated on a close 3-2 vote. (Editor's note: Spitzer was one of the dissenters.) Generally, the states do a good job on these matters. Arizona was very thoughtful, and so were Oregon and New Jersey.
Then there are localized economic issues, unrelated to wholesale markets, with specific impacts on retail rates and retail issues. Is there a net benefit requirement under state law, or a no-harm requirement? Those are state issues, governed by state constitutions. I recognize Congress has authorized FERC to play a role with regard to asset impairment and cross-subsidization, and in all those cases the states did a thorough job considering those complex issues. I would not want to supplant what the states have done.
With respect to market power, FERC shares review authority with the FTC antitrust division. We have analytical tools to ensure markets are not adversely affected by the exercise of market power. It is a case-by-case question. I don't believe big is necessarily bad. As long as the analysis demonstrates no adverse impact on competition or rates, and if there is no means for affiliate abuse, the economies of scale created by mergers can benefit consumers.
Fortnightly: What role should electric and gas utilities take in addressing the challenges of national energy security and climate change? How can FERC help them in their efforts?
Spitzer: Energy security comes from reliable infrastructure, and FERC is fulfilling the mandate of Congress with respect to reliability issues, to make sure the grid is reliable. It costs money, but you have to get on the bully pulpit and make people aware of the costs of failure to secure a reliable grid.
I was proud in Arizona to be part of the majority that adopted the renewable portfolio standard (RPS). I believe RPS decisions are best left to the states. Arizona had a unique opportunity with solar energy, but New Hampshire might come up with a different standard. I don't personally support a federal renewable mandate, because the states are doing a good job with their specific programs. But at the same time we need open access to the interstate grid that doesn't discriminate against renewables.
Fortnightly: What about green-energy trading programs, which need a uniform interstate structure to function?
Spitzer: I am a big believer in talking and listening. FERC can collaborate with the states. There is a program in the West, WREGIS, to implement a green-trading program. I didn't want Arizona to surrender its sovereign authority to make decisions, but I liked the idea of green trading to create a renewable market. There is potential value to these programs as long as the states don't lose control over their retail structure.
I'm not sure FERC is the best agency to develop those programs. You have too many control areas. FERC needs to make sure the transmission grid is sufficiently robust to get energy from point A to point B.
Signals of Certainty
Philip D. Moeller, FERC Commissioner
Fortnightly: What career experiences have been most important in preparing you for your job as FERC commissioner?
Moeller: Everything related to energy and utilities that I've done in my career has helped shape my views and what I bring to this job. As a state legislative staffer, I saw the implications of the thrust toward natural-gas and electric competition. Then, in Congress, I worked on active legislation on energy issues. I saw frustration to get reliability legislation. And in the private sector, working for energy companies shaped my views in different ways. I saw the politics of energy, and what works in different regions.
Fortnightly: What do you see as the most important priorities for FERC in wholesale electric markets? What principles should drive FERC's policies?
Moeller: The main principle for FERC should be helping consumers benefit from a more competitive environment. To do that, we need to continue progress toward opening up markets and ensuring nondiscriminatory policies apply, particularly in areas where we need new infrastructure to be built. We need to send signals of certainty to get investors into the market.
It's a multifaceted approach, with differences in different regions. We have to stay on top of it to make sure it is working as best it can, and not slowing down in regions where we could have an impact. Competition is too important, and this time is too critical, with demand still rising and infrastructure construction taking so long. It will be a constant effort.
Fortnightly: Some states are considering rolling back utility restructuring. What does this mean for competition in the electric utility industry, and how should it affect FERC's policies?
Moeller: FERC doesn't have jurisdiction over retail rates. That is the job of the states. But we should make sure at the federal level that we set policies that continue promoting wholesale competition, and at least the states can benefit from that aspect of our policies.
In many cases when states enacted these programs, they put on things like price freezes, which in a rising-price environment didn't lead to what we'd call a competitive market. The flaw is pretty evident, and states are struggling in many cases to figure out what they are going to do when price freezes come off. That shouldn't be an indictment of a more competitive system.
Fortnightly: What's the appropriate way to apportion merger benefits? How should regulators balance the benefits of increased scale against the prospects of growing market power?
Moeller: It's not necessarily a tradeoff. Those can be balanced in ways that allow for better economies of scale while addressing the market-power issue. Ultimately we have to be concerned that we are looking out for the consumer. If consumers benefit from a merger, that is the key threshold.
Generally speaking, I welcome new sources of capital in this capital-intensive industry. But we always have to be concerned about market-power issues. That is part of our job. We're not in a position where we should encourage mergers, but we should conduct a thorough and fair evaluation of them.
Fortnightly: What should be the FERC approach to balancing national and local interests in siting and permitting facilities like LNG terminals, gas pipelines, and electric transmission lines?
Moeller: Our role in gas is different from our role in transmission, which is really only back-stop authority. We don't expect a large rush on our need to apply that authority.
Local concerns always have to be a major part of the decision-making process, but ultimately we are seeing demand growth in a growing economy. Not surprisingly, the places where there is the most growth are also the most challenging places to get the infrastructure built. But this infrastructure has to get built and we need to move on that.
We had a long period of time where the electric industry, for very good reason, wasn't sure what the policy signals were. But with the 2005 act (EPACT), we now know what the national policy is, and we have some make-up work to do in getting transmission lines built. I'm hoping FERC will make some progress on this.
Fortnightly: What role should electric and gas utilities take in addressing the challenges of national energy security and climate change? How can FERC help them in their efforts?
Moeller: I've always thought the industry might face pressures from the investor community, even before they face legislated mandates. It is prudent for utilities to be quite concerned about that aspect of their industry, if eventually there are regulations that affect those emissions.
FERC's role is pretty limited in terms of our jurisdiction. But what would I like to see utilities do? Embracing more demand-side management is one thing with several benefits, one of which is to help stabilize greenhouse-gas emissions. It also helps shave peak load and potentially send more accurate price signals to customers. But that is in the hands of the states far more than it is in our jurisdictional basket.
With regard to national energy security, our main role is to stay up to speed on the developments. Ultimately changing out our power-plant infrastructure will take decades, so we have to be concerned. Do we like domestic energy? Sure, but imported energy is a key part of our resource base and our job isn't really to pick winners and losers in that realm.
Efficiency Mandate
Jon Wellinghoff, FERC Commissioner
Fortnightly: What career experiences have been most important in preparing you for your job as FERC commissioner?
Wellinghoff: I've been involved in utility regulation for 30 years, primarily at the state level. The state-jurisdiction perspective is very important, because you see the other side of the coin, what is important to the states. In a general sense that has been the most important thing to me in preparing to come to FERC.
Also, I was involved in a number of initiatives at the state level that translate, to a degree, into what is happening at FERC. One is integrated resource planning (IRP). In 1983, I wrote the first comprehensive IRP statute in Nevada, which was then replicated in 17 or 18 other states. I testified at those states about how it was an integral process for ensuring resource adequacy. FERC is, of course, very concerned about resource adequacy and reliability, and the whole planning process.
Fortnightly: What do you see as the most important priorities for FERC in wholesale electric markets? What principles should drive FERC's policies?
Wellinghoff: The most important priority with respect to wholesale markets is ensuring all entities have an equal and fair opportunity to participate in those markets. That includes demand-management resources. Traditionally the supply side has been more prominent, but now we have a whole new range of technologies that can enable conservation to participate in these markets. Through demand response and distributed resources, including efficiency, those resources effectively become a huge new supply pool for this country.
I'm not suggesting FERC should step on the jurisdictional toes of the states. It's a co-equal role in the sense that FERC has jurisdiction over the ISOs and RTOs, and those entities need to ensure tariffs and regulations are set properly to allow demand-response resources coming from the retail level to fully play in the wholesale markets. Certainly establishing demand-response programs and integrating those resources at the retail level are within the primary jurisdiction of the states. But at the point conservation resources are bidding into the wholesale markets, then FERC will have to exercise its jurisdiction to address the seams between retail and wholesale markets.
Fortnightly: What does that mean in terms of FERC's involvement in advanced metering initiatives (AMI)?
Wellinghoff: To the extent FERC can encourage proper economic signals vis-à-vis the wholesale markets, it will encourage the states and customers in those states to adopt automated metering systems so they can participate fully in wholesale demand-response markets. To the extent FERC can help organized market operators to set those signals correctly, it will foster further desire for AMI.
Fortnightly: Some states are considering rolling back deregulation laws. What does this mean for competition in the electric utility industry, and how should it affect FERC's policies?
Wellinghoff: This is something that is largely in the states' purview. Legislators and PUCs are the ones to decide whether they go back to regulation; FERC doesn't have a role to play.
It certainly will have an effect on the spread and effectiveness of organized wholesale markets, and there will be seams issues between organized competitive markets and states that don't participate fully in those markets. Those will be the areas where FERC will have to work out issues with respect to delegating costs, for example. But the ultimate policy rests with the states.
Fortnightly: What's the appropriate way to apportion merger benefits? How should regulators balance the benefits of increased scale against the prospects of growing market power?
Wellinghoff: There should be a way to assess whether benefits exceed costs. In the Sierra Pacific and Nevada Power merger, we set down careful metrics to ensure the benefits exceeded the costs, or the costs would not be recovered. Similar things need to happen at the federal level. FERC ought to have the ability to fully review and audit merger transactions to ensure we are getting the full picture of the benefits and costs.
On the other hand, there certainly are instances where entities who merge can provide benefits to consumers. I'm not suggesting we shouldn't have mergers, but for consumers we need to ensure the benefits are demonstrated.
Fortnightly: What should be the FERC approach to balancing national and local interests in siting and permitting facilities like LNG terminals, gas pipelines and electric transmission lines?
Wellinghoff: Any infrastructure investment should use technologies that are as efficient as possible. We can't continue to build inefficient infrastructure in this country. We have to look at the latest technology, and calculate life-cycle versus initial costs, and ensure what gets built will continue to serve us well for 30 to 50 years.
For example, when building pipelines with gas-turbine compressor stations, we can't afford to waste the 900-degree exhaust heat that is going out the back, if it can be recovered. We need to utilize it efficiently.
With regard to national and local interests, we need to ensure that at each site, we go into the local area and address the local concerns. People are concerned about safety, economics and land values. We need to make sure those issues are addressed at the local level. If they aren't, all that will result is a protracted legal fight and that doesn't benefit anyone.
I have been impressed by a number of LNG companies that have made it clear their approach is to work with the public, have a full airing of the issues, and determine if the local community will accept a project. If not, they move on to another site. They understand that picking a fight they'll have to live with for years to come is not an intelligent or efficient way to do business.
Fortnightly: What role should electric and gas utilities take in addressing the challenges of national energy security and climate change? How can FERC help them in their efforts?
Wellinghoff: We certainly need supply diversity, and as part of that we need to include distributed and renewable resources. FERC needs to recognize the different characteristics of those resources when it is considering interconnection and integration in markets. Those differences need to be understood so those entities are not discriminated against in the markets, and we can ensure we have a full diversity of resources. That's how FERC can participate—to look at how utilities can better utilize distributed and renewable energy resources.
With respect to overall infrastructure investments and their impacts on climate change, utilities can build infrastructure as efficiently as possible, using the most efficient equipment—including transformers, compressor stations, and even pumps and motors in LNG facilities. To the extent this infrastructure can be made more efficient with new construction and retrofits, it will reduce the impact on climate change.
FERC definitely has a role through our oversight of facilities like pipelines and LNG facilities, and through our environmental-review authority. The National Environmental Policy Act (NEPA) mandates consideration of alternatives, including technology that is more efficient than that being proposed. We have a larger role to play with respect to project review, to ensure efficient systems are incorporated into project plans.
Fortnightly: What about encouraging the transition to next-generation technologies, such as IGCC?
Wellinghoff: I don't see a direct role for FERC, except to the extent a gasification facility would be different from other generation plants, and FERC has authority to ensure the facility is not discriminated against in terms of interconnection and integration into the grid. But ultimately the responsibility is in the purview of DOE, through grants under EPACT for private entities to build IGCC facilities.
Wyoming: The Energy Frontier
Gov. Dave Freudenthal (D-Wyoming)
Fortnightly: What do you see as the most important energy issues and challenges for Wyoming? What policy priorities follow from these factors?
Freudenthal: We have immense energy resources in Wyoming, including oil, gas, coal, wind, uranium and oil shale. As demands for energy continue to grow, Wyoming will continue focusing on how our energy resources are utilized in a way that is good for the country and the state.
We start with the premise that energy resources from Wyoming will be sold into other markets, we will get the full value for those resources and that value won't be constrained by transportation capacity.
Next, we ask how we can build our economy and provide energy for other states. The answer is to convert more of the energy content in the state to things like electricity or liquid fuels. Plants using the new coal combined-cycle technology probably won't begin operating until after my term ends, but it's my job to make sure we set the right climate to get [IGCC] plants built.
Also we have to ask how we get the power lines built. There will be more communication between energy-producing states and energy-consuming states on how we will regulate multi-jurisdictional projects. Siting, permitting and cost allocation become very delicate issues. Each state feels obliged to ship costs to other states. We will get to a point, however, where the states have assurance they will get fair treatment.
Fortnightly: How is the Frontier Line effort proceeding, from your perspective? What lessons have you learned from this effort so far?
Freudenthal: A project like this takes a long time. Cooperation among states and the federal government, as well as the utilities in the footprint, are key to success. But it strikes me that the core issue is you can build the line if you have some assurance the power will be properly priced in California, to support long-term investment in the infrastructure.
Wyoming's desire is a necessary but not sufficient condition to get the Frontier Line completed. It will require similar efforts in other states. Utah and Nevada have been good about it, but California users have to decide if they are willing to pay for the power. If they don't, we'll just keep selling them natural gas at a high price. We're in an enviable position in Wyoming: We have lots of gas we can sell, but in the long run with clean-coal technology we can give them a better price for electricity.
Right now I don't think the federal government is really playing its role in helping finance the risk component of these first few clean-coal plants. The federal government talks about FutureGen and gasification above 4,000 feet, but when you scratch below the surface there is no commitment. To some degree, that accounts for the private sector's position. Namely, a lot of people are talking and negotiating, but nobody is signing contracts.
Fortnightly: What role should state governments take in addressing the challenges of national energy security and climate change?
Freudenthal: The states say they want green power, but they have to integrate it into their rate structure. This second step has not happened yet. New technology is the future of coal-fired electric generation. We have lots of natural gas in Wyoming, but relying on natural gas is not a rational policy for the nation. We should have a mix of resources.
Climate change gets difficult in a public-policy sense. It has been identified as an issue but the proposed solutions are way ahead of the technology. We need to follow the old carpenter's rule about measuring twice and cutting once. We need to take a deep breath, figure out the real problem, and get some technology in place that addresses that problem, rather than reacting to the latest newspaper article.
Illinois: Competitive Journey
Erin M. O'Connell-Diaz, Commissioner, Illinois Commerce Commission
Fortnightly: How is the Illinois Commerce Commission (ICC) working to alleviate price pressures for Illinois ratepayers? What lessons have been learned from Commonwealth Edison's recent supply auction?
O'Connell-Diaz: Of course nobody likes rate increases, but when costs go up there will be a rate hike. The commission and Illinois in general have been very measured in the way they approach the issue of electricity prices.
We believe the supply auction went very well. Competition was robust and the numbers that came out of it were a good deal for consumers.
We are not through with the process. This journey started 10 years ago, with policy decisions that were based on sound economics and the realization that this transition to a competitive marketplace wouldn't occur overnight. In fact it would be an evolving process, and the supply auction is just a milestone in that road.
Right now we are on a learning curve. The commission has initiated various workshops and forums where we have invited stakeholders to comment about things we should be aware of, and changes we should make. The commission's Post-2006 Initiative, Energy Solutions Forum and Retail Competition workshops are a few. We are learning new things every day, and our job is not over. We are designing a marketplace for the future, and it must be dynamic and responsive to the participants in the market.
Fortnightly: How might demand-response metering fit into Illinois' market design?
O'Connell-Diaz: This certainly will be an issue the commission will be looking at in the coming years. The Illinois Legislature recently passed legislation that calls for real-time meters [Public Act 094-0977, enacted June 30, 2006]. We are awaiting filings from the various utility companies pursuant to that legislation. I don't know what the programs will look like. But real-time metering is part of a menu of items that commissions as well as ratepayers and other stakeholders need. These programs will enable customers to understand how electricity use translates into utility bills and how individual use affects everyone in the service territory.
We will be looking at many basic questions when utilities file their demand-response programs. Specifically we'll address the question of costs: Will they be socialized to all ratepayers, or just to those who sign up for a particular program? And we'll study particular metering technologies, to determine whether they will do what they are supposed to do.
Fortnightly: How are commodity-price pressures affecting Illinois utilities' need to invest in electricity infrastructure? I understand ComEd was less than happy with the commission's ruling in its recent delivery-service rate case. What should utilities be doing to secure rate recovery?
O'Connell-Diaz: ComEd's case is going through the rehearing process and is expected to be completed by the end of the year.
Utility companies are required under Illinois law to provide safe and reliable service, and they must spend money to accomplish that goal. But the company must justify the costs, because the money doesn't fall out of the sky.
Under Illinois Restructuring law, our rates have been frozen since 1995, and in some instances since 1981, in addition to a mandated 20 percent rate reduction. Now, I don't see anything in my kitchen that costs the same as it did in 1995, and most companies are incurring much greater expenses than they did in 1995.
There are many opportunities to address the cost issues. Any citizen can participate in rate cases at the commission. It's a very detailed process and everyone has an opportunity to challenge what the company has filed. And it's not an open-and-shut situation. If a utility isn't happy at the end of a run at the commission, well … that's why God created the appellate court.
Fortnightly: Recently Gov. Rod Blagojevich proposed a plan to build 10 new IGCC plants in Illinois. What's your perspective on this idea?
O'Connell-Diaz: Obviously these plants would be good for the economy and for our environment. Illinois has a rich depository of coal, so we welcome and support these types of plants. But unless there is some legislative change, we don't have the authority to approve or disapprove them.
Legislation enacted last year for a coal-fired plant in southern Illinois provided a certain value for Illinois-sourced coal. Although it didn't go through us, the commission would be supportive of those types of homegrown energy projects.
In 2005 the commission entered a resolution adopting a renewable portfolio standard (RPS), in response to the governor's call for a certain measure of retail load to be supplied by renewable resources. Under current law, the commission has no authority to mandate it, but we are committed to working with utilities to meet the standards. The RPS calls for 2 percent of the bundled retail load to be met by renewable sources in 2007, and more each year up to 8 percent in 2013. We don't have any filings at this point, but we look forward to getting them from our various utilities.
Fortnightly: Some state commissions have begun pre-approving rate recovery for major capital expenditures. Might this happen in Illinois?
O'Connell-Diaz: Pre-approving large capital projects is poor public policy that removes all risk from utility shareholders and places it on the shoulders of electric consumers. I cannot think of any argument that would make that sound fair and reasonable, as rates in Illinois are required by law to be. We have a "used and useful" standard. Unless legislation changes the statute under which we operate, the commission doesn't have the authority to pre-approve capital expenditures. Things change, however, and if they do, the commission will respond accordingly.
Fortnightly: What role should electric and gas utilities take in addressing the challenges of national energy security and climate change? How can state utility commissions help?
O'Connell-Diaz: I don't have all the answers, but to our credit Illinois has a diverse portfolio of fuels. And because our utilities are in both PJM and MISO, we can tap into diverse supply markets. The commission has initiated workshops to implement the RPS, and we've taken part in NARUC sessions that consider supply diversity.
What the commission would like to do and what we are enabled to do are two different things. Addressing energy security and climate change sounds great in abstract, but when push comes to shove we are a creature of legislation. Things will have to occur at the legislative level for us to pass costs through to consumers.
I read in the newspaper that Exelon Chairman John Rowe made some commitments to reduce greenhouse-gas emissions. It would be great for the commission to participate in the process. We look forward to addressing these timely issues in cases that might be filed here.
Many of our leaders need to get together and say, "This is going to be a cost, and we understand someone has to pay for it." Maybe we need to convene a summit to figure out how to do it. But we will need the rules on the books to tell us we have the authority to allocate these costs.
Minnesota: Regional Leadership
Phyllis Reha, Vice Chair, Minnesota Public Utilities Commission
Fortnightly: Some state commissions have begun pre-approving rate recovery for major capital expenditures. Is this happening in Minnesota?
Reha: There already is quite a bit of pre-approval for rate recovery in Minnesota, and it is driven by legislation.
For investments that are beneficial to the environment, state statute allows utilities to come to the PUC for pre-approval, allowing a rate rider for recovery of costs during construction. Recently we approved a $1.2 billion program under this statutory authority to improve environmental performance at three old coal plants in the Twin Cities area.
In June 2005 the legislature enacted a mercury-reduction statute that provides for similar up-front approvals. It affects several of the largest plants in Minnesota. They can seek pre-approval from the commission for projects that will achieve a 90 percent reduction in mercury emissions. This will be a multi-billion dollar effort.
We also have in our state statute pre-approval for transmission projects for renewable energy, and other legislation in 2005 provided asset recovery for a broader range of transmission projects.
Fortnightly: Minnesota utilities increasingly are cooperating among themselves and other utilities in the Upper Midwest on transmission-system planning. Where do you see this cooperation heading?
Reha: We're not a restructured state, so we haven't had a really strong push toward an independent transmission organization. But we have a long tradition of coordinated efforts through the Mid-Continent Area Power Pool (MAPP). We have a bottoms-up approach, where the utilities themselves propose transmission. It has been fairly efficient and we haven't seen many perceived conflicts of interest and seams issues.
In recent years many of our utilities have participated in the CapEx 2020 initiative, which involves eight utility partners who are looking together at transmission needs on a regional basis, and trying to figure out how to share the costs of investing in transmission.
I can imagine CapEx functionally operating as an independent transmission organization at some point in the future. It is still fairly new, and they've just come forward with the first step in their plans. [Editor's note: The CapEx 2020 Alliance in June 2006 announced its proposal for the first $1.3 billion phase of a massive transmission build-out proposal.] But they have done a very good job of getting the word out, involving various stakeholders and trying to be as transparent as possible with what they are doing. Time will tell if it evolves into something like American Transmission Co. in Wisconsin, which has been successful even though they've had their issues.
Fortnightly: What energy supply (and demand) options do you see as most important for Minnesota's future? How should the PUC work to encourage thier development?
Reha: Diversity of resources is the primary focus. We have our backbone nuclear plants and we rely heavily on coal. But because of the problems of those two particular generation sources, we have to focus on new technologies including IGCC. We have an abundant resource with coal, but we have to face facts that there is carbon management coming around the corner, and building new conventional coal plants carries significant risk. We have to start figuring out a way to integrate the new technology and create a more diverse portfolio of resource options.
We have a very sophisticated and long-standing IRP program in Minnesota. For something like 20 years, the IRP process has considered renewables and energy efficiency as resources, and we have legislation and policies that encourage new technology. We also have a very sophisticated wind resource here, and policies that require wind development and provide up-front recovery of certain wind investments.
We also had a docket recently in which the PUC determined Minnesota statutes would support a $10 million grant toward the development of an IGCC plant in the state. (MN PUC Docket: E-002/M-03-1883).
Fortnightly: What role should electric and gas utilities take in addressing the challenges of national energy security and climate change? How can state utility commissions help?
Reha: My feeling is that we have a lack of leadership on climate change, and utilities, including Xcel Energy, are asking for more leadership. Others are rushing to build conventional coal plants to get under the wire before there is carbon management. I think that is very shortsighted.
Since we are not getting leadership on the federal level, lawmakers in the region need to talk to each other to figure out how we can develop regional leadership and cooperate to reduce greenhouse-gas emissions, and use resources in an environmentally friendly and efficient way.
We are working to find better ways to promote energy efficiency and eliminate disincentives for conservation. This is of paramount importance and we are working on it regionally.
Fortnightly: If a utility came to the Minnesota PUC with a vision to reduce greenhouse-gas emissions, and sought to pass through the costs, how might the PUC respond?
Reha: We certainly have the authority to approve that. If you look at the emissions-reduction statute and the IRP process, the state legislature has given us a lot of tools and a lot of direction telling us we should be favorably inclined to approve advanced-technology concepts.
I was in Europe with a Great Plains Institute program this summer, and we visited gasification projects in Holland and Germany. It was quite eye opening. They have a can-do attitude with respect to reducing greenhouse gas emissions, and they are working like crazy on these new technologies. I hope attitudes are changing in this country, and utilities and lawmakers are becoming more open to reducing greenhouse gases. If we can get adequate funding from the DOE, we can move forward.