New Opportunities: PNGC Power promoted Tom Haymaker to vice president of power supply. Haymaker most recently served for four years as PNGC Power's manager of power planning, and before that, he spent six years at Duke Energy Trading.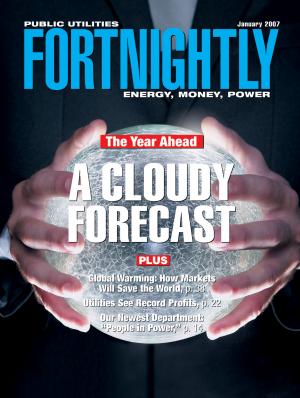 Calpine Corp. announced that Larry B. Leverett joined the company as senior vice president, gas trading. Most recently, he was a senior consultant for PNM Resources, leading commercial and operational management for its Southwest gas and power businesses.
ITC Holdings Corp. announced that William J. Museler has been appointed to its board of directors. Museler comes to ITC Holdings Corp. from his previous position as president and CEO of the New York Independent System Operator. Museler also is a member of the energy secretary's Energy Advisory Board.
Sierra Pacific Resources announced that William D. Rogers has been named to the new position of vice president, finance and risk, and Corporate Treasurer. Rogers, who has been corporate treasurer since joining Sierra Pacific in June 2005, now has corporate tax and risk control added to his areas of responsibility.
PG&E Corp. announced the election of Hyun Park, 45, as senior vice president and general counsel. Park succeeds Bruce R. Worthington, who had served as PG&E Corp. senior vice president and general counsel since 1997. Park joins PG&E Corp. from Allegheny Energy Inc., where he was vice president, general counsel, and secretary.
AMRA announced its 2006–2007 board of trustees. The board members who will lead the group include President James Andrus, Elster Electricity LLC; President Elect/Education, Stephen Carrico, Lee Lake Consulting; Senior Vice President of Advocacy, Bernie Bujnowski, PPL Utilities; Vice President/Communications, Sandra Fernstrom, TWACS by DCSI; Vice President of Administration and Finance, Kevin W. McDonald, Georgia Power Co.; and Vice President/Technology, Clark Pierce, PSE&G.
Jack M. Davis, site vice president at Dominion Energy's North Anna Power Station, will join Detroit Edison as senior vice president and chief nuclear officer in early 2007. He will succeed Detroit Edison Executive Vice President and Chief Nuclear Officer Doug Gipson who will retire later in the year.
The American Gas Association (AGA), announced the appointment of Paula A. Gant, Ph.D. as vice president of regulatory affairs. Gant joins AGA from Duke Energy Corp. where she served in a variety of policy and government affairs positions including vice president, energy policy and government affairs. The association also announced the appointment of Vivian Lausevic as director of public affairs. Lausevic joins AGA from the Investment Company Institute, where she oversaw the Institute's political action committee.
The Indiana Utility Regulatory Commission welcomed Michael W. Reed to its executive staff. Reed, a 31 year veteran of GTE and Verizon, will oversee industry sectors related to electric, gas, water, and sewer, as well as the commission's consumer affairs, pipeline safety, and accounting and finance. Current COO Joe Sutherland will become the agency's primary governmental affairs contact.
Nicor promoted Rocco D'Alessandro to executive vice president, operations, at Nicor Gas. He formerly was senior vice president of operations.