Deck:
Promises of emissions-free power get the ball rolling, but unknowns remain.
Author Bio:
Christian Hamaker is managing editor of Public Utilities Fortnightly.
After years of feasibility studies, lack of development funds, and escalating fuel costs across the energy spectrum, ocean energy is suddenly a very hot topic.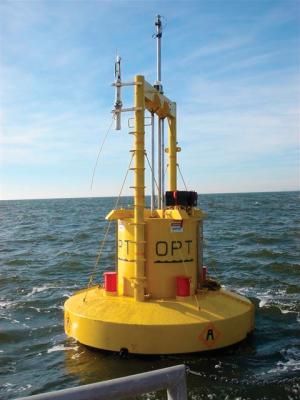 The dam holding back growing interest in the alternative fuel source finally burst late last year, buoyed by a Federal Energy Regulatory Commission (FERC) conference highlighting energy from waves, tides, ocean currents, and rivers, and by surging interest in a new permitting process for projects supported by these new technologies.
FERC Chairman Joseph T. Kelliher isn't a detractor, but he's heard concerns from potential participants about the challenges they already face, including alleged inequity in permitting.
Building on the commission's technical conference last December examining new hydro technologies, FERC on Feb. 15 of this year announced a new interim policy for nascent hydro technologies, and sought comment. "These emerging new hydroelectric technologies have significant potential," Kelliher said, "However, these technologies present some challenge relating to reliability, environmental and safety implications, and commercial viability."
FERC Commissioner Philip D. Moeller, noting that new wave, currents, and instream hydropower projects have "generated a lot of enthusiasm around the country," pushed to have existing preliminary applications approved, and lobbied for a future technical conference on how to streamline the hydropower licensing process. He believes the new technologies could exceed the current percentage contribution of hydropower to the nations' total generation.
At the time of the conference, FERC had approximately 40 preliminary permit applications pending for ocean projects, with staff already having issued 11 preliminary permits. Eight were for ocean-current projects off the coast of Florida, and three others for tidal-energy projects in New York, Washington, and California. By press time, the number of permits issued had grown to 19, while approximately 35 applications were pending.
Who's Listening?
As the permitting logjam begins to break, two coastal utilities are getting in on the action. Pacific Gas and Electric Co. (PG&E) filed permit applications for "WaveConnect," comprising two projects off the coast of Mendocino and Humboldt Counties in California. The utility says that the projects, if developed, would be the first North American applications of multiple wave energy conversion (WEC) devices on a common site.
"Phased development of the sites would proceed if technical results support feasibility, environmental studies show that any significant impacts can be fully mitigated, and stakeholder considerations can be satisfactorily addressed," the utility said in announcing the "WaveConnect" undertaking. "PG&E intends to utilize the most effective technologies for the wave energy projects. If fully developed, the projects could each provide up to 40 MW of clean renewable electric supply."
In Oregon, Pacific Northwest Generating Cooperative (PNGC Power) said it would develop with Ocean Power Technologies Inc. (OPT) the OPT Wave Park, in Reedsport, Ore., generating a total of as much as 2 MW through the use of OPT's PowerBuoy systems. The company hopes to ramp up the project to 50 MW in the future. PNGC Power, which services 15 distribution co-ops in seven states, will pursue a power-purchase agreement with OPT and will provide a "significant portion of the funds required to fabricate and install the first PowerBuoy at the Reedsport site." FERC granted a preliminary permit for the project on Feb. 15, 2007.
How Much Power?
According to the Energy Information Administration, these new hydro technologies would match or even exceed the current output from traditional hydro sources: Offshore wave energy could produce up to 260 TWh/yr, while tidal, river, and ocean currents could generate more than 110 TWh/yr. FERC estimates the potential for wave and current power to be more than 350 TWh/year.
But despite the FERC permitting breakthrough, other obstacles to implementation of these new technologies remain. EPRI, in a report titled Overview: EPRI Ocean Energy Program from last September, states: "The primary barriers to wave and tidal energy technology are not technical but political: No U.S. government RD&D funding support; no U.S. government production subsidies; and U.S. government regulatory uncertainty."
The commission is addressing the last of those three concerns, but EPRI addressed all three concerns in more depth, listing several questions that might move the discussion forward. How could the government help? EPRI suggested it could:
1. Provide leadership and funding of an ocean energy RD&D program.
2. Provide funding for a national ocean energy test center.
3. Develop design and testing standards for ocean-energy devices.
4. Join the International Energy Agency Ocean Energy Systems Implementing Agreement to collaborate on RD&D activities, and on appropriate ocean-energy policies with other governments and organizations. (Note: The U.S. has joined the IEA OES and intends to remain a member.)
5. Study provision of production-tax credits, renewable energy credits, and other incentives to spur private investment in ocean energy technologies and projects, and implementing appropriate incentives to accelerate ocean-wave energy deployment.
6. Lead activities to streamline the process for licensing, leasing, and permitting renewable-energy facilities in U.S. waters.
7. Ensure that the public receives a fair return from the use of ocean-energy resources.
8. Ensure that development rights are allocated through a transparent process that takes into account state, local, and public concerns.
Remaining Concerns
EPRI cautions that some unknowns about these new technologies remain. Exclusive site access for project developers using technologies still in their infancy "could result in sites being tied up for years of experimental iteration before commercial-scale power is produced." EPRI suggests that merit-based competition could be made a condition for exclusive licenses. EPRI also expresses concern about the environmental impacts of these new hydro technologies. The lack of experience with them in natural waters drives the concern, but some experts suggest this can be addressed by monitoring commercial-scale units deployed in pilot arrays before a full buildout commences.
Nevertheless, the organization is committed to the development of new hydro technologies. "Our view is simple—a diversified and balanced energy supply alternatives in our national portfolio makes for a robust and reliable electricity system, and we ought to look at all the alternatives, including clean and renewable wave and tidal power," says EPRI Ocean Energy Leader Roger Bedard.
FERC continues to seek comments on three proposed approaches to the new projects: maintain a standard preliminary permit approach; adopt a stricter scrutiny approach; or decline to issue preliminary permits. Commissioner Moeller encouraged the proposal of additional approaches.