Deck:
Promises of emissions-free power get the ball rolling, but unknowns remain.
Author Bio:
Christian Hamaker is managing editor of Public Utilities Fortnightly .
Promises of emissions-free power get the ball rolling, but unknowns remain.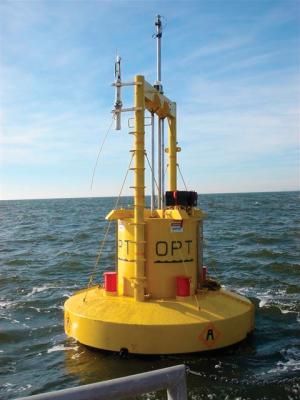 After years of feasibility studies, lack of development funds, and escalating fuel costs across the energy spectrum, ocean energy is suddenly a very hot topic.
The dam holding back growing interest in the alternative fuel source finally burst late last year, buoyed by a Federal Energy Regulatory Commission (FERC) conference highlighting energy from waves, tides, ocean currents, and rivers, and by surging interest in a new permitting process for projects supported by these new technologies.
FERC Chairman Joseph T. Kelliher isn't a detractor, but he's heard concerns from potential participants about the challenges they already face, including alleged inequity in permitting.
Building on the commission's technical conference last December examining new hydro technologies, FERC on Feb. 15 of this year announced a new interim policy for nascent hydro technologies, and sought comment. "These emerging new hydroelectric technologies have significant potential," Kelliher said, "However, these technologies present some challenge relating to reliability, environmental and safety implications, and commercial viability."
FERC Commissioner Philip D. Moeller, noting that new wave, currents, and instream hydropower projects have "generated a lot of enthusiasm around the country," pushed to have existing preliminary applications approved, and lobbied for a future technical conference on how to streamline the hydropower licensing process. He believes the new technologies could exceed the current percentage contribution of hydropower to the nations' total generation.
At the time of the conference, FERC had approximately 40 preliminary permit applications pending for ocean projects, with staff already having issued 11 preliminary permits. Eight were for ocean-current projects off the coast of Florida, and three others for tidal-energy projects in New York, Washington, and California. By press time, the number of permits issued had grown to 19, while approximately 35 applications were pending.
Who's Listening?
As the permitting logjam begins to break, two coastal utilities are getting in on the action. Pacific Gas and Electric Co. (PG&E) filed permit applications for "WaveConnect," comprising two projects off the coast of Mendocino and Humboldt Counties in California. The utility says that the projects, if developed, would be the first North American applications of multiple wave energy conversion (WEC) devices on a common site.
"Phased development of the sites would proceed if technical results support feasibility, environmental studies show that any significant impacts can be fully mitigated, and stakeholder considerations can be satisfactorily addressed," the utility said in announcing the "WaveConnect" undertaking. "PG&E intends to utilize the most effective technologies for the wave energy projects. If fully developed, the projects could each provide up to 40 MW of clean renewable electric supply."
In Oregon, Pacific Northwest Generating Cooperative (PNGC Power) said it would develop with Ocean Power Technologies Inc. (OPT) the OPT Wave Park, in Reedsport, Ore., generating a total of as much as 2 MW through the use of OPT's PowerBuoy systems. The company hopes to ramp up the project to 50 MW in the future. PNGC Power, which services 15 distribution co-ops in seven states, will pursue a power-purchase